markets
Trump's Idea of America Is 'Unbelievable,' Peres Says
By and
Former Israeli President speaks in Bloomberg TV interview

Peres says America leads world, walls will not separate people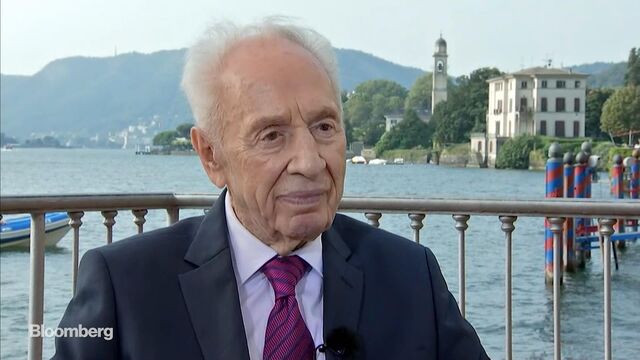 Donald Trump's idea of isolating America is "unbelievable" and ill-informed, former Israeli President Shimon Peres said.
"The idea of Mr. Trump, to isolate America," Peres said in a Bloomberg Television interview Friday at the Ambrosetti Forum in Cernobbio, Italy. "Shall I say, in a nice way, it's unbelievable, ignorant."
"America is leading the world, the world will not lead itself," said Peres, who shared the 1994 Nobel Peace Prize with Yitzhak Rabin and Yasser Arafat. "Walls will not separate people. People are stronger than walls, they build them and destroy them and I hope America will decide to continue to lead the world by goodwill, by hope, and by change."
Asked about the possibility of a two-state solution for the Israeli-Palestinian conflict, Peres replied: "I don't think it's too late. I think it's a different situation so I have to look for a different answer."
"Usually when I see two options, both of them are lost because both of them are opposing, there is nobody to decide," Peres said. "So the first thing is to look for a third option that doesn't have an audience."
(
Corrects Peres comment in first and second paragraphs of story that ran on Sept. 5.
)
Before it's here, it's on the Bloomberg Terminal.
LEARN MORE