Breeding a New Generation of Germ-Free Lab Mice
Normal rodents sell for $30 a pop. Taconic's new breed goes for over $480 apiece, and could be instrumental in microbiome research.
By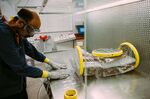 Germantown, N.Y., population 1,900, lies a few miles east of the Hudson River amid rolling countryside dotted with a typical mix of apple orchards and vineyards. Its mouse-breeding factory, however, is like no other.
At the main campus of Taconic Biosciences, in tidy rows of white warehouses, the company breeds hundreds of thousands of rodents each year. A standard lab mouse, known as a black-6, sells for about $30 to corporate and academic researchers. But in a building marked G0001, Taconic raises mice that sell for $480 apiece. While their genetics are the same as the $30 ones, the pricier mice have been raised in painstaking isolation, without any of the world's germs.
"You can model disease better than you can with just a standard mouse," says product manager Jennifer Phelan, clad in sterile blue plastic booties. "You can pretty much create a mouse avatar."
The isolator units in G0001 are boxy, rectangular tents with clear, soft-sided plastic walls. Caretakers wearing surgical gloves use long plastic sleeves integrated into the walls of each isolator to sterilize ports in order to bring in clean food and bedding. Customers receive the mice in a plastic cylinder .
The point is to raise the mice in a world devoid of the microbes found in nature, and prevent them from accumulating a trillions-strong cocktail of bacteria, viruses, and fungi known as a microbiome. That way, the mice can be used for more controlled research into the human microbiome, a nascent field that's "one of the fastest-growing spaces" in medicine, says Purna Kashyap, a researcher who oversees two germ-free labs at the Mayo Clinic.
The varieties and quantities of organisms in a person's microbiome are thought to have a great influence on immune response; money is pouring into the field, seen as a possible source of breakthroughs for everything from irritable bowel syndrome to cancer. The White House's National Microbiome Initiative, announced earlier this year, includes $400 million from nonprofits and corporations and $121 million in federal funds. In July, Merck said it will devote two labs to microbiome research, and the Mayo Clinic is working with companies including Seres Therapeutics, Second Genome, Whole Biome, and Evelo Biosciences.
"Germ-free mice really give us a blank canvas," says Ben Cuiffo, a scientist at contract researcher Biomodels in Watertown, Mass. Researchers at Evelo, which launched in Cambridge, Mass., last year with $35 million in venture capital, have shown that the microbiome can alter the effectiveness of cancer immunotherapy in mice, though the work still has a long way to go.
Although Taconic isn't the world's biggest source of lab mice—a $1 billion market—for now it has a commercial monopoly on germ-free mice. The 67-year-old private company, which has about 800 employees, has annual revenue above $100 million but wouldn't say how much it's making from germ-free mice. Phelan says she's expecting more competition, and that the company is teaming up with hardware manufacturers to stay ahead.
Taconic is also hosting seminars to pitch researchers on its mice. Most customers are academic labs. Companies interested in microbiome have been reluctant to pay $480 a mouse, especially given the equipment they'd need to keep them germ-free. "It's an important tool to do research in the microbiome field," says Bernat Olle, chief executive officer of Vedanta Biosciences in Boston. For now, though, his university collaborators handle the mice.
The bottom line: Taconic is the only company selling germ-free lab mice, a key component of emerging microbial research.
Before it's here, it's on the Bloomberg Terminal.
LEARN MORE