Trump's Vision Now Includes Making Western Hemisphere Great Again
The Republican presidential nominee offers a new twist on his message about curtailing immigration levels.
By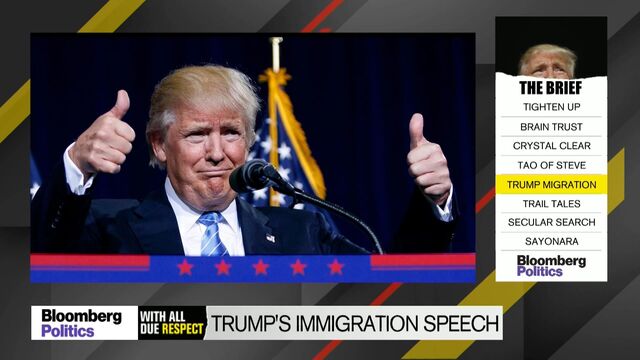 Donald Trump is no longer content with making America great again. Now, his economic plans extend far beyond U.S. borders to the entire Western Hemisphere.
The Republican presidential nominee rolled out the new talking point during a surprise trip Wednesday to Mexico, and explained it further on Thursday. In his telling, a prosperous Mexico and Latin America means less illegal immigration to the U.S. and more markets for American exports.
"There are many improvements that could be made that would make both Mexico and the United States stronger and keep industry in our hemisphere," Trump said in Mexico City, standing beside Mexican President Enrique Peña Nieto. "We have tremendous competition from China and from all over the world. Keep it in our hemisphere."
At a rally in Phoenix later that day, top Trump surrogates Senator Jeff Sessions and former New York City Mayor Rudy Giuliani raised eyebrows when they briefly donned "MAKE MEXICO GREAT AGAIN ALSO" baseball caps before Trump rallied the crowd with a fiery address that reaffirmed his anti-immigration vision.
At the American Legion on Thursday morning in Cincinnati, Trump explained a goal of expanding his focus to the entire hemisphere: to discourage illegal immigration.
"A more prosperous Mexico means fewer illegal border crossings, and a better market for products made in the United States," Trump said.
It is a novel argument that is designed to give Trump a more polished way to discuss his immigration views without the zero-sum rhetoric that invariably leads to him bashing Mexico, a trend in his stump speech that has sparked intense pushback from Mexico and high disapproval numbers among U.S. Hispanics.
Trump did, however, gloss over the fact that the undocumented immigrant population has fallen from a high of 12.2 million in 2007 to 11.3 million in 2014, according to the Pew Research Center. The unlawful immigrant population from Mexico fell from 6.9 million to 5.6 million in that same time span, the nonpartisan organization found.
Legal Immigration
An important but little-discussed element of Trump's immigration policy plan came to life in his Arizona speech when he called for reducing "big waves" of legal immigration, and painted immigrants as threats to American workers.
More so than on illegal immigration, the topic represents the biggest break between Trump and Republican leaders, who, like the Chamber of Commerce and Silicon Valley, have supported relaxing visa caps for skilled workers. Support for legal immigration has represented a rare area of bipartisan agreement in the contentious national debate.
"We will reform legal immigration to serve the best interests of America and its workers, the forgotten people," Trump said, as part of his 10-point plan to change immigration laws. He called for "new immigration controls to boost wages and to ensure that open jobs are offered to American workers first."
A policy paper on Trump's campaign website explains that he would raise the bar for U.S. companies that want to sponsor foreign-citizen workers for a job under an H-1B visa, the main program for skilled workers. He'd require that employers prove they were unable to find an American worker for the job (the same standard required of sponsoring a worker for a green card), as well as raise the wages employers are required to pay prospective H-1B hires (in order to encourage hiring Americans instead). His blueprint also calls for a "pause" on issuing "any new green cards" so that employers can look for hires in the unemployed pool.
In the same speech he gave proposing to curtail skilled immigration, however, Trump said the U.S. must "select immigrants based on their likelihood of success in U.S. society and their ability to be financially self-sufficient." Advocates for the H-1B program argue that its beneficiaries, who are required to be specialized in their fields, are a boon to the U.S. economy and often bring unique skills that aren't easily found in the native-born workforce.
Still, Trump's attack on work visa programs was music to the ears of immigration hardliners.
Mark Krikorian, an immigration-restriction advocate with the Center For Immigration Studies, praised Trump's "long-overdue critique of legal immigration," and his argument that U.S. and Mexican interests are not antithetical. Rich Lowry, the editor of the conservative National Review, which has actively opposed opening up immigration laws, wrote a blog post drawing attention to Trump's broadside against legal immigration.
With under 70 days to go before the election, Trump indicated Wednesday he's committed to a hardline stance on immigration, dismissing questions about whether recent changes in his rhetoric meant he's softening his positions.
At a rally in Wilmington, Ohio, on Thursday, he similarly connected high immigration levels to job insecurity for Americans. His message was also noticed by pro-immigration activists, including Frank Sharry of America's Voice.
Before it's here, it's on the Bloomberg Terminal.
LEARN MORE