The Company Quietly Handling Your Online Purchases
Adyen processed $50 billion in transactions in 2015, and has become Silicon Valley's payment system of choice.
By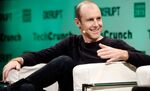 On a digital world map in the lobby of an Amsterdam office building, you can watch the synapses of capitalism's hive mind fire in real time. Pop: A small bubble containing Airbnb's logo flashes over Rio de Janeiro, signaling a payment processed on behalf of the hotel marketplace. Pop: There's a monthly bill paid to Vodafone in London. Pop: a new subscriber to Spotify in Paris. Pop: a Netflix payment in Tokyo. Pop. Pop. Pop. Pop. During a busy second, 100 transactions can flash across the map. The daily average is 7 million.
This is the headquarters of Adyen, a payment processor whose 4,500 customers include many of the world's best-known tech companies and largest retailers. Though virtually unknown to consumers, the 10-year-old company has quietly grown to handle $50 billion in transactions a year, twice the estimated volume of rival Stripe and 40 percent more than Square . And unlike those companies, Adyen turned a profit last year (€40 million, or $45 million).
The company works with 150 currencies and 250 forms of payment, more than larger processors, including Worldpay and Chase Paymentech. Businesses like those and First Data dominate the global market, each handling billions of transactions a year. Adyen is tiny by comparison but has a big advantage: It handles every step of a credit card payment, from the checkout counter or website taking your order to the bank authorizing the payment. Most processors have to use one or more intermediaries to handle fraud detection, request approval for payments from card issuers, or transfer funds to merchants. Adyen's greater control has helped reduce failed payments to its clients, says co-founder and Chief Executive Officer Pieter van der Does.

Online and on mobile devices, as many as 1 in 6 transactions fail, but the chain of intermediaries makes it hard to figure out why, according to Van der Does. "We open up that black box," he says, letting merchants review transactions or broader payment activity in real time. By doing so, Adyen has helped clients boost their conversion rate—the slice of customers who put an item in their digital shopping cart and then pay for it—by about 1.5 percentage points on average, researcher Forrester estimates. (The average conversion rate is about 33 percent; if you're Netflix, that extra point and a half adds up.) They also reduce charge-backs to merchants by 27 percent.
That's been the sales pitch from the beginning, Van der Does says. He founded Adyen with other alumni of Bibit, one of the first internet-based payment processors, which Royal Bank of Scotland acquired for $100 million in 2004 and later spun out as part of Worldpay. Van der Does says he and his co-founders decided to build a competing business focused on improving conversion rates instead of trying to reach the massive transaction volumes that bigger companies use to push down costs. "We felt if we have the best quality service," Van der Does says, "we will attract the best merchants," even if other services are cheaper.
Besides online payment processing, Adyen sells standard retail checkout terminals and Square-style hardware that integrates with a smartphone, allowing salespeople to take payments throughout a store. Machine-learning software helps refine the company's formatting, fraud detection, and transaction analysis. "Adyen thinks like a tech company," says Olivier Bisserier, the chief financial officer at Priceline subsidiary Booking.com, an Adyen customer.
Van der Does's company has collected $266 million in venture funding, plus an undisclosed amount from Iconiq Capital, which valued Adyen at $2.3 billion last year. Iconiq partner Will Griffith says Adyen's systems are unique in their ability to seamlessly handle both online and in-store transactions.
Adyen is on track to process $70 billion in transactions this year, Van der Does says; Worldpay, Chase Paymentech, and First Data each handle about $1 trillion. And Adyen has yet to make serious inroads at large retail chains, where the traditional processors are strongest, says Brendan Miller, an analyst with Forrester. He says Adyen, like Bibit, could be swallowed by one of its larger rivals well before it grows to their size.
Van der Does says he won't sell out, and that large retailers increasingly want a single provider that can handle all their physical and online transactions. His next goal is to process more than €100 billion in a year. "I can live with being one digit less than those guys," he says, referring to Worldpay and the others, "but not two."

—With Lizette Chapman
The bottom line: Adyen, which processed $50 billion in transactions last year, has quietly become Silicon Valley's payment system of choice.
(Second paragraph updated to correct the degree to which Adyen's 2015 transaction volumes exceeded those of Square and clarify that the Stripe figures are estimates.)
Before it's here, it's on the Bloomberg Terminal.
LEARN MORE