Puerto Rico Bonds Risk Court Workout If Consensus Eludes Panel
By
With so many creditors, voluntary debt reductions a challenge

Panel to work on fiscal plan to guide creditor negotiations
Tell it to the judge.
The seven-member federal control board appointed to address Puerto Rico's $70 billion of debt may ultimately leave it up to a court to force investors to accept losses if they don't do so willingly.
The panel appointed by President Barack Obama Wednesday consists of a former bankruptcy judge who oversaw the workouts of Enron Corp., Chrysler LLC and WorldCom Inc., a former president of the island's Government Development Bank, a woman who oversaw California's budget after the recession and a law professor who has argued that states should be given legal power to foist haircuts on bondholders.
In addition to cutting Puerto Rico's debt, the panel is tasked with ending recurring budget deficits and addressing $43 billion of unfunded obligations to its employee pension plans. Bringing together the island's bondholders, insurance companies and public workers may be too complex to be resolved without the power imposed by a court, said Matt Fabian, a partner at Concord, Massachusetts-based Municipal Market Analytics.
"Any board doesn't want to fight with stakeholders," Fabian said. "They don't want to impose their will because that will extend their stay in what is ultimately a thankless job. So what the board proposes, a lot of it will likely have to be validated in the courts and so you don't have to worry so much about individual predispositions or preferences."
Puerto Rico's crisis has been years in the making as the government borrowed to fill budget gaps, the economy remained stuck in a recession and residents left for the U.S. mainland. The island isn't authorized to file for bankruptcy and Puerto Rico Governor Alejandro Garcia Padilla was unable to get bondholders to voluntarily accept less than they're owed, which prompted Congress to step in with legislation giving it the tools to cut its obligations.
"The board will undoubtedly encourage voluntary settlements, but it's almost certain that there will be lots of holdouts," said Phil Fischer, head of municipal research at Bank of America Merrill Lynch. "And so the idea that they would in fact send a number of these issues to a bankruptcy court is almost certain."
Obama Wednesday selected three Democrats and four Republicans from lists provided by congressional leaders of both parties to exert broad sway over the finances of the U.S. territory. Such authority was granted by legislation, called Promesa, enacted in June that also protects the island from bondholder lawsuits as it works on a plan to repair its finances. Richard Ravitch, who advised then-Governor Hugh Carey during New York City's fiscal crisis in the 1970s, will serve as Garcia Padilla's representative on the control board. Ravitch has been advising the Puerto Rico governor in the past three years about the island's debt woes.
Puerto Rico's agencies began defaulting a year ago and in July the commonwealth missed nearly $1 billion principal and interest, the largest payment failure in the $3.7 trillion municipal-bond market and the first time a state-level borrower skipped payments on its direct debt since the 1930s. It followed Garcia Padilla's announcement in June 2015 that Puerto Rico was unable to repay its debt in full and would seek concessions from investors.
The anticipated restructuring will have to balance the government's obligations to bondholders against those to public workers and retirees.
The rescue law allows the control board to force creditors into a court, similar to a municipal bankruptcy, if the parties are unable to come to a voluntary workout plan. The board will designate a chair within 30 days of the panel's formation, according to the law.
The tax-exempt market has a history of favoring pensioners over bondholders in creditor workouts. In Detroit's bankruptcy, investors received a total recovery of 25 percent on their securities, compared with 82 percent on pension liabilities, according to Moody's Investors Service. In Stockton, California, bondholders received half of their holdings, while public workers were unharmed.
The federal legislation doesn't specify how to prioritize its many bonds -- which are backed by various revenues and legal protections -- and it requires that any fiscal plan "provide adequate funding for public pension systems."
The board's first task will be working with Garcia Padilla on a fiscal plan that will serve as the basis of negotiations with creditors, according to two Obama administration officials who spoke with reporters on the condition of anonymity. The governor is expected to submit a blueprint in the second week of September, according to one of the officials. It may be certified within weeks, given the urgency, according to one of the officials.
Some of the board members are well versed in financial distress.
Arthur Gonzalez, the former Chief Judge of the U.S. Bankruptcy Court for the Southern District of New York, oversaw bankruptcy of Chrysler, approving the sale of the company to Fiat despite the objections of some bondholders, as well as the workouts for WorldCom and Enron.
Ana Matosantos served as California's budget director from 2009 to 2013, a period when the state was left reeling from severe deficits triggered by the real estate market collapse and recession. David Skeel, a University of Pennsylvania law professor, is known for advancing the case for allowing states to go bankrupt, arguing in a 2010 article in the Weekly Standard magazine that it would allow officials to "play hardball" with public employees and bondholders unwilling to revise their contracts.
"With a broad range of skills and experiences, these officials have the breadth and depth of knowledge that is needed to tackle this complex challenge and put the future of the Puerto Rican people first," Obama said in a statement Wednesday.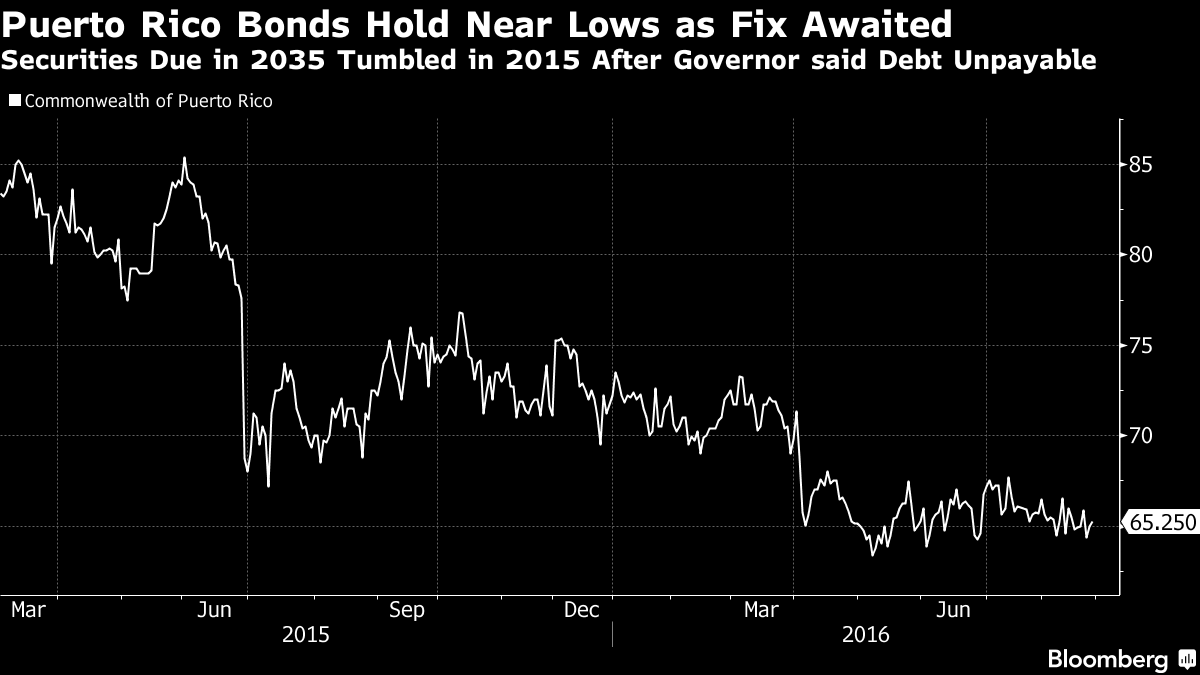 Puerto Rico bonds were little changed on the board announcement. General obligations with an 8 percent coupon and maturing July 2035 traded Wednesday at an average 65.4 cents on the dollar, compared with 65.3 cents the day before, data compiled by Bloomberg shows.
"At this juncture the market has received it positively," Fischer said.
Before it's here, it's on the Bloomberg Terminal.
LEARN MORE