London Office Market Frozen as Brexit Chokes Sales, JLL Says
By and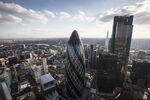 International investors seeking bargains in London's prime office market following the Brexit vote are being frustrated because sellers won't lower prices, according to Jones Lang LaSalle Inc.
That's brought the market to a standstill, which may last for up to six months, said Colin Dyer, chief executive officer of JLL, in an interview in Tokyo on Thursday. JLL is the second-largest publicly traded commercial-property brokerage behind CBRE Group Inc.
"We are seeing a lot of demand from Europeans and Asians for investment purchases in London, but we are not seeing any sales because the sellers are saying 'I am going to wait'," said Dyer, who is retiring as JLL's CEO in October. "Investment markets are much more on off, and they can react quite quickly, so they switched off very fast."
Buyers and sellers are trying to find the appropriate valuation for prime office property in London and a 10 percent decline "seems to be the price correction," according to Dyer. CBRE said last month that City of London office values fell 6.1 percent in July on heightened economic uncertainty, particularly for financial-services firms.
In the medium- to long-term, London remains an attractive location for property investors, and its features as a financial center can't be easily copied, Dyer said. Strong demand from overseas may cause prices to return to pre-Brexit levels, because the fall in the value of the pound makes the U.K. capital even more attractive, he said. The pound has declined more than 10 percent against the yen since the vote.
"So if you are Japanese investor, or Chinese or American, you just saw the currency drop 10 percent, and you saw the pricing probably drop, maybe 10 percent, so you have a 20 percent reduction," Dyer said. "So it looks like a very decent deal."
Dyer will be succeeded as CEO by Christian Ulbrich, who has been president of the real estate services firm since June, JLL said in statement last month.
Sign up to receive the Brexit Bulletin, a daily briefing on the biggest news related to Britain's departure from the EU.