Trump's Florida Ground Game Lags as GOP Rides to His Rescue
The Republican presidential nominee has yet to open any of the 24 field offices in the state he promised earlier this month.
By and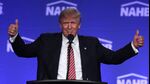 How many of the 24 field offices that Team Trump said in early August they'd open this month in Florida are now up and running?
None yet, according to Republican officials in the state.
The Republican presidential nominee has one of his campaign's weakest ground games in his most crucial swing state, several political insiders and donors told Bloomberg Politics.
Now, some Republicans are worried it's getting too late to recover, with vote-by-mail ballots going out starting in late September and Democrats pledging a big push in early voting.
"It's troubling," said David Johnson, a GOP political consultant and a former executive director of the Republican Party of Florida. "We hear the same thing from county party leaders—'Where are they? Where are they?' We remain hopeful."
Karen Giorno, a senior Trump adviser who oversees Florida operations, said the promised 24 offices are coming. "We are going to be opening them shortly. The leases are being signed," she said.
Giorno said the campaign is empowering GOP chairs in Florida's 67 counties as "CEOs of their counties," adapting Trump's spirit of entrepreneurship for the grassroots community. Giorno cautioned political pundits and strategists not to judge Trump's campaign against metrics of previous cycles and previous candidates' strategies.
Republican National Committee officials told Bloomberg they're on a hiring spree with a slew of office openings in the works nationwide. They have the approvals to bring on 400 new staffers, and to bring the number of field offices to just over 100, said Rick Gorka, a spokesman for the RNC. 
"Our latest wave of new hires will almost double our efforts in key states across the country," Gorka said. The expenses will be paid partly by the Trump campaign and partly by the RNC.
Florida will have 25 Trump/RNC offices, including the 24 the campaign has promised, and will share space in local party offices. Most of the remaining offices would be spread across 10 other key states, including Ohio, Pennsylvania, Iowa, North Carolina, New Hampshire, Nevada, Virginia, Colorado, Wisconsin, and Michigan.
All told, the new hires will bring the total staff to 962 in those 11 states. Georgia, Arizona, and Maine are among the other six states getting new resources.
Still, Trump remains badly outgunned by Democrat Hillary Clinton's campaign.
In 11 battleground states where Trump is competing the hardest, his campaign has more than 50 offices where his backers can seek information and volunteer to help, according to Bloomberg Politics interviews with GOP operatives and Trump staff in the states. Clinton has more than four times that—over 200, her aides said.
And a look across Trump's campaign suggests he's better positioned in states other than Florida. Trump has four offices in Pennsylvania, after his son Eric opened the northeast regional one Tuesday. In Iowa, Trump has a dozen offices, counting those his team opened with national party officials, and three more are coming soon. In Ohio, there are 16 offices where eager Trump volunteers can go to unleash their energy. All three of those states have fewer electoral college votes than Florida's 29.
Yet Florida stands out as the most critical place where Trump is lagging. And it's a state where a turnout machine matters. It 2012, Mitt Romney's operation was credited with getting him within 75,000 votes of President Barack Obama out of 8.4 million ballots cast that year. And it's propelled Rick Scott into the governor's job, Johnson said.
"In Florida, the GOP turnout machine is one you just have to take out and fire up. Take it out of the garage and put oil and gas in it and it will go," Johnson said. "But it does need money."
To date in Florida, there are 77 paid staffers working for the Trump/RNC effort, including the state director, communications director, two data directors, 24 regional field directors and 45 field organizers, Trump aides said. The campaign claims 70,000 volunteers and says it has chairs in all 67 counties.
One Trump insider laid partial blame on the RNC for the delay in staffing up, saying party officials have taken too long in Florida and other battlegrounds to issue contracts to campaign workers, whose salaries are paid by the joint campaign/RNC fund. As a result, some staff are having to work for free, the insider said.
In turn, RNC officials blamed Trump's campaign, saying they couldn't wrap up the contracts until the campaign provided names, salary amounts and other human resources details. The plan was to complete the contracts Wednesday, the final day of August, to make sure that the workers are on the payroll by the end of the week.
On Monday, RNC officials, including chief of staff Katie Walsh and political director Chris Carr, huddled with key members of Trump's team, including Trump's political director, Jim Murphy, and Bill Stepien, former campaign manager to New Jersey Governor Chris Christie.
Murphy subbed in as political director in June, when his predecessor was fired, and is aggressively trying to build out infrastructure in swing states. Stepien was hired last week as national field director to work closely with Murphy and monitor the goals for each staffer in the field.
They agreed the additional staff will come on line Thursday, sources with knowledge of the meeting told Bloomberg Politics.
Progress has been sluggish in the battleground states, according to Republican operatives in each, even though the RNC has been building infrastructure for this election cycle for nearly two years, working to flip the Democratic voter registration advantage in swing counties.
In Florida, several donors and politicos said they'd like to see more progress.
"I'm concerned. I'd like to see his numbers higher," said Dave Siegel, an Orlando Republican who owns the largest privately-owned time-share company in the world. "But I keep hearing the polls aren't the most important thing right now. He's moving up. I'm still very confident he's going to win."
Siegel said he hasn't noticed signs of a robust ground game—such as Trump signs in yards or Trump campaign offices in the state—but Trump's central Florida organizer regularly keeps in touch with Siegel and invited him to a Mike Pence fundraiser in the St. Petersburg area Wednesday, he said.
One reason the delays are disconcerting: Vote by mail can account for half of the ballots cast, and absentee ballots hit the mail in September, no later than 45 days before election day for military and overseas voters, Johnson said. Domestic absentee ballots are mailed in the beginning of October.
Without traditional GOP resources from the top of the ticket, down-ballot candidates in swing areas in Florida won't be successful in November, he said. But Giorno, the Trump senior adviser, argued that the campaign brings other strengths. 
"We're drawing at least 7,000 people to our rallies," she said. "And our critics do not consider just how important that is."
Giorno said new voter registrations illustrate phone-banking and door-to-door canvassing efforts are paying off, with GOP voter registrations increasing by more than 200,000 since January compared to 152,000 new registrations for Democrats.
Last week, three recreation vehicles the campaign calls "mobile field units" began traversing Florida, paying particular attention to battleground counties, Giorno said.
And staffers who have been with the Trump campaign since the start have been tapped to help in Florida, including former Tennessee state director Darren Morris, who will act as the Florida campaign's chief of staff; field operative Chad Tucker, who is now Florida communications director; and Healy Baumgardner, a seasoned Trump television surrogate and former media adviser for Rudy Giuliani who will handle media relations with the Florida TV markets, Giorno said.
Meanwhile, there has been "significant tightening" in the 2016 presidential race, Trump's communications director, Jason Miller said Tuesday in a campaign memo shared with Bloomberg Politics.
"Three weeks ago the media and the political elite were ready to write Donald Trump off," Miller said. "National polls are rapidly improving and some even show Mr. Trump leading. Battleground state numbers are improving and some show us leading there too. Key demographic groups are moving toward the Trump-Pence ticket. The trend lines are very good."
Miller's memo cited two Florida polls that showed Trump leading by one point and by two points. Clinton led in the most recent poll there, and is ahead by 2.7 points in the rolling average of polls compiled by RealClearPolitics.
Florida isn't the only state where Trump is lagging in the ground game. In Nevada, which has emerged as an unexpected bright spot for Trump, his campaign has opened just one office, in Henderson. Team Trump can do work from RNC and Nevada GOP offices in Las Vegas, Reno, Pahrump, and Elko, but the relationship between the two teams is strained, operatives there said.
In Ohio, "they're about 40 percent of what a presidential campaign typically would be at this point," said Doug Preisse, chairman of the Franklin County GOP, the state's largest county, and a 30-year ally of Ohio Governor John Kasich. "They are hustling."
Trump aides in Ohio and elsewhere said the pace will quicken after Labor Day.
Bob Paduchik, Trump's Ohio campaign director, said they intend to double their 16 offices there, and are coordinating with state and county Republican committees to create a force multiplier to boost turnout.
"We will have a very sophisticated ground game here," he said.
Iowa may be Trump's best stronghold when it comes to the ground game. There was a smooth marriage of RNC and Trump staff, which now number about 60, aides from both sides said. Trump's state director is the son of Iowa Governor Terry Branstad, and Trump has the support of the state party chairman, all the top GOP elected officials, and a big chunk of the GOP establishment, which isn't the case everywhere. 
In North Carolina, where Trump hasn't yet opened any offices, and has only a small staff, organizers said the staff are what's important.
"We learned several lessons from past cycles—one being that offices don't elect candidates," said Kara Carter, a spokeswoman for the RNC in North Carolina. "Our team members and grassroots volunteers who are dedicated to electing our Republican candidates are the ones who will make the difference."
—With assistance from Terrence Dopp and Bill Allison.
Before it's here, it's on the Bloomberg Terminal.
LEARN MORE