Rubio Wins Primary, Setting Up Senate Race Against Murphy
By
Florida senator reversed pledge not to seek re-election

Race could help determine control of U.S. Senate in 2017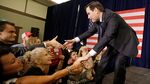 Senator Marco Rubio of Florida easily turned back a Republican primary challenge from a millionaire businessman Tuesday, setting up a November election against Democratic Representative Patrick Murphy in a race that could determine control of the Senate.
Rubio led Republican opponent Carlos Beruff by a 70.6 percent to 20.2 percent margin in early results, according to the Associated Press. Murphy was leading fellow Representative Alan Grayson 60.9 percent to 16 percent in early returns. The state is considered a tossup in November, but Rubio has led both Democrats in recent polls as Grayson and Murphy attacked each other's ethics.
Also Tuesday, in Arizona's Republican primary, Senator John McCain defeated Kelli Ward, according to the AP. He was leading 55 to 35 percent as the votes were being counted. That sets up a race against Democratic Representative Ann Kirkpatrick in November. McCain has been leading in recent polls.
Rubio, who ended his presidential campaign after losing the Florida primary to Donald Trump in March, had insisted he wouldn't seek re-election to the Senate. He changed his mind after fellow Senate Republicans and Trump himself urged the senator to run again and reduce the risk that a Democrat would take the seat in that party's bid to win Senate control.
Known for his sharp criticisms of Trump, including calling him "a con man" during the presidential primary campaign, Rubio sent a video to the Republican National Convention in which he said "the time for fighting each other is over." He also has said that in the Senate, he would serve as a check on whoever becomes president -- Trump or Democrat Hillary Clinton.
Beruff, a real estate developer, spent more than $8 million of his own money to pitch himself as an outsider like Trump ready to shake up Washington.
But Republicans rallied around Rubio, with other contenders dropping out and national Republicans seeing Rubio as by far the safest choice to keep the seat in their party. Democrats need to gain a minimum of four seats to control the Senate if they win the White House.
Democratic Slugfest
Murphy, a two-term congressman who formerly identified as a Republican, was the choice of establishment Democrats including President Barack Obama and Senate Majority Leader Harry Reid. His father, Coastal Construction Group CEO Thomas P. Murphy Jr., has backed his son's political career. In June, Murphy campaign manager Josh Wolf said in a statement that a CBS report that the candidate inflated his resume was "deeply false."
Grayson's campaign was plagued by a history of controversial statements and actions, including his management of a hedge fund and allegations that he abused his ex-wife -- something Grayson has denied. Grayson has served three non-consecutive terms in the House starting in 2009.
On the House side in Florida, former Democratic National Committee Chairwoman Debbie Wasserman Schultz survived a hard-fought challenge from Tim Canova for her House seat that exposed divisions in the Democratic Party. Canova had the backing of Senator Bernie Sanders of Vermont, who repeatedly said the Florida congresswoman tilted the Democratic presidential primary in Hillary Clinton's favor.
Wasserman Schultz resigned as chairwoman of the DNC after Wikileaks published a batch of embarrassing emails from inside the committee.
Before it's here, it's on the Bloomberg Terminal.
LEARN MORE