Puerto Rico Oversight Panel Named to Halt Island Debt Crisis
By , , and
Seven-member panel created to deal with island's fiscal crisis

Panel to work on budget plan to guide creditor talks
The Obama administration named seven people to serve on a financial control board overseeing the restructuring of Puerto Rico's $70 billion debt burden, a first step toward pulling the island from its fiscal crisis.
The three Democrats and four Republicans were chosen by the White House from a list provided by congressional leaders from both parties, with President Barack Obama consulting with Democrats. The board was created as part of legislation signed into law by Obama in June that shields the island from bondholder lawsuits as it works on a plan to repair its finances.
The Democrats on the panel are: Arthur Gonzalez, a senior fellow at New York University's School of Law and former Chief Judge of the U.S. Bankruptcy Court for the Southern District of New York; Jose Ramon Gonzalez, president and chief executive officer of the Federal Home Loan Bank of New York; and Ana Matosantos, who served as California's budget director from 2009 to 2013.
The Republicans are: Carlos Garcia, former president of Puerto Rico's Government Development Bank and founder and chief executive officer of BayBoston Managers LLC, a minority-owned private equity firm; Andrew Biggs, a resident scholar at the American Enterprise Institute; David Skeel, a University of Pennsylvania law professor; and Jose Carrion III, co-founder of Carrion, Laffitte & Casellas Inc.
"With a broad range of skills and experiences, these officials have the breadth and depth of knowledge that is needed to tackle this complex challenge and put the future of the Puerto Rican people first," Obama said in a statement.
Puerto Rico's crisis has been years in the making as the government borrowed to paper over budget deficits as the economy remained mired in recession and residents left for the U.S. mainland. The island isn't authorized to file for bankruptcy and Puerto Rico Governor Alejandro Garcia Padilla was unable to persuade bondholders to voluntarily accept less than they're owed, which led Congress to step in with legislation giving it the tools to cut its debt.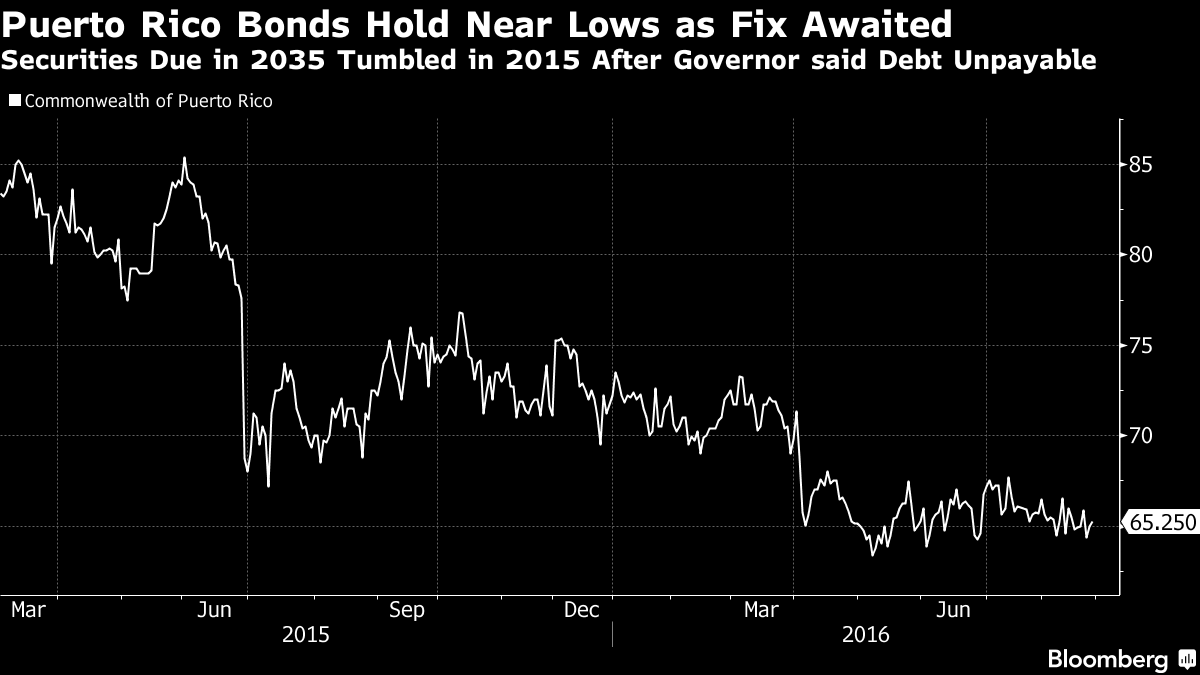 The board's first task will be working with Garcia Padilla on a fiscal plan that will serve as the basis of negotiations with creditors, according to two Obama administration officials who spoke with reporters on the condition of anonymity. The governor is expected to submit a blueprint in the second week of September, according to one of the officials. It may be certified within weeks, given the urgency, according to one of the officials.
Positive for Creditors
Puerto Rico bonds were little changed on the announcement, with general obligations due in 2035 trading for an average of 65.4 cents on the dollar. The board selections are a positive for creditors, Daniel Hanson, an analyst at Height Securities, a Washington-based broker dealer, wrote in a report Wednesday.
"Creditors will benefit (relative to expectations) from the strong technocratic selections proffered from the White House," Hanson wrote. "While there will be key public policy priorities that will come ahead of creditors, the board is going to be strongly on the side of the numbers, and as we have long opined, there is sufficient cash to secure high recoveries for creditors at the top of the capital structure."
Puerto Rico has been defaulting on a growing share of its debt and in July missed nearly $1 billion of principal and interest, the first time a state-level borrower skipped payments on its direct debt since the 1930s. It followed Garcia Padilla's announcement in June 2015 that the island was unable to pay investors in full and would seek to restructure its debt.
Public Workers

Four of the control board members are Puerto Rican, according to the White House, which may parry concerns among some island residents that the panel won't adequately take their interests into account.
The anticipated restructuring will have to balance the government's obligations to bondholders against those to public workers and retirees. Puerto Rico and its agencies owe bondholders $70 billion and the island's three retirement systems have an unfunded liability of about $43 billion. Hedge funds holding the commonwealth's general-obligation bonds filed a lawsuit in July against Garcia Padilla, claiming the administration is re-directing cash in violation of its constitution.
The federally appointed control board will oversee the commonwealth's budget and any debt reduction, which can now be enforced by a court, similar to a municipal bankruptcy. The board will designate a chair within 30 days of the panel's formation, according to the law.
The federal legislation doesn't specify how to prioritize its many bonds --- which are backed by various revenues and legal protections -- and it requires that any fiscal plan "provide adequate funding for public pension systems."
Before it's here, it's on the Bloomberg Terminal.
LEARN MORE