Musk Talked Merger With SolarCity CEO Before Sale of Stock
by and
Carmaker chief discussed 'conceptual' benefits with cousin

Board at first rejected idea amid SUV manufacturing challenges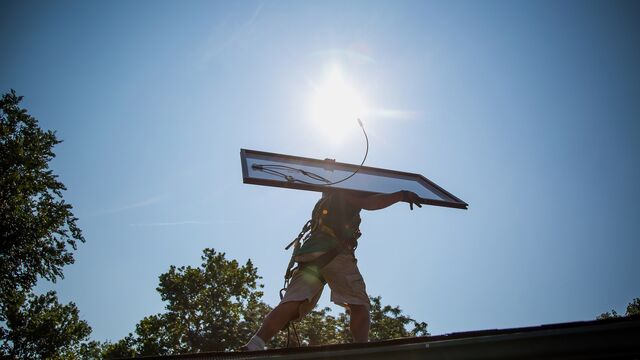 It was February when Elon Musk suggested to his cousin that they merge their companies, Tesla Motors Inc. and SolarCity Corp. -- three months before the electric-car maker sold $1.4 billion in stock in a secondary offering and four months before Musk made a public marriage proposal. 
Musk, Tesla's chief executive officer and SolarCity's chairman and largest shareholder, had the discussion with SolarCity CEO Lyndon Rive sometime before Tesla's board was briefed on the idea on Feb. 29, according to a document filed with the Securities and Exchange Commission Wednesday.
What the filing shows is that Tesla directors had considered the wisdom of a union with the financially struggling SolarCity when the company made its May stock offering, but didn't let buyers know such a deal might be coming. Tesla declined to comment beyond the filing.

"We are concerned that the merger is not being negotiated in the best interests of shareholders, and this lack of transparency deepens those worries," said Dieter Waizenegger, executive director of the CtW Investment Group, which represents union-sponsored pension funds that holds Tesla shares. "Tesla should have likely disclosed the potential merger before its secondary offering. By not doing so, the company is raising troubling questions that demonstrate why greater accountability and independence is needed at the board level."
Cash Needs
The prospect of combining the companies has been controversial, with some shareholders in such opposition that they sold their stock. Tesla fell more than 10 percent on June 22, the first trading day after Musk announced the plan, now valued at $2.3 billion, which he called a "no brainer."
A concern among analysts is that SolarCity, which makes and installs solar-power systems, burns through cash and had $3.35 billion in debt at the end of June. Tesla also spends a lot, as it tries to fund new cars like the Model 3 sedan, billed as the company's first mass-market vehicle. In Wednesday's filing, Tesla reiterated plans to raise more capital this year, which it may need as soon as 2017.
"It wouldn't shock me if they raised $2 billion," said Charlie Anderson, an analyst with Dougherty & Co.
Some of the fund-raising will go to support SolarCity, which appears to be in need of cash, Brian Johnson, an analyst at Barclays, said in a note. The timing of the filing -- coming before the end of the go-shop period -- and the "narrative around SCTY's short-term financing needs and lack of other buyers shows the urgency of closing quickly," he wrote.
Tesla shares on Wednesday gained 0.3 percent, the most in more than a week, to $212.01. They have lost almost 12 percent this year through Wednesday. SolarCity slipped 0.1 percent to $20.66, bringing its year-to-date fall to 60 percent.
Another Cousin
SolarCity's chief technology officer is another cousin, Peter Rive, brother of the CEO. The idea for the company was hatched during a trip he, Musk and Lyndon Rive made to the Burning Man arts festival in the Nevada desert more than a decade ago.
The February discussion between Musk and Lyndon Rive was described in the document as "high-level, conceptual," with the two talking about possible product offerings.
The filing doesn't specify whether that conversation was before or after Musk's Feb. 12 purchase of almost 570,000 shares of SolarCity for an average price of about $17.56, which brought his holdings to about 21.8 million shares.
On Feb. 29, Tesla Chief Financial Officer Jason Wheeler made a presentation to the board about "preliminary considerations related to product and operational synergies" that could come from a SolarCity tie-up, according to the filing. The board decided at the time not to evaluate the proposition, because it might pull Tesla away from ongoing work, like the ramp-up of the Model X.
On May 31 -- just 13 days after the secondary stock offering was announced -- the board directed management to assess "the strategic rationale of an acquisition of SolarCity or other potential acquisition targets in the solar-energy industry." In the same meeting, the board told management to use Wachtell, Lipton, Rosen & Katz as special outside counsel for a legal analysis relating to a potential transaction. Evercore Partners was brought in later as a financial adviser.
Probably Compliant
Since the board decided not to continue its evaluation of a deal in February, it's probably in compliance with securities laws, said James Cox, a professor at Duke University School of Law. But given the timing of the stock offering and the announcement of the deal, there could be questions about whether Tesla should have disclosed the fact that a merger was a possibility, Cox said.
A two-person committee of the SolarCity board approved Tesla's all-stock offer, providing 0.11 Tesla shares for each SolarCity share. Musk has said he and Antonio Gracias -- also a member of both boards -- would recuse themselves from voting on the takeover bid. JB Straubel, Tesla's CTO, is also a SolarCity director and recused himself from voting.
Musk has long included solar energy as part of his vision for Tesla, saying in his first so-called master plan in 2006 that the aim was to "expedite the world's move from a mine-and-burn hydrocarbon economy towards a solar electric economy." In his second master plan, issued in July, he said he wanted to "create a smoothly integrated and beautiful solar-roof-with-battery product that just works, empowering the individual as their own utility." To do that, "we need to combine and break down the barriers inherent to being separate companies."
Investments by the three cousins have also raised eyebrows. Musk bought $65 million of SolarCity's bonds and the Rives each bought $17.5 million, according to a filing last week. That means that if Tesla completes its merger with SolarCity, it could end up helping to shore up the cash position of the company and improve the prospects of debt that is held by Musk and his cousins. In addition, Musk's closely held Space Exploration Technologies Corp. bought $90 million of SolarCity bonds last year and again this March.
Given those cozy connections and the cash burn at SolarCity, Tesla risks shareholder backlash, said Charles Elson, director of the University of Delaware's John L. Weinberg Center for Corporate Governance.
"It's one of these situations where it may be OK on the legal front, but disclosing this will probably lead to some unhappy shareholders," Elson said. "This is not something you hope would happen."
Before it's here, it's on the Bloomberg Terminal.
LEARN MORE