Donald Trump's Last-Minute Trip to Mexico Carries Risks and Rewards
The Republican spontaneously decided to go south for a visit with the president of a nation he's slammed since the first moments of his campaign.
By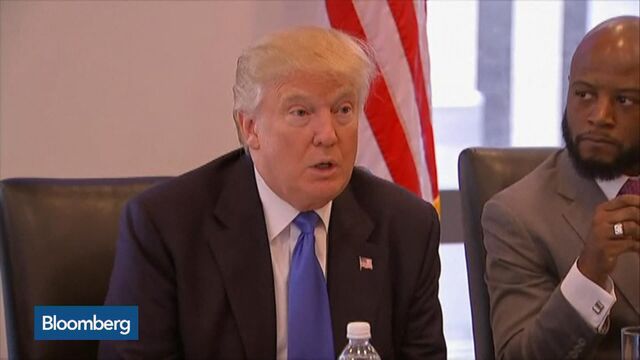 In the annals of bold and risky gambits, Donald Trump's spontaneous decision to go south of the border for a visit with the president of a nation he's slammed since the first moments of his campaign ranks high.
The meeting with Mexican President Enrique Peña Nieto on Wednesday would be Trump's first foreign trip as his party's nominee, and could pay dividends if he emerges looking statesmanlike and presidential, an image that has eluded the brash political outsider in the eyes of many voters. 
But it also carries risks. Trump is disliked in Mexico for racially charged remarks against a U.S. Latino judge and insistence that Mexico would pay for a border wall he intends to build by cutting off remittances. Peña Nieto, whose past criticism of Trump was harsh, said Tuesday that he seeks a "dialogue and in promoting Mexico's interests in the world." His slipping poll numbers, however, could give him the motivation to confront Trump on behalf of his people.
Unlike a successful trip to Louisiana to tour communities devastated by the recent flooding, where Trump's aides were able to carefully control the optics of the visit, there is increased political risk in visiting Mexico City, as Trump will not be able to control Peña Nieto and his allies' political response. In March, the Mexican president publicly compared Trump's rhetoric to the rise of Benito Mussolini and Adolf Hitler. 
The planned visit by Trump, who trails Democratic nominee Hillary Clinton nationally and in most battleground states, comes as he urges Hispanics and African-Americans to support his campaign. It also precedes a speech in Phoenix later Wednesday outlining his plan to stop illegal immigration.
Trump, who has recently softened his rhetoric on immigration in an attempt to make himself more palatable to Latino voters, is not expected to announces changes to his restrictive platform during the trip. A senior adviser on Wednesday reiterated his intent to build a border wall and crack down on illegal immigration.
"Throughout his presidential campaign, Donald J. Trump has been consistent in his calls to end illegal immigration by building a wall on our southern border," said Tana Goertz in a statement. "He is the only candidate in this race who will stop illegal immigration, secure our border, end sanctuary cities, enforce our existing laws and stop American employers from hiring illegal workers."
Trump is seen favorably by 23 percent of U.S. Hispanics, and unfavorably by 76 percent, according to a survey released Tuesday by Public Policy Polling. Given the choice of Clinton versus Trump, Latinos backed Clinton by 71 to 23 percent.
The appearances in Mexico and Arizona are aimed at helping Trump pass the presidential test with skeptical voters. In a Bloomberg Politics national poll earlier this month, Clinton beat Trump 58 percent to 36 percent in a question about which candidate had the skills needed to conduct foreign policy. He also scored lower on having the right temperament for the presidency and being ready to lead on day one in office.
President Barack Obama, then a senator from Illinois without even a full term on his resume, made an eight-day tour through Afghanistan, the Middle East and Europe during his run for the White House in 2008. He drew crowds everywhere he went and delivered a speech in the Tiergarten, a historic park in the center of the German capital of Berlin, to outline his vision of a reinvigorated U.S.-European alliance.
In the 2012 election, Republican nominee Mitt Romney traveled to Europe in an attempt to burnish his credentials. Instead it was a trip more memorable for his verbal missteps, including questioning whether Britain was fully prepared to host the Olympics while he was in London and an aide's profanity laced outburst to reporters while the candidate was in Warsaw, Poland.
Trump's trip to Mexico is "reactive, it's confrontational and it's designed to draw maximum media attention," said Kevin Madden, who served as a spokesman and adviser to Romney in 2012. "In other words it's vintage Trump. But, to try and analyze it through the lens of a strategy is overthinking it. A trip like this made on a whim is just more evidence that there really is no strategy."
Clinton, who served for two terms as a U.S. senator from New York and four years as secretary of state, hasn't made plans for a foreign trip during her campaign. Ahead of the visit, her campaign published a long list of tweets by Trump involving Mexico. They include instances of Trump lamenting "unbelievable corruption" that the U.S is paying for, and one in which he said "Mexico is killing U.S. on trade."
Lionel Sosa, a Republican strategist and advertising executive who coordinated Hispanic outreach for Presidents Ronald Reagan, George H. W. Bush and George W. Bush, said he doesn't see one visit as doing enough to mend the rifts Trump's created with his rhetoric against Latinos.
"Nothing will ever be enough to take back what he's said about Mexicans and the country of Mexico and all of the hurt he's caused," Sosa said Wednesday in a telephone interview. "He makes irresponsible statements and then tries to come back and heal what he said. Maybe it will heal some things, but it will never heal everything. There's no way Mexico will ever pay for that wall, and there's no way Donald Trump will ever build it."
Andrew Selee, executive vice president of the Woodrow Wilson International Center for Scholars, saw the trip as the beginning of something potentially positive for the U.S.-Mexico relations.
"This is an extraordinarily surprising, but welcome, development," said Selee. "The idea of a trip to Mexico seems designed to soften some of the edges of the policies he has advocated so far and to appeal to Latino voters, as well as to many other Americans who appreciate the importance Mexico for the United States."
—With assistance from Terrence Dopp, John McCormick, Kevin Cirilli, and Mike Dorning.
Before it's here, it's on the Bloomberg Terminal.
LEARN MORE