China P2P Industry 'Basically' a Scam, Billionaire Guo Says
Bloomberg News
Chinese regulators this month imposed restrictions on sector

Guo was commenting at a Fosun post-earnings briefing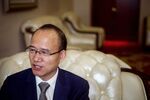 Billionaire Guo Guangchang called China's peer-to-peer lending industry "basically a scam," arguing that players in the multi-billion dollar sector, troubled by collapses and frauds, lack the ability to price risk.
Guo was responding to a question at a post-earnings briefing by his conglomerate Fosun International Ltd. in Hong Kong about any P2P investments by the firm.
Chief Financial Officer Robin Wang said "we never invested in any P2P projects," while Guo, the company's chairman and founder, jumped in to say that he'd never been optimistic about the industry in China. While acknowledging exceptions, Guo said that in general the country's P2P operations were "rogue."
China this month imposed limits on lending by P2P platforms to individuals and companies after defaults and fraud among the nation's more than 4,000 online lenders.
Ponzi Scheme
In December, the country's biggest Ponzi scheme was exposed after Internet lender Ezubo allegedly defrauded more than 900,000 people out of the equivalent of $7.6 billion. China has 1,778 "problematic" online lenders, according to the banking regulator.
While the P2P industry needs cleaning up and is set for a phase of consolidation, Guo's comments seem uninformed, said Xu Hongwei, chief executive officer of Shanghai-based Yingcan Group, which tracks the industry. Xu said that the new rules will help the industry's long-term development.
Under the rules, an individual can borrow as much as 1 million yuan ($150,000) from P2P sites, including a maximum of 200,000 yuan from any one site. Corporate borrowers are capped at five times those levels.
Besides many investments in insurance, Fosun has businesses that range from the Club Mediterranee SA resorts to British soccer club Wolverhampton Wanderers. The firm has begun to pare its investments as it accelerates plans to improve its balance sheet and is preparing a listing of its Ironshore Inc. insurance business.