pursuits
Canada to Join China-Led Infrastructure Bank in Win for Xi
Bloomberg News
Canada's move leaves the U.S., Japan as only G-7 holdouts

Trudeau seeks to reset relations with China after rough start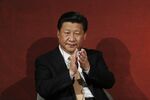 Canada will join China's new $100 billion Asian Infrastructure Investment Bank, a diplomatic victory for President Xi Jinping just before he hosts the Group of 20 summit.
In applying for membership in the China-led development lender, Canada will become the first North American country to join, Finance Minister Bill Morneau said Wednesday after a meeting with AIIB President Jin Liqun in Beijing. Earlier in the day, China agreed to ease its restrictions on canola seeds from Canada, the world's top grower of the crops used to make cooking oil and animal feed.
Canada's entry leaves the U.S. and Japan as the only Group of Seven holdouts, giving China another win as it establishes new channels for influence to match its ambitions. In addition to opening the AIIB in January with 57 member nations, other milestones include hosting a G-20 leaders summit next week for the first time and the International Monetary Fund adding the yuan to its reserve-currency basket next month.
For answers to all your questions on the AIIB, click here
"It can be seen as showing support for China and a future international economic and financial order where China is set to play a major role," said Wang Yiwei, professor of International Relations at Renmin University in Beijing who is also a foreign policy adviser to the Communist Party's International Department. "It can also be read as a display of disappointment at the U.S."
Relationship Reset
Prime Minister Justin Trudeau hailed ties between Canada and China on Wednesday in Beijing, where he's on the first leg of a 10-day trip designed to "reset the relationship a little bit" after months of tension following his surprise election win in November.
In June, Trudeau complained to Beijing after visiting Chinese Foreign Minister Wang Yi lashed out at a Canadian journalist in Ottawa for questioning China's human rights record. Then this month British Columbia instituted a tax on foreign real estate buyers, a move aimed almost exclusively at wealthy Chinese blamed for driving the Vancouver housing market.
"The Trudeau government shows it's now taking a rational, practical approach to improve relations with China after an early bumpy start," said Xue Li, director of international strategy at the government-backed Chinese Academy of Social Sciences' Institute of World Economics and Politics. "Maybe it has realized it'd be difficult to boost bilateral ties if it always insists in putting human rights issues on top of its agenda."
'New Era'
In talks with Premier Li Keqiang, Trudeau said he "highlighted" the case of Canadian citizen Kevin Garratt, who has been detained in China for two years on suspicion of spying. Li said that Garratt would be treated humanely and his case would be handled in accordance with the law.
Trudeau recalled a "new era" in bilateral relations started in 1970 by his late father. Pierre Trudeau, who served two stints as prime minister from 1968 to 1984, is revered in China and was lauded by Xi in his first meeting with the current Canadian leader.
"It wasn't just good for Canada and China, it had a positive impact in the world as well," Trudeau said of his father's foreign policy at a joint press conference with Li. "I'm extending that effort now."
To read about the challenges facing Canada's economy, read this
This week Trudeau said that China is "critically important" for Canada's growth and that he wants to encourage Chinese investment in his country. The two countries agreed on Wednesday to do a feasibility study on a trade pact.
Xi's vision of achieving the same great-power status enjoyed by the U.S. got a boost last year when the U.K., Germany, France and Italy signed on to the AIIB. While China has said it would welcome the U.S. in the AIIB, Washington has declined to apply for membership, citing concerns it will fall short of international standards. Other U.S. allies such as Australia and South Korea also signed up.
Jin of AIIB told reporters that the U.S. government is "positive" about the bank and has encouraged both the World Bank and Asian Development Bank to cooperate with it. He also said China's stake will be diluted as new members join.
— With assistance by Ting Shi, Theophilos Argitis, Shuping Niu, Jeff Kearns, and Miao Han
(
Updates with new quotes in the eighth paragraph.
)
Before it's here, it's on the Bloomberg Terminal.
LEARN MORE