Geneva Proposes Cutting Corporate Tax Rate to Boost Appeal
by
Canton plans rate of 13.49% as EU pushes to scrap tax breaks

Reform will create 440 million-franc hole in Geneva's finances
Geneva proposed cutting its corporate tax rate as the Swiss canton that's home to almost 1,000 multinationals bids to increase its allure in the face of European Union pressure to scrap preferential fiscal deals for foreign companies.
Geneva plans to reduce its standard tax rate to 13.49 percent from 24.2 percent, the cantonal government said Tuesday. While that's above the average 11.6 percent preferential rate currently offered to many foreign firms, the new regime will improve the Swiss city's competitive position, according to Credit Suisse Group AG.
The Swiss canton wants to boost its appeal amid headwinds from the strong franc, concern over immigration quotas and the demise of banking secrecy. Multinationals from Procter & Gamble Co. to commodity trader Mercuria Energy Group Ltd. account for 76,000 jobs and 40 percent of Geneva's economy.
"It's a reform of vital importance," Pierre Maudet, head of the canton's departments for security and economy, said in an interview on the sidelines of a press conference. "It will preserve the attractiveness of Geneva for the long term and help retain jobs here."
A rate of about 13 percent would see Geneva jump 13 places to become the third-most attractive of Switzerland's 26 cantons, trailing only Zug and Zurich, according to a Credit Suisse study published in February. France, which borders the canton to the south, east and west, has a tax rate of 33.33 percent, data compiled by KPMG show.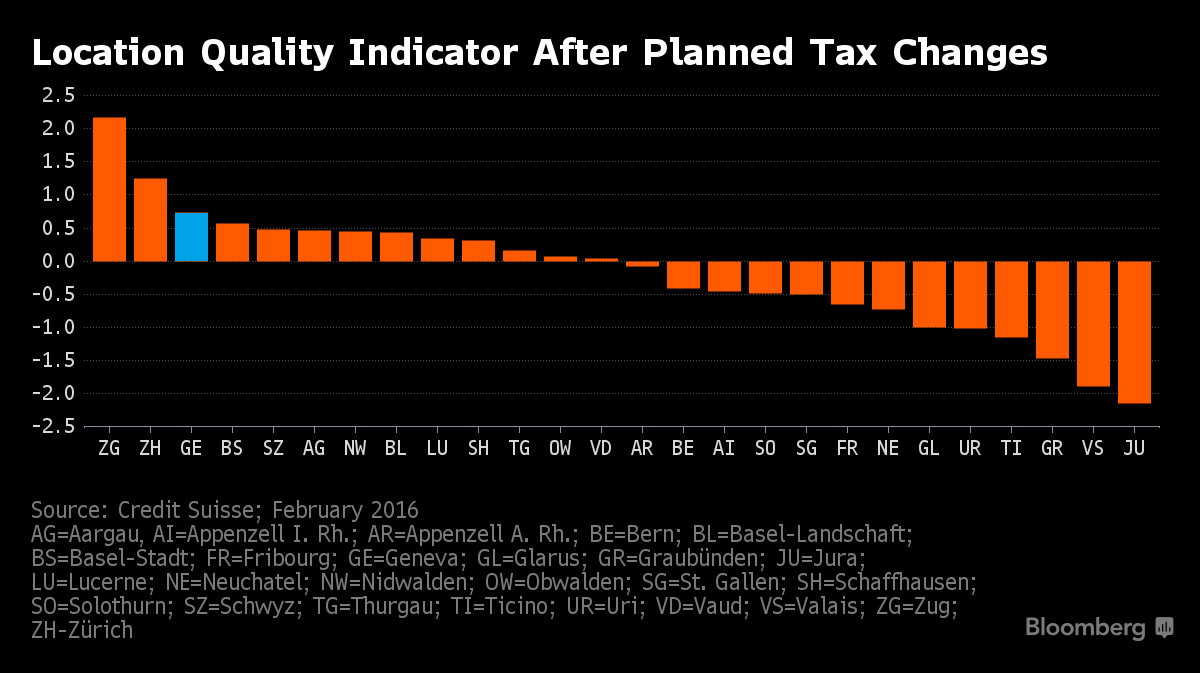 For an interim period of five years, the tax rate would be a slightly higher 13.79 percent as Geneva adjusts to the new regime, the canton said. Over that period, the canton's deficit limits would be relaxed.
The new tax structure will leave a projected 440 million-franc ($449 million) hole in Geneva's finances, the canton said. That projected deficit has raised concerns that services to Geneva's almost half a million people will be cut, according to Romain de Sainte Marie, head of the Socialist Party in the cantonal parliament.
"There will be no cuts to public services because of this reform," Maudet said. "If businesses pick our canton it's also thanks to the quality of its public services."
Still, opposition to the new rate from left-leaning political parties will probably trigger a referendum as it would only require 500 signatures.
"There will for sure be a popular vote on the matter," said Antonio Hodgers, who oversees the canton's Department of Housing and Energy, during the press conference in Geneva.
Consultations on the tax proposal will start now and run until Oct. 14, the government said.
Before it's here, it's on the Bloomberg Terminal.
LEARN MORE