From Guerrilla to Impeachment: the Dilma Rousseff Story
by and
Brazil's Senate is debating whether Dilma Rousseff broke the country's fiscal responsibility laws. The decision set for Wednesday will likely seal the political fate of one of the country's most striking personalities: a former Marxist-guerrilla fighter of Bulgarian roots, who endured torture, helped found a political party, oversaw the oil giant Petrobras, survived cancer and became the first female president of Latin America's largest nation.
The highs and the lows of her story in 11 pics.
Bulgarian Roots

Dilma Vana Rousseff is born in the Brazilian city of Belo Horizonte on December 14, 1947, daughter of a Bulgarian lawyer, Petar Russev, later naturalized as Pedro Rousseff. In her family portrait (left to right): Igor (brother), Dilma Jane (mother), Dilma Rousseff, Zana Lucia (sister), and Pedro (father).




Arrested and Tortured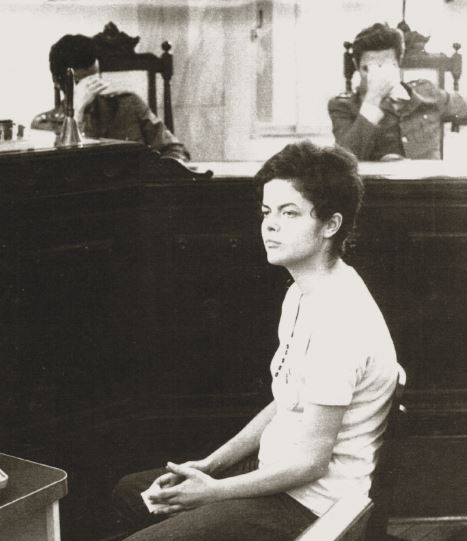 At age 16, Rousseff joined political organizations opposing Brazil's military government, including Marxist urban guerrilla groups. In a picture that became famous in Brazil, she faced officials defiantly as they hid their faces. Rousseff was tortured and sent to jail for nearly three years between 1970 and 1972. After being released she resumed her studies and graduated as an economist from the Federal University of Rio Grande do Sul.







Founding a New Party

During Brazil's transition back to democracy in the early 1980s, Rousseff helped create the Democratic Labor Party (PDT). In the picture, she shakes hands with Leonel Brizola, one of the leaders of the anti-military movement and PDT's founder. She later held jobs in the administration of Rio Grande do Sul, including as energy secretary and finance secretary for the capital city of Porto Alegre.


Joining the Workers' Party

Rousseff joins the Workers' Party in 2000 and becomes responsible for the energy policy of then presidential candidate Luiz Inacio Lula da Silva two years later. Lula appoints her as his energy minister. When a corruption scandal forces Lula's chief of staff to resign in 2005, Rousseff takes over the job. In the picture, Lula, Rousseff, and then Defense Minister Nelson Jobim in 2007.


Groomed by Lula

Rousseff starts to gain global exposure as popular president Lula grooms her to succeed him after two terms in office. In the picture, she shakes hands with President Barack Obama during a meeting in the White House in 2009.





First Female President

Rousseff is elected Brazil's first female president in 2010 with 56 percent of the votes after defeating Jose Serra, from the Brazilian Social Democracy Party. In the picture, she receives the presidential sash from Lula, her mentor and predecessor.





Heavy Government Hand

Rousseff carries on Lula's social policies while increasing the government's intervention in the economy, including measures that forced public banks to lower interest rates and a nationalist shift in oil policy that limited foreign competition. In the picture, she signs autographs for oil workers during the inauguration of an offshore oil platform in June 2011.




Corruption Scandal

The tide starts to turn as the commodity boom cycle comes to an end and a deepening corruption scandal involving state-company Petrobras, ends up in the arrest of high profile politicians and businessmen and weighs on the country's economy. During an April 2015 interview with Bloomberg (pictured), Rousseff says she wasn't aware of the kickback scheme that ran in the oil company she chaired from 2003 to 2010.

Impeachment Starts

Tensions between Rousseff and her Vice President Michel Temer mount late in 2015 as the lower house accepts an impeachment request against the president, deepening the country's political turmoil. Rousseff later accused Temer of being a "coup plotter."






Suspended President

Rousseff is suspended on May 12 as the Senate accepts charges that she tinkered with the country's accounts to mask a growing budget deficit. Temer steps in as Brazil's acting president. In the picture, Rousseff addresses supporters outside the presidential palace, with Lula behind her, following her suspension.




Last Stand

Rousseff mounts an emotional and personal defense of her presidency during her impeachment trial. In a session that lasted close to 15 hours, Rousseff answered questions from senators, calling impeachment a "political death penalty" that would put Brazil's democracy at risk. If impeached, Rousseff will be permanently ousted from presidency and will be banned from holding public office for eight years.
Watch Next: Brazil Is Unraveling Before Our Eyes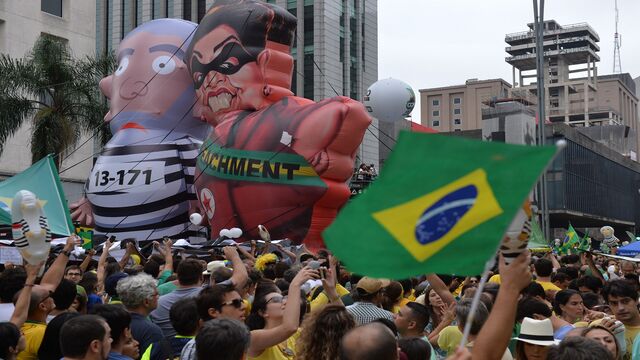 Before it's here, it's on the Bloomberg Terminal.
LEARN MORE