Canada's Potash Corp., Agrium in Talks on Potential Merger
By , , and
Move comes amid lower fertilizer prices and farmer spending

Potential deal comes almost year after Potash dropped K+S bid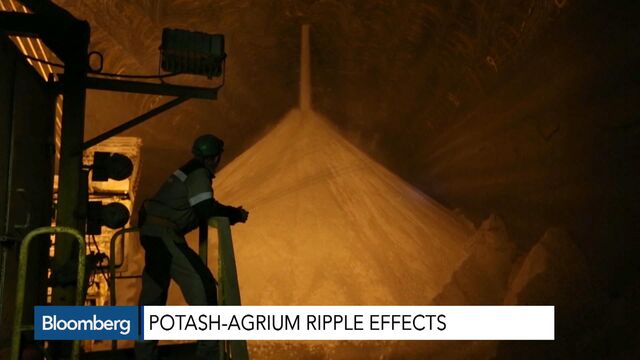 Potash Corp. of Saskatchewan Inc., the world's second-largest producer of its namesake fertilizer, and Agrium Inc. are in talks about a merger of equals as they battle falling prices and a decline in spending from farmers.
Discussions are preliminary and there's no assurance that any transaction will be agreed on, both Canadian companies said in separate statements Tuesday, confirming an earlier story by Bloomberg News about the potential combination. A deal could be announced as soon as next week, said people familiar with the matter, who asked not to be identified because the deliberations are private.
Based on today's closing share prices, Potash is valued at about $14.9 billion, with Agrium at about $13.2 billion. Potash surged 11 percent in New York trading, while Agrium jumped 7 percent. Other fertilizer producers, including Intrepid Potash Inc. and CF Industries Holdings Inc., also climbed.
The potential for a deal comes as fertilizer companies struggle with depressed crop prices, which have pressured spending by farmers. Over the past year, spot prices for potash in the U.S. Corn Belt have fallen 34 percent and other crop nutrients have gotten cheaper. Potash buyers in India and China delayed signing contracts for supplies, damping demand.
Generate Growth
Both companies have struggled to improve earnings amid weak markets, and a merger probably would be a move to generate growth and cut costs, said Colin Isaac, an analyst with Atlantic Equities in London.
"People will use this as evidence we're at the bottom of the cycle," Isaac said in a telephone interview. "It's probably more about synergies and generating some growth."
The combined company would own more than 50 percent of North American potash capacity, and those assets would be the main challenge if the merger faces regulatory hurdles, Paul Forward, a Stifel Nicolaus & Co. analyst, said in a note. Antitrust concerns could be addressed by selling one or more potash assets to competitors such as BHP Billiton Ltd. or K+S AG, he said.
The merger "would likely create significant value, particularly amidst a depressed backdrop for global fertilizer prices," Forward said.

Shares of Saskatoon, Saskatchewan-based Potash Corp. settled at $17.79 in New York on Tuesday, while Calgary-based Agrium closed at $95.76.
Abandoned Plan
Potash Corp. abandoned a plan to take over German rival K+S last year after its efforts were rebuffed by management amid regulatory concerns, and after the drop in potash prices prompted the Canadian company to rethink the economics of the deal.
Potash Corp. cut its dividend in July for the second time this year and lowered its full-year profit forecast. Agrium reduced its full-year earnings outlook this month for the second time in 2016.
Mega Deals
The potential merger is the latest in a string of mega deals in the agricultural chemical market. Negotiations between Bayer AG and Monsanto Co. are advancing after the German company's $55 billion takeover bid. China National Chemical Corp. agreed in February to acquire Swiss pesticide maker Syngenta AG for about $43 billion, while DuPont Co. and Dow Chemical Co. plan to merge and then carve out a new crop-science unit.
The deal will likely hinge on whether the terms are favorable to Agrium as they have the retail business that Potash does not, said David Baskin, President of Baskin Wealth Management in Toronto. His firm manages about C$950 million ($651 million). While Potash shareholders would get the advantage of diversification, Agrium is a stronger company that may not benefit from the deal, he said.
"If I'm an Agrium shareholder, I'm not sure how happy I'd be about this, but it depends on the terms," Baskin said in a telephone interview. "My initial impression is good for Potash, bad for Agrium. But it depends on the price."
The price of potash has been under "severe stress," and it makes sense for the two companies to join forces when margins are compressed, said Peter Andersen, chief investment officer at Fiduciary Trust Co. in Boston, which has more than $11 billion of assets under supervision. The deal seems like an effort to cut costs rather than boost prices, he said.
"I see this as a purely defensive play rather than something to expand the company's footprint," Anderson said in a telephone interview. "There is an opportunity with Agrium to open up the U.S. retail-store channel to Potash, but it's very hard to get excited about a merger like this when it seems more defensive than aggressive."
— With assistance by Jen Skerritt, Scott Deveau, and Eric Lam
Before it's here, it's on the Bloomberg Terminal.
LEARN MORE