Sarkozy's Hard Line on Burkini Shows Him Betting on French Right
by
Former president pledges nationwide ban on Muslim beachwear

Polls show close race with Sarkozy in sync with party base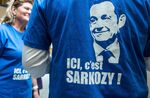 Nicolas Sarkozy and Alain Juppe, the front runners in the race for the presidential nomination of France's Republican party, scrapped over the politics of Islamic beachwear using identity politics to stake out their positions in an increasingly close contest.
After a top court last week struck down a local a ban on the body-covering burkinis on France's Mediterranean coast, Sarkozy said Monday that he would change the constitution to allow nationwide prohibition of the garments if he returns to the presidency in May next year. Juppe, a former prime minister who held a major campaign rally Saturday, called for restraint and warned against extremist politics.
Politicians need to "stop throwing oil on the fire," Juppe said repeatedly throughout the weekend. "Agitation doesn't equal authority." Sarkozy held his ground, saying that he plans to ban the burkini on beaches and at public swimming pools. "The question is whether society adapts to the law or law adapts to society," he said Monday on RTL radio.
The clash taps into the broader debate about France's national identity, as a country that traditionally tries to keep religion out of politics grapples with the place of Muslims in its society. Sarkozy is appealing to voters on the right of the political spectrum, including some who may consider voting for National Front candidate Marine Le Pen, while Juppe is pitching to centrists and disaffected Socialists.
An Odoxa-Dentsu poll published Saturday showed 38 percent of the electorate want Juppe to win the first round of the Republican primary, while 24 percent are backing Sarkozy. Yet the same poll shows that among right-leaning voters -- who will most likely decide the party's candidate -- 44 percent believe that Sarkozy has the best plan for the country, compared with 31 percent for Juppe.
Those results underline that the outcome of the two-round primary scheduled for Nov. 20 and Nov. 27 may hinge on who actually turns up to vote. All French voters have the right to participate provided they contribute 2 euros ($2.24) to the party and sign a charter saying they believe in the values of the right and the center and that they are committed to changing the country's president in 2017.
A TNS Sofres-OnePoint poll published in Monday's Le Figaro newspaper showed that in a scenario where the primary attracts a "narrow" base of 1.7 million voters, Sarkozy would win the first round of voting with 37 percent of the vote, compared to 30 percent for Juppe. With a broad base of 4.9 million voters, Juppe would win 37 percent to 31 percent. In a middle case of 2.9 million primary voters, the two candidates are neck-and-neck at 34 percent.
Before it's here, it's on the Bloomberg Terminal.
LEARN MORE