Merkel's Marching Orders: Snatch Back Anti-Immigrant Party Votes
by
CDU must approach AfD voters while standing by 'core values'

German leader speaks amid surge in support for populist party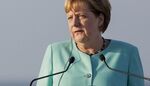 Confronted with a surge in populist anger, Chancellor Angela Merkel said her Christian Democratic Union must aggressively pursue voters tempted by the anti-immigrant Alternative for Germany party, or AfD.
Merkel said the CDU must stand by its values, from its opposition to "xenophobia and racism" to its commitment to the North Atlantic Treaty Organization. Up and down the country, AfD has grown more popular by attacking Merkel's open-door refugee policy.
"We need to fight for these voters," Merkel told party members in the northeastern city of Schwerin Monday, while campaigning in Mecklenburg-Western Pomerania.
Ahead of the Sept. 4 state vote, a poll published by broadcaster ZDF last week showed the AfD with 21 percent support, just one point behind her own party.
Merkel's message was clear: Please vote.
If turnout is low, she warned, "then the parties with more extreme tendencies will have greater results."
Before it's here, it's on the Bloomberg Terminal.
LEARN MORE