Elliott-Backed Triple Flag Lining Up First Mining Finance Deals
By and
Singer's firm willing to invest $1 billion-plus, Usmar says

Run by ex-Barrick CFO, Triple Flag has put in one binding bid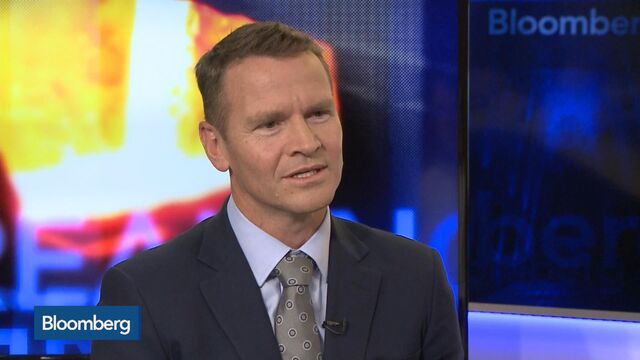 The former finance chief of Barrick Gold Corp. says his new mining-finance company backed by billionaire Paul Singer's Elliott Management Corp. is on the prowl for opportunities in the Americas and Australia, primarily targeting precious metals deals.
Triple Flag Mining Finance Ltd. has put in three first-round offers and is advancing on one binding bid, Chief Executive Officer Shaun Usmar said in an interview with Bloomberg TV Canada. Elliott is willing to invest more than $1 billion to start, he said.
Usmar, who announced in March he was leaving his post as CFO of the world's largest gold producer to open the fund, said he's held discussions with friend Mick Davis about the possibility of working together if opportunities arose. Davis, the former head of Xstrata Plc, founded private-equity firm X2 Resources in 2013.
"Frankly, I've sought advice from the likes of Mick before even taking on this opportunity," Usmar said Friday.
Long Bets
Triple Flag is looking at investments ranging from $100 million to $500 million. It isn't in for a quick return, Usmar said, noting that having Elliott as backer allows him to make longer term bets.
"The important thing was to get to cruising altitude, if I can call it that, as quickly as possible," he said in a phone interview earlier this week. "Clearly there's the potential for a lot of money, but it doesn't always necessarily translate into an executed transaction."
He doesn't see Davis as a competitor, with X2 looking to invest in private mining companies. He added that as a streaming or royalty company, Triple Flag could provide part of the financing needs on larger deals, working alongside private equity investors.
As of last month, X2 hadn't spent any of the as much as $5 billion it raised from high-profile investors, Bloomberg reported, and Davis was restructuring the firm after losing some investors.
Usmar, who held various positions at Xstrata as a founding member of the leadership team, also said he counts among his friends former Barrick CEO Aaron Regent, who now runs Toronto-based Magris Resources Inc.