Luxury Travel
Airlines Bring Free Sandwiches and Streaming Back to Coach
They're hoping you'll overlook the baggage costs and vanishing legroom.
By
After decades of red ink, U.S. airlines have gotten their financial houses in significantly better order. And while this new wherewithal certainly won't mean more legroom or free checked bags, some carriers are exploring inexpensive ways to make flying economy class a smidge less arduous.
Free meals and booze are returning on some long domestic flights, and gratis snacks are common again. A few airlines are even dropping fees for streaming audio and video: American Airlines Group Inc. just matched its two-largest domestic peers by offering cattle class free access to its full menu of in-flight entertainment.
These modest steps follow years of "densification" at the back of the plane as carriers sought to boost profits by adding seats and crunching knees. At the same time, travelers at the front of the plane were courted with ever-increasing opulence. While a seat-count reduction for the less fortunate isn't in the cards, those free movies may be sufficiently engrossing to make you forget the lack of space or your oversized neighbor.
"Even the smallest thing can seem like a big deal," said Henry Harteveldt, a travel analyst at Atmosphere Research Group in San Francisco. "When you're an abused animal, even a tiny pat on the head can make you feel like you're loved."
The improvements are funded by billions of dollars in profits, including $12 billion reported by the 10 largest U.S. carriers in the first half of this year. That's about $700 million more than in the same period last year, according to industry trade group Airlines for America. "For the first time since the Great Recession, airlines are finally achieving profit margins on par with the average U.S. corporation," said John Heimlich, the group's chief economist.
This year, on their longest routes to Hawaii, American and Delta Air Lines Inc. have restored free meals and alcoholic beverages after years of charging you for snacks. The change aligns those carriers' meal policies with those on their long-haul flights to Europe and South America.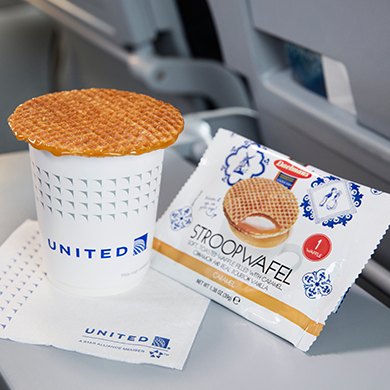 There are smaller touches, too. United Continental Holdings Inc. has touted its new premium Italian coffee, from Illy, along with the debut in February of a Dutch snack, stroopwafel—which came with a video the carrier produced to show how to eat it. Last month, it also began stocking a more premium single malt scotch, Glenfarclas, and a craft beer from Goose Island. On some European routes, United has begun serving an additional mid-flight snack, part of an upgraded dining experience in which the airline has divided economy-class meal service into three courses, hoping to make the experience slightly nicer.
This effort to make customers happy isn't limited to free food, booze, and films. In April, Delta ditched its fees for purchasing a ticket over the phone or at the airport. American, like some others, will now refund money on nonrefundable tickets if the reason is suitably compelling. A company spokesman declined to say what issues American considers valid for refunds; telephone and airport agents have been given discretion to make the call. 
"Airlines are taking a look at not just what drives purchases but what drives complaints," Harteveldt said.
In the end, though, all that free stuff may not be free at all. Another factor in the analysis, Harteveldt said, is finding a way to stand out from rivals: Carriers are always keen to command higher fares, and a unique perk might allow them to charge a few additional bucks. (Delta frequently cites its "revenue premium" over others, as do JetBlue Airways Corp. and Virgin America Inc. on some of their networks.)
Moreover, any new crumbs for coach dwellers pale next to investments being plowed into new aircraft, airport terminals, and employee contracts. And some issues just aren't on the table, no matter how much industry profits rise. The checked-bag fee is sacrosanct, as are those ubiquitous fees to select certain "better" seats at the time of ticketing. And airlines will continue to pamper their more lucrative passengers in first class and business class.
Nevertheless—back in economy—now you can get Game of Thrones and a free biscuit. And that's better than nothing.
Before it's here, it's on the Bloomberg Terminal.
LEARN MORE