Putin Orders Army Drills as Merkel Accuses Russia on Ukraine
By and
Military tests combat readiness, Russian defense minister says

NATO will protect member states, Merkel tells Estonians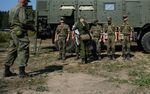 Russian President Vladimir Putin ordered snap military drills as German Chancellor Angela Merkel accused him of breaking international law in Ukraine and said NATO will defend member states against attack.
Combat readiness exercises are taking place "to defend the interests of the Russian Federation amid increasing threats to its security," Defense Minister Sergei Shoigu said Thursday in a statement on the ministry's website. Troops in Russia's southern, central and western military districts, naval deployments in the Black Sea and Caspian Sea, and airborne forces are involved, he said.
While Germany wants a "constructive relationship" with Russia, "we have to live with the reality" of its actions in annexing Crimea and backing separatists in eastern Ukraine, Merkel told reporters Thursday in the Estonian capital, Tallinn. Members of the North Atlantic Treaty Organization will stand together against any threats and are committed to protecting the Baltic nation that borders Russia, she said.
Russia is conducting drills near its border with Ukraine amid a spike in tensions ahead of talks on the Ukrainian conflict between Putin, Merkel and French President Francois Hollande on the sidelines of the Sept 4-5 Group of 20 summit in China. Putin threatened "very serious" measures after accusing Ukraine of killing two Russian servicemen earlier this month in Crimea, which he annexed in 2014. 
Ukraine said the incident never happened and President Petro Poroshenko put his military on high alert last week, saying that "we don't rule out a full-scale Russian invasion." Despite a February 2015 cease-fire accord, fighting has flared in eastern Ukraine where almost 10,000 people have been killed since the conflict with pro-Russian rebels erupted in April 2014.
'Flout' Law
It's necessary to "call it as you see it" on the Ukrainian conflict and it's not possible simply to accommodate Russia even as the European Union, which imposed sanctions, has made "many offers" to try to resolve the crisis, Merkel said.
"I, for one, couldn't imagine that Russia would flout international law to the point of annexing Crimea," Merkel said. "Who would have expected separatists to destabilize eastern Ukraine to such a degree with Moscow's support?"
The EU can't discuss lifting sanctions against Russia without "significant improvement" in implementing the 2015 truce accord signed in Minsk, Belarus, Czech Prime Minister Bohuslav Sobotka said at a news conference with Merkel in Prague later on Thursday.
"I share that opinion," Merkel said. While she hoped that she and Hollande can report progress to the rest of the EU, "this hasn't been the case so far," she said.
'Confrontational Steps'
Amid the tensions with Russia over Ukraine, NATO approved plans at its summit in Warsaw last month to rotate four battalions through Poland and the Baltic states of Estonia, Lithuania and Latvia to bolster the alliance's defenses. Russia responded to what it saw as a NATO buildup on its borders by announcing deployment of three new divisions in the European part of the country.
Putin ordered similar large-scale combat-readiness drills in June. He also told a gathering of his ambassadors that month that NATO "is not only seeking in Russia's behavior justification for its own legitimacy and existence but also is taking truly confrontational steps against us."
NATO has accused Russia of sending troops and weapons to support the separatists in Ukraine, an allegation Putin has denied. Russia "needs to stop supporting the militants, and withdraw its forces and military equipment from Ukrainian territory," Secretary General Jens Stoltenberg said after a meeting of the NATO-Ukraine Commission in June.
Before it's here, it's on the Bloomberg Terminal.
LEARN MORE