Viacom Said to Rethink Resistance to $12 Billion Downgrade
By and
Alternatives could include cutting dividend, selling shares

Ousted CEO Dauman has proposed sale of 49% Paramount stake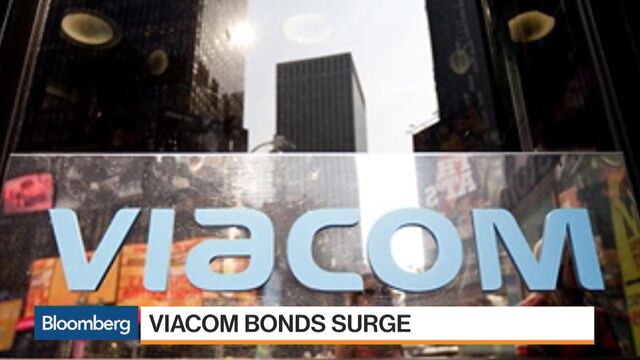 Viacom Inc. is grappling with a stark choice: standing aside as the ratings drop on its $12 billion in debt -- or taking dramatic steps like cutting its dividend or selling off assets.
Executives are looking for signals from the company's revamped board on whether to take measures to avoid a ratings downgrade, a person familiar with the matter said. Allowing a downgrade of its bonds, which are rated two notches above junk, would give Viacom flexibility to keep paying its current dividend, though its borrowing costs could be higher.
If the board would rather keep its credit rating, Viacom could consider cutting its payout to shareholders or selling shares to reduce its debt load, said the person, who asked not to be identified discussing private deliberations.
"From a credit perspective, any resolution to the direction of senior management for this company is a positive step," said Steve Flaherty, head of investment-grade research at Neuberger Berman, which holds Viacom's 4.375 percent notes due 2043, according to data compiled by Bloomberg. "They're over their skis on their ratings, they're over their skis on their leverage, and that needs to come down."
A Viacom spokesman declined to comment.

Viacom's bonds are already trading close to junk-like yields, and the strain on its balance sheet is threatening to hinder the media giant's ability to invest in its struggling TV networks. Ousted Chief Executive Officer Philippe Dauman's proposal to raise $4 billion by selling a 49 percent stake in Paramount could help protect Viacom's investment-grade ratings and fund new programming that would generate more cash flow, but controlling shareholder Sumner Redstone has resisted such a sale.
If the company rejects a Paramount deal and wants to remain investment grade, Viacom might also have to consider a merger with CBS Corp., selling other assets or slashing expenses.
Some debt investors are betting that Viacom can preserve its BBB- rating at S&P Global Ratings and Baa2 grade with Moody's Investors Service, even though both have warned about a potential cut. Viacom's debt has traded at an average yield of 3.84 percent, compared with as high as 5.26 percent in mid-February. The bonds have had the second-best performance among companies with similar ratings by total returns since a legal settlement between parties including Dauman and Redstone on Aug. 18. The yields are still higher than the overall BBB-rated index, which stands at about 3.23 percent.
Aligning Interests
Viacom shares were little changed at $41.69 at 11:28 a.m. in New York. The stock has lost almost half its value over the past two years as viewership at the company's U.S. cable networks slid. Viacom's $1.45 billion of 4.375 percent notes due 2043 fell 0.47 percent to trade at 88.825 cents on the dollar.
"Equity analysts and the fixed-income analysts are somewhat aligned," Flaherty said. "The ultimate issue is, we need to make shows people want to watch, and stop throwing any level of free cash flow back to share repurchasing."
Viewership of top networks like MTV and Comedy Central has declined sharply, as young viewers watch more videos on Snapchat and YouTube. Viacom will have to spend so much retiring its debt that it will have little cash left to do anything else, said Steven Cahall, an analyst with RBC Capital Markets. The company could free up cash by selling some of its less popular networks, Cahall said, but that would net only a fraction of the money needed.
Paramount "isn't contributing very much at all, so it wouldn't be missed much," said Moody's Investors Service Analyst Neil Begley. The studio isn't expected to turn a profit this year, and sale proceeds could be significant, he said.
For a QuickTake Q&A on Viacom's next steps, click here
Filmed entertainment represents only about a fifth of Viacom's total revenue, and less than 5 percent of Ebitda historically, S&P said in a June report.
"Given the uncertainty around long-term growth, it makes sense to sell an asset that has been really badly managed," said Michael Nathanson, an analyst with MoffettNathanson LLC. "I'd sell the whole thing; you can get more bidders."
The company has said that 2016 would be a low point as it ramps up production on bigger slates of movies in the coming years, which could help the unit become more profitable. The movie studio won't turn a profit this year, and released a number of disappointing movies this summer including a sequel to "Teenage Mutant Ninja Turtles" and a remake of "Ben-Hur."
While Dauman has agreed to resign, he has until Sept. 13 to gain the board's unanimous approval for a Paramount sale. But Viacom shareholder Mario Gabelli opposed selling the entire studio in an interview with Bloomberg TV Monday. In a filing Tuesday, Viacom said Dauman can seek to sell only a minority stake and can't give an investor the option to take control of Paramount later without Redstone's consent.
'Greater Jeopardy'
Moody's revised Viacom's rating outlook to negative from stable on Aug. 9, following the weaker-than-expected earnings announcement. The company's rating is currently the second-lowest for investment-grade debt.
Viacom's Class B shares pay a dividend of about 3.8 percent, well above the 2.1 percent average for the Standard & Poor's 500 Index, indicating some skepticism among investors that the company will continue paying the full amount. The dividend costs about $600 million a year, according to Begley at Moody's. The shares have returned 3.4 percent this year including dividends, less than half the broader market.
More Help
A decreased dividend alone would not be sufficient to maintain the company's current grade, the Aug. 9 Moody's report said. Viacom also needs income from an asset sale such as the Paramount deal, or stronger audience ratings and advertising sales, the report said.
It's unlikely Moody's would decrease the rating two notches at once to a junk level, Begley said, but "if whoever takes over command of the company for the long run comes out and says we're not cutting the dividend, we're not selling any assets, we're not merging with CBS, and they continue to flounder, that certainly puts them in greater jeopardy of eventually losing their investment-grade rating."
Before it's here, it's on the Bloomberg Terminal.
LEARN MORE