markets
Thailand Embarking on LNG Shopping Spree as Glut Cuts Prices
By , , and
LNG prices in Asia have fallen 62% since October 2014

Thailand wants to quadruple capacity and sign long-term deals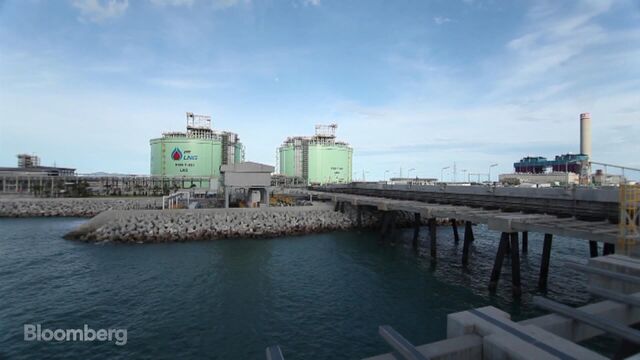 Bangkok is about to become a very important destination for sellers of liquefied natural gas.
QuickTake Liquefied Natural Gas
In an oversupplied market where prices have cratered and new long-term contracts are rare, Thailand's national oil company is bucking the trend and planning to go on a shopping spree. PTT PCL Chief Executive Officer Tevin Vongvanich hopes to nearly quadruple import capacity and said he plans to sign long-term agreements with several suppliers by the end of the year that would more than double what the country currently imports.

"We're taking the opportunity of the buyer's market situation of the LNG at this stage to secure a few more long-term contracts," he said in an interview at his office in Bangkok. "It's the sale time now for LNG, so we're doing our shopping."
The buying binge couldn't come at a better time for LNG sellers. Spot LNG prices in Southeast Asia have fallen 62 percent since October 2014 as new export terminals have created a supply glut, while large buyers like Japan and South Korea have reduced demand.
Thailand doubled LNG imports last year to 2.7 million tons, about 1.1 percent of global trade, according to the International Group of LNG Importers. The country will boost imports to 3 million tons this year, Tevin said.
Committed Volume
PTT signed a long-term contract in 2012 to buy 2 million tons of LNG a year from Qatar. Tevin said he's looking to diversify by seeking to add about 3 million tons a year of committed volumes from other suppliers.
"We were a bit fortunate that we didn't commit before the price collapsed, so we have that flexibility of shopping around," Tevin said. "Currently a lot of people have been knocking on our doors for the long-term contracts."
PTT is doubling the annual capacity of its import facility to 10 million tons this year and will later increase it to 11.5 million tons. Further expansion plans, including adding a second terminal, with its size pending cabinet approval, would further boost capacity to as much as 19 million tons a year. The terminal upgrades alone could cost $1 billion to $2 billion, Tevin said. Bloomberg New Energy Finance expects Thailand's imports to exceed 16 million tons a year by 2030.
Exploration Unit
"For Thailand, we're obviously the energy importing country," he said. "We're also looking at not just the demand growth in the natural gas consumption, but also our natural resources declining because we have been producing for over 30 years. So, naturally the supplementary supply from LNG is negligible and it will grow more and more."
PTT's upstream unit, PTT Exploration & Production PCL, is also playing a role in the company's LNG strategy. The drilling arm of the company owns an 8.5 percent stake in a 5,000-square-mile patch in the Rovuma offshore area in Mozambique. Tevin sees Mozambique as the next Qatar as the country has found sizable gas resources, which is an opportunity for its LNG strategy.
"They have potential to become a large LNG exporter in the future which match very well with the situation of Thailand where we need to look for additional import volume of LNG," he said. "LNG is a grand strategy for the PTT Group at the moment."
PTT added as much as 1.2 percent to 351 baht at 10:36 a.m. in Bangkok. Thailand's SET Index gained 0.3 percent.
Before it's here, it's on the Bloomberg Terminal.
LEARN MORE