Glencore Records $395 Million Loss From Hedging Coal Output
By and
Swiss trader locked in prices for 55 million tons of coal

CFO says hedge was a 'corporate-risk management' decision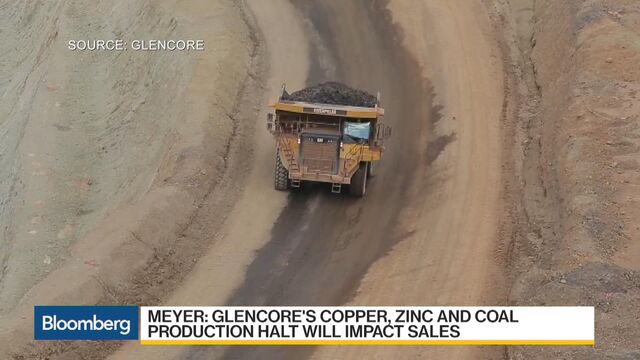 Glencore Plc, the world's biggest coal exporter, recorded a $395 million loss by hedging future production of the fuel before prices rallied.
The miner and trader locked in prices for about 55 million metric tons during the second quarter, when benchmark prices surged 11 percent, said Chief Financial Officer Steve Kalmin. On a call with analysts Wednesday, he responded to repeated questioning by defending the trade as "sensible" and a "corporate risk-management" decision.

The loss, which hasn't been realized yet, stings for Glencore because Chief Executive Officer Ivan Glasenberg, revered in the industry for his commodity expertise, once headed the coal unit and cut his teeth trading the fuel. Glencore sank as much as 6 percent in London after disclosing the charge, which the CEO said wasn't a "big deal," and reporting its lowest profit since going public in 2011.
The hedge was "poorly timed" and limits benefits to higher prices, Chris Lafemina, a New York-based mining analyst at Jefferies International, said in a note. "Of course, coal prices could fall and these losses could become gains, but the reality so far is that prices have increased further since June 30, markets are tightening, and supply globally is falling."
Coal's Rebound
The price of thermal coal from Australia's Newcastle port, a benchmark for Asia, reached a 17-month high of $68.50 a ton last week after trading as low as $48.50 in April. European coal prices jumped 31 percent in the second quarter, broker data compiled by Bloomberg show.
Despite stating that the transactions were to lock-in future prices, the company said in a regulatory filling that they couldn't be designated as hedging instruments under international accountancy rules. Glencore was therefore forced to recognize it as a loss.
In addition to that hedge, the company also effectively locks-in prices by selling coal to Japanese utilities at a fixed price under annual contracts. Under accounting rules, it doesn't need to recognize a mark-to-market position on its Japanese deals.
The loss wasn't related to a type of speculative trade that Glencore has made in the past, which involved selling call options to banks and hedge funds, according to two people familiar with the matter, who asked to not be identified because the dealings aren't public.
Coal Production 
Glencore produced 59 million metric tons of coal in the first half from mines in Australia, Colombia and South Africa. The coal division is headed by veteran Tor Peterson, who has been with the company since 1992 and owned almost 3 percent of the company at the initial public offering five years ago.
The expense is an accounting "mismatch" between the fair value of coal derivative positions used as a hedge, Glencore said in a statement. The forward sales are expected to be settled before the end of June next year.
"Optically it's not great, particularly now when there's been a significant focus on the trading business," said Paul Gait, an analyst a Sanford C. Bernstein Ltd. in London. "For those that want to see black box risk, this will be evidence of it. For those of us that are prepared to look beyond that, it seems like a rounding error."
The company on Wednesday reported a 66 percent drop in first-half profit to $300 million from a year earlier. Net debt declined to $23.6 billion and the trader widened its target to cut borrowings to as low as $16.5 billion by year-end.
Peter Grauer, the chairman of Bloomberg LP, is a senior independent non-executive director at Glencore.
— With assistance by Mathew Carr
Before it's here, it's on the Bloomberg Terminal.
LEARN MORE