Colombia Says It Reached Final Peace Deal With FARC Guerrillas
Christine Jenkins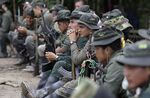 Colombia reached a final peace deal with the nation's largest Marxist rebel group, signaling an end to a conflict which has left hundreds of thousands dead.
Negotiators from the government and the Revolutionary Armed Forces of Colombia reached a final agreement, bringing an end to four years of talks, negotiators said in a press release sent by the presidency.
If Colombian voters approve the deal in a national plebiscite, it will bring an end to an insurgency that began in
1964. After the agreement is formally signed, the guerrillas will start to deploy to temporary zones where they will hand over their weapons to a UN mission. An Invamer poll conducted this month found that 67.5 percent of voters will back the peace agreement in a plebiscite.