CEO of Legendary Trader Phibro Recommends Shorting $50 Crude
by
Phibro CEO Greenshields sees oil's floor at $25-$30 a barrel

Greenshields says he has a "rosy" outlook for natural gas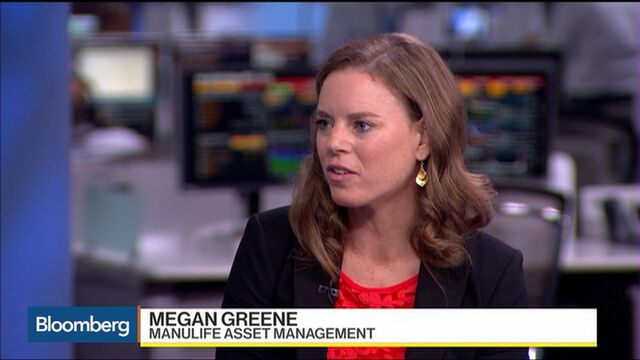 It's almost time to short this year's crude rally, according to the new chief executive officer of Phibro LLC, the century-old commodities firm that was once the largest independent oil refiner in the U.S.
Simon Greenshields, who became Phibro's CEO in January after his firm bought the merchant trader, recommended shorting benchmark West Texas Intermediate crude at $50 to $55 a barrel. Members of the Organization of the Petroleum Exporting Countries, meeting next month, probably won't cut output, and Iran's production is set to rise, Greenshields said in an interview Wednesday. WTI settled at $47.33 on Thursday.
"The fundamentals remain bearish," he said at Phibro's headquarters in Stamford, Connecticut. "If we get a rally into the OPEC meeting through September, it's an opportunity to get short. We are in a range-bound market. I'd rather sell rallies than buy dips."

The storied trading house is known for churning out big names in the oil world including Astenbeck Capital Management LLC's Andy Hall and Glencore founder Marc Rich, so Greenshields' calls on oil carry some weight. The former co-head of Morgan Stanley's commodities business has been working since January to revive and regain the clout that Phibro once had in markets as banks back out of the space.
Related: Astenbeck's Hall Sees Oil Poised for 'Violent Reversal' Higher
"We plan to build out a series of portfolio companies," he said, in addition to the fertilizer unit announced earlier this year and a newly minted renewable fuel unit.
In September, Phibro will start the biofuels business with ex-Trafigura trader Jerome Lunot that will mark the merchant's re-entry into oil-related markets, Greenshields said. The company, betting on strong demand from low-carbon fuel policies established by states including California and Oregon, will hire four to five people to run the unit out of Switzerland and a couple more in China, he said. It may involve tolling agreements to use refineries or buying assets outright.
Phibro is also looking at entering the liquefied petroleum gas market, as well as gasoline blending, storage and logistics, he said.
Phibro was founded in 1901 and initially dealt in metals before growing to become, at one point, the world's largest commodities trading house. The firm cemented its reputation as a heavyweight in oil markets in the 1970s when the Arab oil embargo sent prices surging.
New Reality
The company wound up in the spotlight during the financial crisis when, as a unit of Citigroup Inc., it awarded then-CEO Hall a $100 million compensation package, igniting controversy over pay at bailed-out banks. Occidental Petroluem Corp. bought the trading house in 2009 only to shut it five years later with Hall's departure.
'Extreme' Volatility
Greenshields's purchase of Phibro -- which included its brand name, intellectual property, technological platform and customer database -- came just as traders were settling into a new reality of oil below $50 a barrel and natural gas near $2 per million British thermal units. Both markets have been plagued by a glut of U.S. shale supplies.
"We've got extreme levels of volatility across the commodity sector, from oil to metals to gas," he said. "You've got lots of opportunity because the pool of competitors is shrinking. That translates into wider bids and offers."
Greenshields said he sees the surplus of oil persisting through 2017, with U.S. crude stockpiles rising through the end of the year. Gains in production abroad will overwhelm any cutbacks in U.S. shale drilling, he said.
"What we know is that the U.S. producers are very responsive to the forward curve for WTI," he said. "As the price goes up, they will bring more production up."
'Rosy' on Gas
Greenshields said he still has a "rosy" long-term outlook for U.S. natural gas because of rising liquefied natural gas exports, shipments to Mexico and strong demand from petrochemical plants. He said he'd recommend buying gas at $2.25 to $2.50 per million British thermal units and shorting it at $3 to $3.50. The power-plant fuel traded at $2.846 on Thursday.
Phibro is interested in buying power plants and potentially converting retired coal-fired ones into gas generators, he said. It's also working on a deal on smaller, modular LNG projects that could make a profit with lower capacity payments of $2.25 to $2.50 needed to gain financing, Greenshields said. That's 50 cents or more lower than what the larger export terminals coming online in the U.S. require, he said.  
"The price of LNG in the medium term does not look good: The market is going to remain well-supplied and the new players think they can come in and undercut the incumbents," Greenshields said. "We think that's probably true."
Before it's here, it's on the Bloomberg Terminal.
LEARN MORE