U.S. ELECTION WRAP: Clinton E-Mail, Foundation Woes Persist
Hillary Clinton's headaches over her family's charitable foundation and old e-mails don't appear to be going away anytime soon.
By and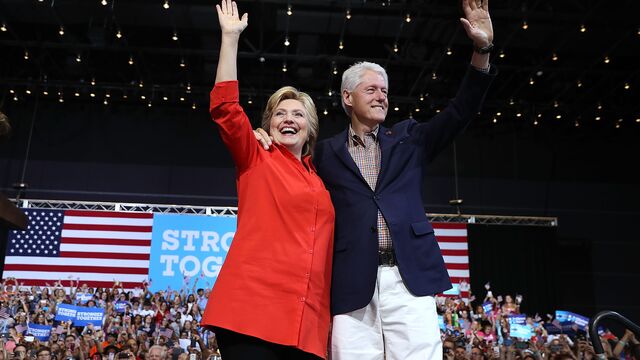 Hillary Clinton's headaches over her family's charitable foundation and old e-mails don't appear to be going away anytime soon.
Conservative watchdog group Judicial Watch released documents from the State Dept it says show Clinton Foundation donors getting special access to Hillary Clinton during her time as secretary of state; the Democratic nominee's campaign shot back by saying Clinton never took any actions due to money given to the foundation; see more details here
The State Department has until Sept. 22 to process almost 15k previously undisclosed documents recovered by the FBI from Clinton's private e-mail servers, U.S. District Judge James Boasberg ruled today; he didn't set a date for public release; see full story by Bloomberg's Andrew M. Harris here

House Oversight Committee Chairman Jason Chaffetz, R-Utah, said he will ask the FBI to release a version of its investigation into the e-mail matter that the public can see
Chaffetz said his panel has two binders full of classified and non-classified documents with a high level of redactions
"It's so sensitive and so classified that even I, as the chairman of the oversight committee, don't have the high level of clearance to see what's in those materials," he told MSNBC's "Morning Joe" this morning
Chaffetz said the information is overly classified, with some of the documents deemed top secret merely "embarrassing"
"It's a lot of immature name calling, things like that," he said
Click here to get the U.S. Election Wrap by e-mail every afternoon

CLINTON FOUNDATION
Donald Trump today called for the foundation's immediate shut down, referring to it as the "most corrupt enterprise in political history"

Clinton campaign Chair John Podesta responded by calling on Trump to release his tax returns and also "come clean with voters about his complex network of for- profit businesses that are hundreds of millions of dollars in debt to big banks, including the state-owned Bank of China, and other business groups with ties to the Kremlin"

The Clinton Foundation last week said it would stop accepting contributions from corporations and foreign entities, including governments, if Clinton is elected president

"If such fund-raising poses a problem when she's president, why didn't it when she was secretary of state or while she is running for president?" asked a Wall Street Journal editorial published Friday night

Bill Clinton today released an open letter to foundation workers and supporters that outlined more changes to be made if his wife wins the White House; they include the former president quitting the group's board and changing the organization's official name from the Bill, Hillary & Chelsea Clinton Foundation to the Clinton Foundation
Washington Post looks at how some of Trump's fiercest media critics, including journalist Cokie Roberts, Huffington Post and Boston Globe, say the foundation should close
See updated Bloomberg QuickTake Q&A from Friday on how the Clinton Foundation became a target for Republicans

TRUMP VS. 'MORNING JOE'
Trump focused his Twitter attention this morning on the hosts of MSNBC's "Morning Joe," which during the GOP primaries some criticized as too soft on the billionaire candidate

Co-hosts Joe Scarborough, a former GOP congressman, and Mika Brzezinski, a Democrat, of late have been highly critical of Trump, including this morning as they discussed his prior comments about Hispanics
Trump Tweet: "Some day, when things calm down, I'll tell the real story of @JoeNBC and his very insecure long-time girlfriend, @morningmika. Two clowns!"

Also: "Tried watching low-rated @Morning_Joe this morning, unwatchable! @morningmika is off the wall, a neurotic and not very bright mess!"
"Neurotic and not very bright? Look in the mirror," Scarborough Tweeted back

ON THE TRAIL
Hillary Clinton appears tonight on ABC's "Jimmy Kimmel Live"; Trump holds a rally in Akron, Ohio, at 7 p.m.

POLLS
Clinton holds 4-point lead over Trump in Ohio, according to Monmouth University poll, a margin consistent with recent surveys showing her ahead by the mid-single digits

In Iowa, the presidential rivals are tied at 40%

DENOUNCEMENTS
Trump isn't a competent choice for president, billionaire investor Howard Marks said today; see video and full Bloomberg story here

ETC
Trump pushed a new mortgage business in spring 2006 amid talk of an overheating U.S. housing market; read full story by Bloomberg's Heather Perlberg here
Trump opens door to softening his mass deportation plan; see story by Bloomberg's Sahil Kapur here
Bloomberg's Laurence Arnold wrote a Q&A on Trump's warnings about a "rigged" election
President Obama's planned trip to flood-ravaged Louisiana tomorrow isn't in response to Trump's trip to the state last Friday, White House spokesman Josh Earnest said at daily briefing

Clinton said she will visit La. communities affected by the flooding when the presence of a political campaign won't risk disrupting the response effort

Some Trump campaign workers have said on their personal social media accounts that Muslims are not fit to be U.S. citizens, mocked Mexican accents, called for Secretary of State John Kerry to be hanged and stated their readiness for a possible civil war, according to a review by the AP of their postings
A 12-year-old is helping to open a Trump field office in Colo., Fox 31 Denver reported

Weston Imer is co-chair of the Trump campaign in Jefferson County, which includes some of Denver's major suburbs; Imer's mother, Laurel, is listed as official field coordinator for the office
Parents should be more open to giving their children more responsibilities, she said



CONGRESSIONAL ELECTIONS 
SENATE RACES
FUNDRAISING: Democratic Senatorial Campaign Committee raised $7.5m last month, compared with $4.2m for National Republican Senatorial Committee, according to release
AZ: Republican Sen. John McCain's campaign released TV ad saying he secured funding for new border agents, customs officers, technological equipment to boost border security

"Now is not the time to have a freshman senator," Nogales police chief Derek Arnson said in ad, which comes week before McCain's Aug. 30 primary against ex-state Sen. Kelli Ward
Rep. Ann Kirkpatrick is Democratic nominee

IL: GOP Sen. Mark Kirk said in interview with Springfield State Journal-Register that "we can't have the president of the United States acting like the drug dealer in chief," referring to Obama administration's decision to withhold $400m cash payment to Iran as leverage for release of U.S. prisoners

His Democratic challenger, Rep. Tammy Duckworth, in TV ad said she knows "what it's like to overcome tough times"
Duckworth, who lost both her legs while serving in Iraq, also said she would work in Senate to "fight China's unfair trade deals that take our jobs" and seek to cut taxes for middle-class families
Independent Voice for Illinois, super-PAC supporting Kirk, released TV ad attacking Duckworth for expressing support for Iran nuclear deal, bringing up to 200,000 Syrian refugees to the U.S., closing U.S. detention facility in Guantanamo Bay, Cuba

NC: Democrat Deborah Ross in first general-election TV ad is shown taking call from actor portraying GOP Sen. Richard Burr and telling him that he "took millions from special interests" and "voted to cut your own taxes and raise taxes on working folks"

Ad cites Center for Responsive Politics analysis that Burr since 1991 has received ~$11m in contributions from political action committees
Ad cites Burr's votes for nonbinding budget blueprints written by Rep. Paul Ryan when he was House Budget Committee chairman
Cook Political Report last week upgraded Ross's chances by shifting rating of race to "tossup" from "leans Republican"

NH: Independence USA PAC, super-PAC funded by former NYC mayor Michael Bloomberg, released TV ad critical of GOP Sen. Kelly Ayotte that asks, "if she's so independent, why is she still supporting Trump?"

Ayotte said last week she won't endorse Trump because of "significant disagreements," but would vote for him
Bloomberg is founder and majority owner of Bloomberg News parent company Bloomberg LP

OH: Republican Sen. Rob Portman's campaign aired TV ad featuring praise from employees of Canton-based guard-rail maker Gregory Industries, who said he intervened to remove language from transportation spending bill that would have harmed the family-owned company

Portman has 8 pt lead over Democratic ex-Gov. Ted Strickland, according to Monmouth University poll, in race Cook Political Report rates as tossup

PA: Gun-safety group Americans for Responsible Solutions endorsed Republican Sen. Pat Toomey in CNN.com op-ed written by organization's co-founders, ex-Democratic Rep. Gabrielle Giffords and her husband, ex-astronaut Mark Kelly

Giffords and Kelly said Toomey "broke from the gun lobby" to back legislation expanding gun background-check system after 2012 massacre at Sandy Hook Elementary School; measure didn't receive requisite 60 votes to advance in Senate
Giffords and Kelly said endorsement decision was "difficult" in Pa., where Democratic challenger Katie McGinty is "passionate advocate for gun violence prevention and would be a consistent vote for life-saving gun safety laws in the Senate"
Americans for Responsible Solutions also endorsed Kirk in Ill.; Nev. Democrat Catherine Cortez Masto, seeking Sen. Harry Reid's seat; and Colo. Democratic Sen. Michael Bennet
HOUSE RACES
FUNDRAISING: National Republican Congressional Committee ended July with $64m in cash-on-hand compared with $61.9m for Democratic Congressional Campaign Committee after the Democratic group outraised its GOP counterpart, $12m to $4.6m, during the month, according to FEC filings
ADS: Congressional Leadership Fund, a super-PAC aligned with House Republicans, to unveil $10m in spending on Monday in a dozen of the most competitive districts, Politico reported
FL-02: ESAFund, conservative super-PAC, released TV ad attacking Republican lawyer Mary Thomas as a "Charlie Crist Republican," referring to party-switching ex-Fla. Gov. who's now Democratic nominee in FL-13

Thomas, supported by activist conservative group Club for Growth, running against urologist Neal Dunn and ex-federal prosecutor Ken Sukhia in Aug. 30 primary for open seat in strongly GOP northern Fla. district

FL-05: Democrat Al Lawson released biographical TV ad on how his family "lost everything" after house fire and he "had to work the fields" at age 8, but persevered to become professional basketball player and "successful small businessman who created jobs"

Lawson, ex-state senator, seeking to unseat Democratic Rep. Corrine Brown in primary in strongly Democratic district that runs from Jacksonville to Tallahassee; Brown indicted last month in fraud scheme involving education charity

FL-23: Democrat Tim Canova's campaign released TV ad saying Democratic Rep. Debbie Wasserman Schultz "was forced to resign in disgrace" as head of Democratic National Cmte and "supports her donors" linked to payday-lending industry, sugar lobby, and "trade policies that ship jobs overseas"

Canova, law professor and liberal activist, backed by Vt. Sen. Bernie Sanders in southern Fla. district that voted overwhelmingly for Clinton in March presidential primary

FL-26: Democrat Annette Taddeo in TV ad said she put herself through college and started a business, and that the nation needs to "invest in families," protect women's health care, say "no to Donald Trump"

Taddeo running against ex-Rep. Joe Garcia in primary to oppose Republican Rep. Carlos Curbelo in Hispanic-majority district in Miami-Dade County

IN-09: League of Conservation Voters Action Fund endorsed Democrat Shelli Yoder over Republican Trey Hollingsworth, according to release

Yoder and Hollingsworth seeking GOP-leaning southern Ind. district that Republican Rep. Todd Young giving up to run for Senate

NJ-05: Republican Rep. Scott Garrett's campaign released TV ad linking Democratic challenger Josh Gottheimer to "D.C. special interests" and "their dangerous agenda"

Garrett says "my opponent" believes it's "better if we sent more tax dollars to Washington and put the bureaucrats in control"
Garrett seeking eighth term in GOP-leaning district that includes most of Bergen Co.
Before it's here, it's on the Bloomberg Terminal.
LEARN MORE