business
Pfizer Beats Out Sanofi to Take Medivation for $14 Billion
By and
Medivation soars about 20 percent in premarket trading

Pfizer agrees to pay $81.50 a share in cash for drugmaker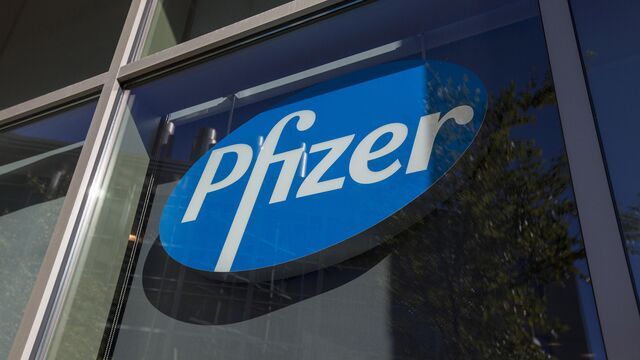 Pfizer Inc. claimed the pharmaceutical industry's latest big prize Monday, beating out a group of rivals after months of jockeying to buy Medivation Inc. and its blockbuster cancer drug for $14 billion.
Left behind was French drugmaker Sanofi, whose aggressive and at one point hostile pursuit of Medivation helped open up the process to Pfizer, Gilead Sciences Inc. and others that were said to be involved. Pfizer will pay $81.50 a share in cash, the companies said in a statement on Monday, well above Sanofi's initial $52.50 a share offer.
By acquiring Medivation, Pfizer gets Xtandi, a cancer drug that's already approved for sale in the U.S. and elsewhere, and that analysts project will generate $1.33 billion in annual sales for Medivation by 2020. Pfizer Chief Executive Officer Ian Read said in May that he was more interested in acquiring late-stage assets because the company already had plenty of early-stage drugs in the works. Pfizer, which walked away from an about $160 billion merger with Allergan Plc in April, is open to other deals, the CEO said on a conference call Monday.
Shares of Medivation, which closed at $67.16 on Friday, climbed 20 percent to $80.42 at 1:24 p.m. Pfizer declined 0.5 percent at $34.80, while Sanofi was down 0.2 percent to 69.56 euros in Paris.
Sanofi's Ambitions Blocked
The deal is a blow to Sanofi's ambition of expanding into oncology, one of the hottest areas in the pharmaceutical industry. The company spent five months courting and pressuring Medivation to reach a takeover agreement, and at one point attempted to replace Medivation's board and force a deal. Medivation, which repeatedly rejected Sanofi's bids, later opened up the sales process, inviting in other drugmakers for a look, including Gilead, Celgene Corp., Merck & Co. and Pfizer, according to people familiar with the process.
"We appreciate the opportunity to have engaged constructively with Medivation," Sanofi said in a statement Monday. "While we recognized the potential strategic benefits of a combination with Medivation, we are first and foremost a disciplined acquirer and remain committed to acting in the best interests of Sanofi shareholders."
The deal with Pfizer contains a "no shop" provision, under which Medivation would pay Pfizer a $510 million termination fee for Medivation if it ends the deal and accepted another offer. Pfizer said the transaction should close by the end of the year, and will boost Pfizer's earnings by 5 cents a share in the first full year.
Rich Premium
The $81.50 a share price represents an about 118 percent premium compared to Medivation's price on March 30, the day before Medivation was said to have hired advisers to defend against a takeover. In April, it was said to have rejected Sanofi's initial approach.

Jefferies analyst Jeffrey Holford said that while the price may be seen as expensive, the deal is a logical fit for Pfizer. 
"We never try to be too quick to judge these situations given there could still be substantial growth from Xtandi as well as from pipeline assets," he said. He called a counter-bid unlikely.
Along with the cancer drug, Xtandi, Medivation comes with two experimental products: a drug for breast cancer and another for the blood cancer lymphoma. The breast cancer drug belongs to a class of treatments known as PARP inhibitors, which disrupt cancer cells' process of DNA repair. The drug, talazoparib, may well be the most potent medicine in the PARP class, according to Katherine Xu, an analyst at William Blair & Co. in New York, who estimates annual peak sales may reach $3 billion.
Active Dealmaker
Pfizer has been one of the drug industry's most active dealmakers. In April, it ended its mega-merger with Allergan after the U.S. Treasury announced rules that would have reduced the tax benefits of the transaction. And last year it paid $17 billion to buy Hospira Inc., a maker of injectible drugs used in hospitals.
Pfizer CEO Read said on the conference call with analysts that he's "open to any type of deal" that would create shareholder value, leaving open the possibility that the drugmaker could continue to pursue large targets.
"It's an attractive time to be in the marketplace, to be a buyer, but the process will be competitive," said John Boris, an analyst with SunTrust Robinson Humphrey who has a neutral rating on Pfizer.
Pfizer has also talked of breaking into two separate companies, one focused on developing new pharmaceuticals and the other on older drugs already on the market, although some analysts have recently started to see a separation as less likely.
The company is still targeting a decision by the end of the year, and the Mediation deal wouldn't impact that timeframe, Chief Financial Officer Frank D'Amelio said on the conference call.
Boris, the SunTrust analyst, said the drugmaker can't separate its businesses until it has a much stronger pipeline on the innovative side.
"We don't believe they can break this up without something transformational or a continued successive string of acquisitions," Boris said in a telephone interview.
Oncology Growth
The Medivation deal makes sense for Pfizer's ambitions in oncology, where it recently introduced the breast cancer drug Ibrance, and to help offset slowing sales of older products, Bernstein analyst Tim Anderson said in a note.
"There aren't many oncology assets in the 'bolt-on' size range, and while Ibrance is doing great, Pfizer could benefit from more critical mass in oncology," Anderson said. "Medivation could arguably fit well with a host of different companies looking to gain greater cancer exposure, and Pfizer has been saying how they are open to doing deals of all sizes."
The analyst also said the Medivation purchase didn't change his view that Pfizer is unlikely to break up its businesses.
Pfizer will split U.S. sales of Xtandi with Tokyo-based Astellas Pharma Inc., which partnered with Medivation on the drug.
— With assistance by Chitra Somayaji
(
Updates with CEO comments, starting in third paragraph.
)
Before it's here, it's on the Bloomberg Terminal.
LEARN MORE