Donald Trump Opens Door to Softening Mass-Deportation Plan
Cracking down on illegal immigration has been a centerpiece of Trump's campaign from the start.
By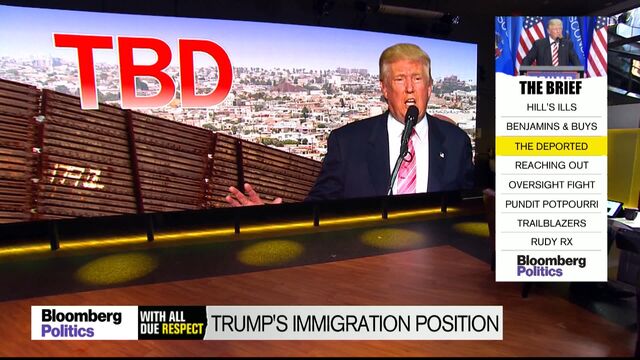 One year ago, Donald Trump became the first major presidential candidate in the modern era to unequivocally endorse mass deportation of unauthorized immigrants. "They have to go," he said on NBC's Meet the Press on Aug. 16, 2015.
On Sunday, Trump's top advisers signaled some wiggle room.
Campaign manager Kellyanne Conway said on CNN that it's "to be determined" whether the Republican nominee's plan will include a "deportation force," as he called for in November 2015, before the primaries began.
Conway struck a notably softer tone than Trump when asked if he would, if elected president, expel the estimated 11 million people in the U.S. illegally.
"What he supports is to make sure that we enforce the law, that we are respectful of those Americans who are looking for well-paying jobs, and that we are fair and humane for those who live among us in this country," she said.
Cracking down on illegal immigration has been a centerpiece of Trump's campaign from the start. A blueprint he released in August 2015, which remains on his website, proposes to build a wall on the Mexican border, ramp up border enforcement, and curtail legal-immigration programs. Republicans, who surveys say are likelier to view immigrants as a burden than a benefit to the country, rewarded Trump's hardline vision by giving him the presidential nomination.
To date, Trump has not disavowed his calls for mass deportation. An immigration speech slated for Thursday was postponed, according to a campaign official.
"I'm not-flip flopping," Trump said on Monday in an interview with Fox News. "We want to come up with a fair but firm process. Fair but firm."
But the new tone could be indicative of a more realistic policy, according to Mark Krikorian, an immigration restrictionist advocate.
"This isn't so much a flip-flop. This is more Trump moving from his gut reaction, his knee-jerk reaction—'illegal immigrants have gotta go'—to an actual policy," Krikorian said in an interview. "His initial comments were, like a lot of his things, just bar-stool blowing off steam."
"We're not going to be deporting 12 million people. There's no immigration restrictionist that's ever proposed that. It's silly," he said. "The real issue is how we shrink the illegal immigrant population, how we get them to leave, how we solve this problem we've created."
Alabama Senator Jeff Sessions, a top national-security adviser to the Trump campaign and an immigration hardliner, said Sunday on CBS that Trump was "wrestling with" how to deal with undocumented people.
"People that are here unlawfully, came into the country against our laws, are subject to being removed. That's just plain fact," Sessions said, but he added that Trump hasn't made a "firm commitment" lately on that issue.
Republican primary runner-up Ted Cruz moved toward Trump's position last November, but stopped short of backing mass deportation. In 2012, Mitt Romney won the nomination after endorsing tough policies that would lead to "self-deportation" of undocumented immigrants, as well as rejecting in-state tuition for their children. Romney never promised to forcibly remove them all, though.
Advocates of restrictive immigration policies oppose legal status and want to reduce legal-immigration levels, but mass deportation tends not to be a priority. It is extremely expensive—upward of $400 billion over a decade to deport them all, according to one estimate by a conservative pro-immigration group.
Confusion about Trump's immigration stance arose over the weekend after BuzzFeed and Univision reported, based on second-hand accounts, that Trump expressed willingness to legalize undocumented immigrants during a private meeting Saturday with his Hispanic advisory council.
The reports were disputed by the Trump campaign and Helen Aguirre-Ferre, the Hispanic outreach director at the Republican National Committee, who attended the meeting. Her comments were reported by Breitbart News, whose executive chairman, Stephen K. Bannon, took a leave of absence last week as he joined the Trump campaign as CEO. 
Democratic nominee Hillary Clinton's campaign responded by portraying Trump's immigration policy as heartless.
"We believe the RNC official in the room, the campaign's statement after the meeting and the candidate himself that Donald Trump's immigration plan remains the same as it's always been: tear apart families and deport 16 million people from the United States," Clinton campaign chairman John Podesta said in a statement.
Before it's here, it's on the Bloomberg Terminal.
LEARN MORE