Clinton Faces New Scrutiny Over E-Mails, Foundation
By and
Trump uses Clinton Foundation to escalate attacks on Democrat

Clinton campaign says she took no actions based on donations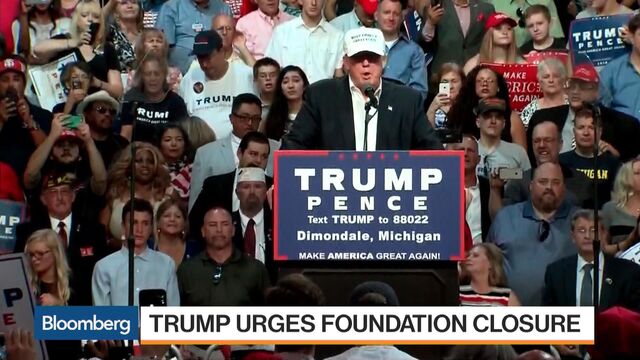 Hillary Clinton was confronted by a new round of questions about potential conflicts of interest between her family's foundation and her work at the State Department as well as the prospect that more e-mails from her private account will be released right up to the November election.
Separate lawsuits brought by the conservative group Judicial Watch spurred the release Monday of previously undisclosed e-mail exchanges between a former Clinton Foundation executive and top Clinton aide Huma Abedin, as well as an order from a federal judge that the State Department expedite its review of almost 15,000 previously undisclosed documents the FBI recovered from Clinton's private e-mail servers.
The Democratic presidential nominee's use of a private e-mail system while she served as secretary of state and the Clinton Foundation's ties to governments and corporations that have business with the U.S. have become a main line of attack by Republican presidential nominee Donald Trump, who on Monday called for the Clinton charity to shut down and urged the appointment of a special prosecutor "immediately."
The continued trickle of disclosures virtually ensures Clinton's private e-mail use during her term as the top U.S. diplomat and her family foundation's ties will dog her for the 78 days remaining until the Nov. 8 election. 
The Clinton campaign said the former secretary of state took no actions based on donations to her family's foundation. A spokesman, Josh Schwerin, called Judicial Watch a "right-wing organization that has been going after the Clintons since the 1990s."
Clinton said she isn't worried about the release of the additional 15,000 e-mails. "My e-mails are so boring," she said in Los Angeles during an appearance on ABC's "Jimmy Kimmel Live." "We've already released 30,000 plus. So what's a few more?"
Clinton Foundation Becomes Target for Republicans: Quicktake
But the Clintons also have recognized the potential political and ethical dilemmas posed by the foundation. The foundation, established after former President Bill Clinton left office, announced last week that it will stop accepting contributions from corporations and foreign entities, including governments, if Hillary Clinton is elected president. Bill Clinton also released a statement Monday saying he would step down from the foundation's board and would no longer raise funds.
"If Hillary is elected president, the Foundation's work, funding, global reach, and my role in it will present questions that must be resolved in a way that keeps the good work going while eliminating legitimate concerns about potential conflicts of interest," he wrote.
Voter Sentiment
A Bloomberg Politics national poll released Aug. 10 found that 58 percent of likely voters said they were troubled "a lot" by Clinton's handling of her private e-mails, and 53 percent said they felt the same about the Clinton Foundation's acceptance of money from foreign governments while she was secretary of state.
Trump and other Republicans have seized on Clinton's e-mails and the foundation to question her trustworthiness. Monday night in Ohio, a crucial electoral battleground state, Trump accused Clinton of conspiring to use favors from the State Department to extract donations for the foundation, which both Clinton and the department have denied, and said the situation demanded appointment of a special prosecutor because the Justice Department can't be trusted.
"As the evidence has become public over the last several months, I've become increasingly shocked by the vast scope of Hillary Clinton's criminality," Trump said at a rally in Akron. "Her actions corrupted and disgraced one of the most important departments of government, indeed one of only four established by the United States Constitution itself."
Adding to Republican pressure on Clinton, Senate Homeland Security Committee Chairman Ron Johnson and House Science, Space and Technology Chairman Lamar Smith subpoenaed three companies that provided software and services for Clinton's private e-mail server. The subpoenas seek "to obtain the information necessary to answer questions about the structure and security of the e-mail system," according to a statement from the Republican lawmakers.
Foundation Request
Among 725 pages of e-mails obtained by Judicial Watch under a Freedom of Information Act lawsuit and released Monday, one exchange showed that Doug Band, then an executive with the Clinton Foundation, asked Abedin on June 23, 2009, to schedule time with the then-secretary of state for Crown Prince Salman Al Khalifa of Bahrain, whom he described as a "good friend of ours."
Abedin replied to Band that the prince had already gone "thru official channels" to set a meeting that eventually took place on June 26.
The Crown Prince's International Scholarship Program has been cited by the Clinton Global Initiative as part of its "commitment to action," which is a pledge by an individual or organization to independently fund a charitable cause, and is not a donation to the Clinton Foundation or CGI. The International Scholarship Program in 2005 committed $32 million "to educate select Bahraini students to take leadership roles in the private and public sectors," according to the Clinton Foundation's website.
CGI is designed to facilitate and showcase charitable endeavors but "does not engage in the actual implementation of commitments," according to the site.
In a statement, the court of the Crown Prince said he made a commitment to spend $32 million of his own money for an education program in his country. "At no time has the Clinton Foundation received money from HRH the Crown Prince or the Crown Prince's International Scholarship Programme,'' the statement said.
"As deputy head of state, the Crown Prince has and will continue to meet with U.S. officials to address matters of mutual interest in the future. Bahrain's strategic relationship with the US and its status as a Major Non-NATO Ally is an enduring feature of the Kingdom's foreign policy,'' the court's statement said.
Separately, the government of Bahrain and a state-owned company have made donations to the foundation, according to donors listed on its website. The Persian Gulf state is a longtime U.S. ally that has been under pressure from President Barack Obama's administration over its treatment of dissidents.
Judicial Watch
Commenting generally on the new e-mails,  Judicial Watch President Tom Fitton said in a statement that they "confirm that Hillary Clinton abused her office by selling favors to Clinton Foundation donors."
"There needs to be a serious, independent investigation to determine whether Clinton and others broke the law," Fitton said.
Abedin, who is now vice chairwoman of Clinton's campaign, would eventually work for Band at an international consultancy he founded even as she maintained part-time employment at the State Department. She has said she didn't represent clients before the U.S. government or give them access to information from government sources.
Related story: Abedin's Overlapping Jobs Renew Focus on Conflicts
A lawyer for Abedin didn't respond to an e-mail seeking comment.
State Department spokesman Mark Toner said it was natural that the Clinton Foundation and State Department would be in touch because they were involved in some of the same global issues. "There was nothing that we've seen that implies any kind of untoward relationship," Toner said Monday.
Separately, U.S. District Judge James Boasberg on Monday ordered the State Department to finish its review by Sept. 22 of 14,900 documents that the FBI recovered. FBI Director James Comey said last month that the agency had found what he described as "several thousand work-related e-mails" that weren't among the 30,000 Clinton had turned over from her time as secretary of state. He said the FBI found no evidence that work-related e-mails were intentionally deleted to conceal them.
Toner said the documents being reviewed include both work-related and personal communications.
While Boasberg didn't set a schedule for their being made public, a Justice Department lawyer told Boasberg the State Department review process requires "appraisal" of the public records to determine whether they relate to official business and proposed a phased release beginning Oct. 14. That timetable raised the ire of Judicial Watch lawyer Lauren Burke.
"What have they been doing for the past four weeks?" she asked Boasberg, complaining that the government will have had the recovered records for 10 weeks before any of them are released.
A Clinton spokesman, Brian Fallon, said Monday that "Clinton provided the State Department with all the work-related emails she had in her possession in 2014" and that the campaign supported the release of work-related records.
Gerald Austin, a Democratic consultant in Ohio, a swing state and central battleground for Clinton and Trump, said most voters have made up their minds on Clinton's use of e-mail and the foundation and the latest revelations aren't likely to change any minds.
"I don't think any of this drip, drip, drip means anything," he said, "because it's been drip, dripping for a long time."
(
Updates with statement from Court of the Crown Prince of Bahrain in 17th and 18th paragraphs. An earlier version of the story that originally ran Aug. 22 was corrected to show that the Crown Prince didn't donate or commit any funds to the Clinton Global Initiative.
)
Before it's here, it's on the Bloomberg Terminal.
LEARN MORE