In a Shift, Trump Expresses 'Regret' for Caustic Campaign Rhetoric
It was a marked shift in tone for a candidate who upended the American political system with his unapologetic style.
By and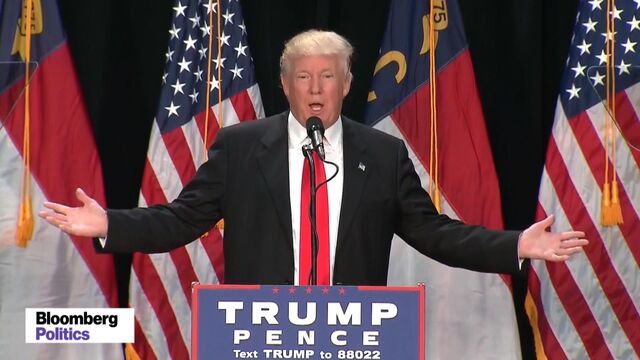 Donald Trump said in his first speech since reorganizing his presidential campaign that he has "regret" for some of his rhetoric that has caused "personal pain."
"Sometimes, in the heat of debate and speaking on a multitude of issues, you don't choose the right words or you say the wrong thing," the Republican nominee, 70, said Thursday, reading from a teleprompter at a rally in Charlotte, North Carolina.
"I have done that, and believe it or not, I regret it," Trump said, pausing as people in the audience cheered and chanted. "And I do regret it, particularly where it may have caused personal pain," Trump said without specifying examples.
"Too much is at stake for us to be consumed with these issues. But one thing, I can promise you this: I will always tell you the truth," he said.
Trump expressed compassion and repentance, and used new language about his vision for "a new future of honesty, justice, and opportunity."
Changing Style
It was a marked shift in tone for a candidate who upended the American political system with his unapologetic style. Trump changed his approach as polls show him trailing Democratic presidential nominee Hillary Clinton. 
The comments came just one day after he promoted Kellyanne Conway to campaign manager and added veteran conservative strategist Stephen Bannon as chief executive.
Trump has turned to reading his speeches from a teleprompter, in a move away from the sometimes rambling, ad-libbed, and gaffe-laden addresses that generated negative publicity.
Adding to the adjustments, Trump's campaign announced almost $5 million in planned television advertising set to begin Friday in Ohio, Pennsylvania, North Carolina, and Florida—states Trump needs if he has any shot of defeating Clinton. An ad the campaign released—Trump's first paid television spot of the general election—focuses on his hard-line views on immigration, refugees, and border security.
Louisiana Trip
Trump planned to travel to Baton Rouge, Louisiana, on Friday with his running mate, Mike Pence, to tour areas damaged by flooding, campaign aides said. ABC News first reported on the plans.
The trip is part of Trump's newfound retail strategy. Throughout his campaign, past the Republican National Convention in July, he spoke on a big stage, at a distance from listeners, using the extensive television coverage to get his message out. Lately, he has sought to connect more with average voters and show empathy for those in need.
Trump hadn't talked about the flood victims until Thursday night's speech, five days after the water began to rise in Baton Rouge on Saturday. His journey to Louisiana wasn't on his publicly announced schedule, and will be his first disaster-zone visit, a staple in any president's portfolio.
At least 13 people have died in Louisiana as result of flooding from heavy rains that have also impacted Mississippi.
"I'd like to take a moment to talk about the heartbreak and the devastation in Louisiana, a state that is very, very special to me," Trump said Thursday to a crowd of about 3,000 people in a downtown convention center in Charlotte. "We are one nation. When one state hurts, we all hurt and we must all work together to lift each other up. Working, building, restoring—together. Our prayers are with the families who have lost loved ones and we send them our deepest condolences."
"Though words cannot express the sadness that one feels at times like this, I hope everyone in Louisiana knows that our country is praying with them and standing with them to help them in these difficult hours," he said.
Clinton Skepticism
Trump appealed to segments of the population he has alienated, specifically asking black voters to give him a chance.
"What do you have to lose by trying something new?" he said.
A Clinton spokeswoman said Trump needs to provide more detail about why he's apologizing.
"That apology tonight is simply a well-written phrase until he tells us which of his many offensive, bullying and divisive comments he regrets—and changes his tune altogether," Christina Reynolds said in a statement. "Since his campaign began 482 days ago, Trump has been insulting people without shame or regret."
Clinton has not addressed the flooding in Louisiana while on the campaign trail. She tweeted earlier this week that she was "closely monitoring" the situation.
Before it's here, it's on the Bloomberg Terminal.
LEARN MORE