Photographer: Daniel Acker/Bloomberg
Hampton Creek's Mayo Buybacks Prompt Inquiry by the SEC
by and
Agency examining whether company improperly recognized revenue

Initiating probe doesn't mean firm will face enforcement case
The U.S. Securities and Exchange Commission is looking into whether a San Francisco-based food technology startup broke the law by not disclosing that it was buying its own vegan mayonnaise from stores, which made the product appear to be more successful than it was, according to people familiar with the matter.
The agency is trying to determine whether Josh Tetrick's Hampton Creek Inc. improperly recognized revenue from purchases made with company money, said the people, who asked not to be named because the matter isn't public. The opening of an SEC inquiry into the buybacks is a preliminary step and doesn't mean the company will face an enforcement action. Bloomberg first reported this month that Hampton Creek undertook an operation to purchase its own mayonnaise starting as early as 2014.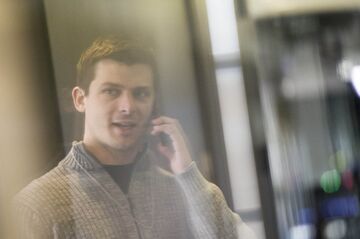 "We're aware of the informal inquiry and we'll be sharing the facts, as opposed to the inaccuracies reported by Bloomberg," Tetrick said in an e-mailed statement.
The SEC has jurisdiction over the closely held company because it has raised money from outside investors.
"It doesn't matter if the security is a private or public one; the SEC can bring an action against both," said Jay Gould, a former SEC attorney and now partner at Winston & Strawn. Gould was speaking generally and is not involved in the Hampton Creek matter.
Financing Round
Hampton Creek has raised more than $220 million and Tetrick, the firm's founder and chief executive officer, told employees last week that he expects to raise another round of financing by early next month that will value the company at $1.1 billion, a person who attended the meeting told Bloomberg.
In late 2014, Hampton Creek raised $90 million from venture capital heavyweights Founders Fund, Horizon's Ventures and Khosla Ventures as well as Salesforce.com Inc. co-founder Marc Benioff and Facebook co-founder Eduardo Saverin. Also that year, Hampton Creek instructed workers to buy back its own products from supermarkets, Bloomberg reported this month.
Hampton Creek said at the time that the self-purchases were primarily for a quality-assurance program designed to understand the product from a customer's perspective.
Quality Assurance
Tetrick provided Bloomberg with a spreadsheet of quality assurance purchases. The survey data -- containing almost 3,900 entries in 15 states from March 2014 to January 2015 -- didn't account for hundreds of Just Mayo purchases by Hampton Creek contractors during that period, as shown in e-mails, receipts and expense report records seen by Bloomberg. 
Five former contractors and two ex-senior staff members say the buyback assignments were separate from quality checks at stores. Tetrick said in a statement that the self-purchases accounted for less than 0.12 percent of sales.
Since launching Hampton Creek in 2011, Tetrick has set out to revolutionize the food industry. The self-proclaimed food-technology company claims to make cheaper and healthier alternatives to everyday grocery items by replacing eggs with ingredients generated from plants.
Tetrick, 36, went around Silicon Valley vowing to take down competitors like Hellmann's and won over leading venture-capital firms. Despite criticism from other investors who say the company is less an innovator than a deftly run marketing machine, Hampton Creek has turned Just Mayo into a cherished brand among sustainability-minded consumers.
Watch Next: Hampton Creek CEO Rallies Employees Around Valuation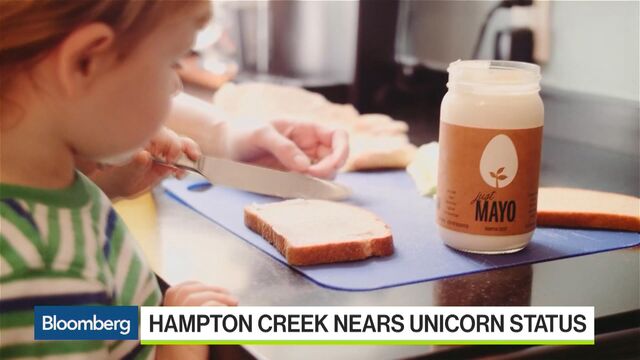 Before it's here, it's on the Bloomberg Terminal.
LEARN MORE