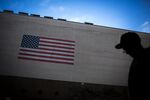 It turns out diversity may be good for the economy, after all. 
In contrast to some election year rhetoric over immigration's negative impact on the U.S., new research shows that it can deliver economic benefits in the communities where newcomers settle. The finding is presented in a working paper published by the National Bureau of Economic Research that was updated in June. 

 "It's clear from our study that ethnic diversity enhances your ability to both attract investment and do business in the world," said Tarek Hassan, an economics professor at the University of Chicago's Booth School of Business and co-author on the study. The dominant position the U.S. has in the world economy may be "at least partially explained by its ethnic diversity and its ability to interact with many many different places."

The observation challenges what we've heard on the U.S. campaign trail where Republican nominee Donald Trump accuses foreign workers of holding down wages and taking away jobs.

A key takeaway from Hassan's research, which he co-authored with Konrad Burchardi of Stockholm University in Sweden and Thomas Chaney of Toulouse School of Economics in France, is that a lot hinges on a migrant's origins.
Using immigration and foreign investment numbers from 1880 to 2010, his team found that doubling the number of residents of a certain foreign ancestry in a U.S. county would increase the probability that the country of origin will invest in a company in that community by 3.15 percentage points. Additionally, it would also boost the number of employees at that business by nearly a third.

Most of the impact comes from the offspring of immigrants that settled in the U.S. so the effect is observed a generation or two later, according to the study.

"What this means is that if you take in migrants from a poor origin country today, as that origin country picks up economically it's going to pay dividends" to the country they migrated to, Hassan said.




Before it's here, it's on the Bloomberg Terminal.
LEARN MORE