Masters in Politics Podcast
Clinton Eyes Flipping Utah, Director of State Campaigns Says
Marlon Marshall says Donald Trump's poor polling numbers give Clinton a chance in the typically red state.
By and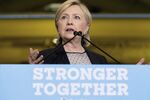 Hillary Clinton's campaign is looking to turn Utah blue in 2016, something no Democratic presidential candidate has been able to achieve since 1964. 
Marlon Marshall, Clinton's director of state campaigns, said the conditions may be right for a political sea change.
"President Clinton was out there the other day," Marshall told Bloomberg Politics' "Masters in Politics" podcast. "He did a meeting with some community leaders in Utah. I think a lot of public polls will show Utah to be closer than one would expect."
Donald Trump's poor approval ratings are giving Clinton a chance of winning in Utah, as well as other typically red states, Marshall said.  
"I attribute it to a couple of things: One, I think our message is resonating on the economy and what Hillary wants to do to build an economy for everyone and not just ones at the top," Marshall said. "But I do think Trump's rhetoric is very divisive rhetoric. In some states, it's really turning people off. I think in a state like Utah, which is typically more conservative, they're saying, 'This is not the type of person who should represent this country or our state.' So, are we going to win Utah? I don't know. But is it something that's on our radar? Yeah, we're gonna take a look."
In the second half of the podcast, John Dickerson, host of CBS News's "Face the Nation" and the author of the new book Whistlestop: My Favorite Moments from Presidential Campaign History, weighs in on reports that former Fox News Chairman Roger Ailes is advising Trump in preparation of the presidential debates. 
"Obviously, in the wake of recent news, it feels very consistent with Donald Trump," Dickerson said. "You can imagine a more traditional campaign not wanting to be associated with a figure who's in the news for allegations that Ailes has has been. But Trump doesn't really give in to that kind of stuff."
Before it's here, it's on the Bloomberg Terminal.
LEARN MORE