Clinton's E-Mail Woes Persist as FBI Sends Notes to Congress
By and
Summary of Clinton interview sent as classified document

Clinton campaign warns of 'selective, partisan leaks'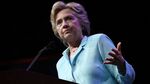 The FBI sent lawmakers notes from its interview of Hillary Clinton about her use of a private e-mail server, as the State Department confirmed that it will release several thousand work-related messages that Clinton failed to turn over.
The two developments on Tuesday all but ensured that the controversy over what FBI Director James Comey has called the "extremely careless" handling of classified information by Clinton and her aides while she was secretary of state will persist through the 12 weeks remaining before the election.
"Another unflattering episode is always just around the corner," Larry Sabato, the director of the Center for Politics at the University of Virginia, said Tuesday. "The e-mail matter is a persistent, low-grade fever that won't kill her candidacy but will weaken public trust in her during the remainder of her public career."
In a Bloomberg Politics national poll conducted August 5-8, 58 percent of likely voters said the handling of e-mails by the Democratic presidential nominee bothered them "a lot."
FBI's Statement
Clinton was interviewed by FBI agents and federal prosecutors for 3 1/2 hours on July 2 at the bureau's headquarters in Washington. Comey told Congress the following week there was no evidence that Clinton lied to the FBI but said he would pursue a request from Republican lawmakers that the agency investigate whether she lied to Congress.
"Consistent with our commitment to transparency with respect to the FBI's investigation of former Secretary of State Clinton's use of a personal e-mail server, the FBI is providing certain relevant materials to appropriate congressional committees to assist them in their oversight responsibilities in this matter," the agency said Tuesday in an e-mailed statement. "The material contains classified and other sensitive information and is being provided with the expectation it will not be disseminated or disclosed without FBI concurrence."
But Representative Adam Schiff, the top Democrat on the House Intelligence Committee, predicted in a statement that "their contents will simply be leaked for political purposes."
"This is an extraordinarily rare step that was sought solely by Republicans for the purposes of further second-guessing the career professionals at the FBI," Brian Fallon, Clinton's campaign spokesman, said in a statement. "We believe that if these materials are going to be shared outside the Justice Department, they should be released widely so that the public can see them for themselves, rather than allow Republicans to mischaracterize them through selective, partisan leaks."
For a QuickTake Q&A on Clinton's e-mail system, click here.
At the State Department, spokesman Mark Toner confirmed Tuesday that the department has agreed to provide Judicial Watch, a conservative watchdog group that has pressed for release of Clinton's e-mail exchanges, with "any e-mails sent or received by Secretary Clinton in her official capacity during her tenure as Secretary of State" that weren't already vetted and made public.
Comey said last month that the Federal Bureau of Investigation found "several thousand" work-related e-mails that weren't among about 30,000 communications turned over previously. Clinton had said those were all of her work-related messages.
Judicial Watch
Judicial Watch, which has released more than 150 e-mails from Clinton that it says the State Department didn't previously make public, will now receive the remainder, although the government will redact material that's sensitive, such as classified or personal information.
"The American people will now see more of the e-mails Hillary Clinton tried to hide from them," Judicial Watch President Tom Fitton said in a statement.
The State Department has said that it can evaluate approximately 500 messages per month as it redacts them and sends them to other agencies for review of materials under their jurisdiction, although the department has produced documents faster in some cases.
While the details of the FBI report on Clinton's interview and the content of the additional e-mails uncovered by its investigators aren't public, Comey said last month that "that no reasonable prosecutor would bring" a case on the issue because it would require evidence of an intent to violate statutes.
Jason Herring, acting assistant director of the FBI, reaffirmed in a letter to lawmakers Tuesday that the agency found no "clear evidence of knowledge or intent" by Clinton to mishandle classified information. He said the agency also "assessed that the facts did not support a recommendation to prosecute her or others within the scope of the investigation for gross negligence."
Republican Questions
Republican committee leaders declined to comment Tuesday on the materials received from the FBI.
On Monday, though, Representatives Jason Chaffetz, chairman of the Oversight panel, and Bob Goodlatte, chairman of the Judiciary Committee, sent the U.S. attorney for the District of Columbia a letter outlining what they said were possible examples of perjury in Clinton's testimony last October before the House Select Committee on Benghazi.
Among examples they cited, Clinton testified that "there was nothing marked classified on my e-mails." Comey later testified that several e-mails received by Clinton had "(c)" markings in the text that denoted confidential information. Herring said in his letter that there wasn't "clear evidence of knowledge or intent" by Clinton that the information was classified.
The Republicans also said that Clinton testified that her lawyers "went through every single e-mail" using search terms to find any work-related materials to turn over to the State Department before destroying others as personal. Comey testified the lawyers actually searched only "header information" at the top of the e-mails.
Before it's here, it's on the Bloomberg Terminal.
LEARN MORE