Icahn Says He May Boost Trump With Attack on EPA
Icahn said he chose not to join the Trump campaign this year as an informal economic adviser because it might conflict with the project.
By and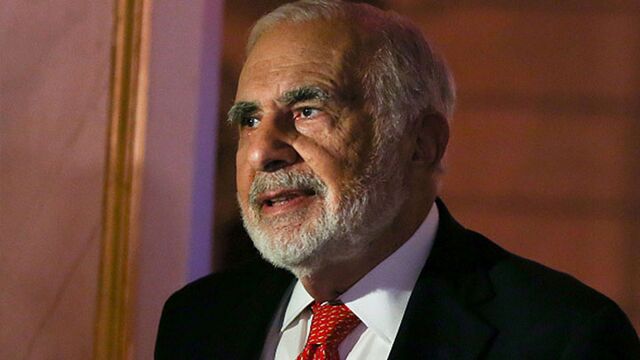 Billionaire investor Carl Icahn said he may get involved in the U.S. presidential election, funding an ad campaign to highlight Donald Trump's vow to slash government red tape.
It's not an abstract issue for Icahn, who recently blamed what he calls ill-conceived Environmental Protection Agency regulations for cutting profits at a pair of oil refineries he owns.
The ad campaign "would bring out the point that Trump is the only candidate that will rein in the ridiculous regulations and bring back more confidence, and therefore more capital spending," Icahn said today in a phone interview from his summer home in East Hampton, New York. "You have to unleash the power of corporations to spend money."
Icahn said he would buy the ads through a new super-political action committee, a vehicle that can accept donations of unlimited size from wealthy donors. With a net worth currently estimated at $20 billion, according to the Bloomberg Billionaires Index, he clearly has the means to do so. 
This isn't the first time Icahn threatened to make waves in U.S. politics. Last October, he announced plans to put $150 million into a super-PAC to push Congress to overhaul the corporate tax code. He never followed through, and he now says he's confident Congress will act without his help. 
Icahn was an early supporter of Trump, who last year mentioned the 80-year-old Queens native as a potential Treasury secretary. (Icahn has said he isn't interested.)  Icahn chose not to join the Trump campaign this year as an informal economic adviser because it might conflict with the new super-PAC project, he said. He plans to make a decision on whether to proceed with the super-PAC in the next few days.
Icahn's EPA beef has to do with the Renewable Fuels Standard, an 11-year-old program designed to boost the use of ethanol and other biofuels. Refiners and importers are required to blend biofuel into the gasoline, or buy credits known as renewable identification numbers, or RINs, from other companies that do so. Icahn owns 82 percent of CVR Energy Inc., the owner of refineries in Kansas and Oklahoma.
A spike in the price of RINs this year is cutting into profits at refineries like CVR that don't have their own network of gas stations and don't do much blending, so they can't produce all the RINs they need in-house. Icahn provided Bloomberg News with a copy of an 11-page letter he sent to the EPA last week, complaining that the RIN market is "rigged."
"Irrational" regulations like the ones dealing with ethanol "have caused a crisis of confidence on the part of companies," Icahn wrote. "As a result, companies are increasingly frightened to invest their capital."  
Melissa J. Harrison, an EPA spokeswoman, said the agency is reviewing Icahn's letter and would respond to him.
In his letter, Icahn tells the EPA that "many of the things you do are salutary." But he warns that if the RIN program isn't reformed, it may end up harming some companies and benefiting others without any overall benefit to the environment.
Icahn is up-front about his own financial angle. In the interview, he said an overhaul of regulations at the EPA and other agencies would help him, but would also benefit the country as a whole. "Sure, it's good for me," he said. "That's why I'm doing it. Why do people do things?"  
Icahn has discussed his refinery's problems with his old friend Trump, but only in a passing way. "The guy's busy -- it's a little arcane. That's not why I like Trump, because he might do something to the RINs. I like him because he's going to bring a halt to crazy regulations."