Trump to Open Florida Outposts, Including One Across From Massacre Site
Florida is a must-win state for Trump, and a difficult one given Clinton's well-oiled machine there.
By and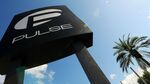 A new field office for Donald Trump's campaign to win Florida has been quietly readied in Orlando. 
It has gone mostly unnoticed in this metropolitan area of 2.4 million people, even though it happens to be located across the street from a well-trafficked spot in town—the shuttered Pulse night club, the scene of the worst mass shooting in the nation's history. 
The office on Orlando's main drag is one of 24 that aides plan to open in the next two weeks as they step up his nearly non-existent ground game in Florida. It's a must-win state for him, and a difficult one given Democratic presidential nominee Hillary Clinton's well-oiled machine there. She leads in the Florida polls, and it's a state she can afford to lose.
"We're all about expanding, expanding our base and expanding our outreach efforts," Karen Giorno, a senior Trump adviser who leads the GOP presidential nominee's Florida strategy, said.
The Orlando field office, which will officially open Monday, is tucked inside a tax preparer's storefront, sandwiched between a tattoo parlor and a cellphone accessory shop.
It was unoccupied and locked Friday, but posters are taped to the front windows, chairs are neatly arranged, and packages of bottled water and snack chips, still wrapped in plastic, wait on a side table.

From the front door, one can see the steady stream of mourners who still visit Pulse throughout the day and night. The dark building is surrounded by chain-link fence and a privacy screen that's now covered with rainbow flags and homemade signs of sympathy and remembrance. Candles and flowers are arranged on the sidewalk.
Giorno is leading efforts to sign up supporters at Trump's massive rallies as "super-volunteers" who would knock on doors, help register voters, and urge them to cast ballots for the real-estate developer and TV personality.
She also touted new staffers as a sign of gathering strength for Trump's efforts in Florida. Deborah Cox-Roush, a former prominent Marco Rubio backer and one of the "most prolific grassroots organizers in the state of Florida," and Vivi Ramos, a Hispanic activist who had backed Jeb Bush and now is working on Hispanic outreach efforts in the state, are now working for his victory. "There's an open-door policy," Giorno said.
Clinton, who has opened 14 offices statewide with plans to add more in the coming weeks, is up by 5 percentage points in a Wall Street Journal/NBC News/Marist poll released Friday. Her campaign and allies have spent more than $40 million in the state so far.
Trump "is starting from zero. To put this in context, Clinton has had staff here for months," said Democrat Keith Fitzgerald, a former state lawmaker who now teaches political science at the New College of Florida. 
Considering Clinton's robust organization in the state, with a focus on registering voters and casting ballots by mail, Fitzgerald said it was "tough to say how that could be duplicated starting this late" by Trump. 
Another disadvantage for the Trump: As Clinton pulls ahead in polls of other battleground states, Florida becomes less critical to her bid to win the White House and more critical to his.

Faced with an uphill climb, the Trump campaign is sticking with what has worked so far.
"His rallies are going to continue to be his staple, but it's not all we're doing," Giorno said. "The rallies allow someone with his stature and his celebrity to do a more traditional type of retail politicking. It's equivalent to 40,000 door-knocks."
Just last week, Trump packed the 15,000-seat Jacksonville Veterans Memorial Arena to capacity, one of four large-scale rallies within the past two weeks in Florida. According to Giorno, 10 percent of rally attendees end up being involved with the campaign in some way.
On Thursday in Florida, he held four separate events to target separate constituencies—center-right business Republicans, the law enforcement community, religious conservatives, and rank-and-file voters.
He met privately with emergency first responders who were called to the mass shooting at a gay nightclub in Orlando on June 12. Clinton had arranged for a similar meeting in late July.
He also campaigned with Florida Attorney General Pam Bondi, a well recognized former Fox News analyst, and with ex-rival Mike Huckabee, a social conservative, at his side.
"Boy, the polls are really tightening up. They're getting a little bit nervous with their hundreds of millions of dollars that they're spending on ads," Trump told a few hundred home builders gathered for their national convention at the Fountainebleau hotel in Miami Beach Thursday morning. 
Trump assured the audience that he had plenty of time to work his magic. "I really haven't started yet," he said. "Remember I won the primary by a landslide."