Brash Trump Disciple Shakes Up Miami's Luxury Real-Estate Market
By
Residential towers with 'sky garages,' 300-square-foot closets

Billionaire scion says there is 'no real inequality in Miami'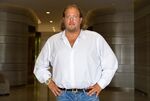 On a swampy summer afternoon, Gil Dezer led a tour of his latest exercise in excess, a condo tower with smartphone-controlled elevators that will whisk both residents and their vehicles home. He made a detour to another project, touting its hurricane-proof windows by violently kicking them with his Gucci loafers. Then he ushered the group into a chauffeured Cadillac Escalade for the ride to the ultimate destination -- 50 feet away.
That is how Dezer rolls. He's a jet-set member of a real estate pack that's either turning a patch of greater Miami into the Florida Riviera or over-saturating it with high-end properties, depending on who has your ear.

With his father, Michael Dezer, he developed more Miami-area properties for Donald Trump than he can count on one hand, a collaboration that helped build a family fortune the Bloomberg Billionaires Index puts at $1.2 billion. Then the son went on a hunt. "I needed another brand." He found two: Porsche Design Tower and the adjacent Residences by Armani Casa in Sunny Isles Beach, on a barrier island 19 miles from downtown.
Those projects are credited with helping change the local concept of condominiums. Nondescript commodities are out, branded products are in. Along the way, the brash 41-year-old has ruffled more than a few feathers. "Dezer rubs people the wrong way," said Peter Zalewski, a consultant and principle at Cranespotters.com, which tracks condo construction. "That doesn't mean he's wrong. It just means he's disrupting the way things are done here. I give him credit for having the vision, but he can be a pain in the ass."
300-Square-Foot Closets
The 56-floor, $840 million Porsche Design is expected to be done before the end of the year, and all but six of its 132 units have been sold for prices up to $17.5 million. Most balconies sport pools, and each home has an en-suite, glass-walled "sky garage" that connects to the auto-human lifts -- called Dezervators. The $1 billion Armani is going up in partnership with Jorge Perez, chief executive of Related Group of Florida and known as the Condo King of Miami. This 60-story building doesn't have sky garages, though there are his-and-her toilets and 300-square-foot closets.

Dezer said he learned a thing or two from his buddy Trump, who attended Dezer's 2007 wedding at the Republican presidential nominee's Mar-A-Lago Club in Palm Beach. Back in junior high, Dezer wrote a fawning book report on Trump's "The Art of the Deal." Now the ghostwriter of the 1987 memoir may regret penning it, telling the New Yorker magazine he "put lipstick on a pig," but Dezer still views it as "the Bible of real estate knowledge."
'Friendly Investors'
The most important lesson? "Think large." Dezer called Trump a decisive leader -- adding that publicity from his presidential campaign will lift demand for Trump-branded projects and benefit his partners. "It's a free press release." (The race might not be so good for Trump hotels; the travel site Hipmunk released data showing bookings were down 58 percent in the first half of 2016.)
It was about 15 years ago that the Dezers heard Trump was interested in a Florida deal, and they ended up developing six towers. Gil Dezer's office and home are in two of them; the condo association for two others in Sunny Isles Beach sued recently, allege that garages, facades and pool decks need expensive repairs due to shoddy work by the developers. Dezer said he's working with the association and general contractor to resolve the matter.

The elder Dezer, the Tel Aviv-born son of a bus driver, started buying Manhattan real estate in the 70s, relying on profits from a junk-mail business he'd started and, as his son described it, "borrowed funds and friendly investors." Over the years, Michael Dezer accumulated more than 1 million square feet in New York and branched out to Florida. His two daughters also work in Dezer companies, as does his wife.
Six Aston Martins
The family owns 16 acres in Sunny Isles, as well as Miami's Intracoastal mall, and has been snapping up warehouses in Fort Lauderdale. They've got some acreage in Las Vegas, at least one private jet and a few yachts. Gil Dezer made local headlines a few years back when he broke both ankles during a voyage on one of them, as it hit a rough patch on its way from the Hamptons and sent him flying across the master bedroom.
Father and son also have one of the biggest car collections in the world, more than 1,000 vehicles, including the DeLorean from "Back to the Future" and six Aston Martins from the James Bond franchise, most housed in a private North Miami museum.
For all their wealth, Gil Dezer likes to think of himself and his family as humble. "We don't have security guards and things like that. We don't show it off too much."

On the other hand, he did patent "Dezervator," and put it on the license plate of one of his multiple Porsches. He mounted a 1950 Spyder 550 on a wall in his condo, as sculpture. The gold chain often around his neck sports a DP emblem, for Dezer Properties.
He may be a bit rougher around the edges than other developers for the mega-rich in Miami, using obscenities to get his points across, typically wearing his tousled hair below his ears and his shirts unfastened a few buttons down, disco style. But he said he doesn't like the term "disrupter" to describe himself.
Venice Of America 
"I'm just another developer in the history of thousands of thousands of years. The difference is I'm an innovator," he said. "I'm goal oriented, I make my decisions, and you're either with me or not with me. My tombstone is going to read, 'It's not a popularity contest. We're here to do a job."'
Born in Queens and raised in New Jersey, he ventured to Florida to study at the University of Miami, graduating with degrees in international finance and marketing. He got into the business early -- handing out $5-bill incentives at airport car-rental agencies willing to direct people to one of the Dezer hotels in the area.

That episode was "unfortunate," he said, but he went on to bigger things. He and his dad zeroed in on Sunny Isles Beach, bounded by the Atlantic Ocean and the Intracoastal Waterway. Back in the 1920s, a developer dubbed it the Venice of America. Today some refer to it as Little Moscow because of its concentration of Russians. Others call it Mini Dubai.
For his part, Dezer prefers Florida Riviera. His towers cater mostly to wealthy people from Latin American countries like Brazil and Mexico who see the U.S. as a smart place to park their money.
Unequal City
Those buyers, he said, are more or less immune to the minutiae of market swings. (There have been many, such as the 25 percent drop in the last two quarters in sales of luxury condos and the doubling over the past 12 months in the number of days units stay on the market, according to Jack McCabe of McCabe Research & Consulting, which counts Dezer as a client.)

Dezer also has no worries about creating a luxury haven in a metro area that ranks No. 8 on the Brookings Institution's list of America's most unequal cities, with nearly one-fifth of residents living in poverty. There are plenty of affordable places to own or rent, he said, just inland from his waterfront utopia. "There is no real inequality in Miami." It's a big city, "and we have a price range for everybody, but real-estate oceanfront is reserved for expensive apartments -- that's how it goes."
The Porsche building was a work in progress during the tour with the group, including a real estate agent from Colombia, and Dezer barked orders at workers in hardhats, shouting expletives as he tripped over stray pieces of wood. He paused at one point to explain that at Porsche Design, residents won't have keys, only smartphone apps, which will open doors or reserve beach chairs or perform any number of other functions.
"Your car has become the key to your apartment," Dezer said, turning to his project coordinator. "The rich guy is the one with no keys to think about. Your butler has your house keys and your driver has your car keys. And the poorest guy has all the keys -- like a building janitor or something."
The coordinator, with a heavy set of keys dangling and jangling from his belt that was difficult to miss, got the point. "Yep," he said, "I know exactly what you mean."
— With assistance by Caleb Melby, and Prashant Gopal
Before it's here, it's on the Bloomberg Terminal.
LEARN MORE