Trump Repeatedly Labels Obama as 'Founder' of Islamic State
By
Republican declines to backtrack on radio show today

Attack is latest in series by Trump on Obama's background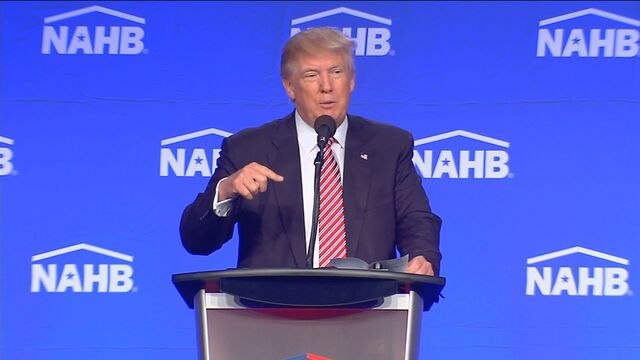 Donald Trump accused President Barack Obama of founding Islamic State during a campaign rally Wednesday night, and in a radio show Thursday declined a chance to backtrack or clarify by reinforcing that he meant exactly what he said.
At a raucous rally in Sunrise, Florida, the Republican presidential nominee repeatedly labeled Obama the "founder"of the terrorist organization, using the acronym ISIS for the group.
"You know, they honor President Obama," Trump said at the rally. "He's the founder of ISIS. He's the founder of ISIS. He's the founder. He founded ISIS."
Trump has repeatedly said the Democratic president bears primary blame for the latest phase of a terrorist campaign that has targeted the U.S. and Western Europe for decades. At times, he has suggested Obama is even sympathetic to Islamic State's cause.
Trump's latest comments fit a pattern of portraying Obama as alien to mainstream America. He's questioned whether the president was really born in the U.S. -- a tactic still used by some of his surrogates -- and frequently refers to him using his middle name, Hussein, as he did at times during the Florida rally.
For a QuickTake explainer on Islamic State, click here.
"This is another example of Donald Trump trash-talking the United States," Jake Sullivan, senior policy adviser to Democratic presidential nominee Hillary Clinton, said in a statement. "It goes without saying that this is a false claim from a presidential candidate with an aversion to the truth and an unprecedented lack of knowledge."
A White House spokesman declined to comment.
No Backtrack

Michael McFaul, a former ambassador to Russia under Obama, said on Twitter that Trump's remarks were similar to Russian propaganda on Islamic State's origins.
Trump's "line that Obama founded ISIS echoes exactly a myth propagated by Russian state-controlled media and bloggers," McFaul said. Democrats have criticized Trump for statements supportive of Russian President Vladimir Putin, and for adopting some policy positions favorable to the Russian leader including questioning U.S. participation in the NATO alliance.
Trump intensified the effort to connect Obama with Islamic State on Thursday morning, as conservative radio host Hugh Hewitt offered the Republican candidate a chance to backtrack.
"Last night, you said the president was the founder of ISIS," Hewitt said. "I know what you meant. You meant that he created the vacuum, he lost the peace."
"No, I meant he's the founder of ISIS. I do," Trump responded. "He was the most valuable player. I give him the most valuable player award. I give her, too, by the way, Hillary Clinton."
Obama, who plans to campaign for Clinton, has called Trump "unfit to serve as president" and encouraged Republicans to abandon him at a news conference earlier this month.
Trump's comments echo a theme he sounded in the wake of a mass shooting at an Orlando night club by an attacker who expressed support for the Islamic State.
'Something Going On'
"Look, we're led by a man that either is not tough, not smart, or he's got something else in mind," Trump said in an interview on Fox News. "And the something else in mind — you know, people can't believe it. People cannot, they cannot believe that President Obama is acting the way he acts and can't even mention the words 'radical Islamic terrorism.' There's something going on. It's inconceivable. There's something going on."
In that same interview, Trump argued Obama should resign after the shootings, saying, "He doesn't get it or he gets it better than anybody understands -- it's one or the other, and either one is unacceptable."
Before it's here, it's on the Bloomberg Terminal.
LEARN MORE