Trump Jokes Winning Presidency Is Only Way He'll 'Get to Heaven'
The Republican presidential nominee makes a plea to religious conservatives.
By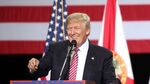 Republican presidential nominee Donald Trump implored Christian conservatives gathered at a Pastors and Pews event in Orlando, Florida, on Thursday to go "spread the word" about why he'll be a good president.
"This may be the most important election that our country has ever had, so go out and spread the word," an unusually soft-spoken Trump said at the event, sponsored by the American Renewal Project. "Once I get in, I will do my thing that I do very well. It think it's probably, it may be the only way that I'm going to get to heaven."
He urged leaders to get every Christian conservative voter to the polls. "Talk about who you want," he told pastors, and make sure people vote even if they're sick and have "the worst prognosis the doctor can give you."
"This really is 'no excuses,'" he said. 
Unlike past presidential candidates headlining Pastors and Pews events, Trump left the stage without participating in a question-and-answer session.
Much of Trump's remarks centered on his promise to overturn the Johnson Amendment, the change in the tax code passed in 1954 that barred tax-exempt religious institutions from endorsing political candidates. 
"You've been silenced like a child has been silenced," Trump said of the amendment's effect. 
While making his play for evangelical support, Trump also found a way to criticize that same demographic for what he described as less than wholehearted support for Mitt Romney in the 2012 presidential election. 
"Honestly you didn't vote for Romney. You didn't vote for Romney. Evangelicals. Religion didn't get out and vote," Trump said. 
Romney carried 79 percent of the evangelical bloc, exit polls found. In 2008, John McCain took 73 percent; in 2004, George W. Bush won 79 percent.
He also asked for help in one particular state. "We're having a tremendous problem in Utah. Utah's a different place. Is anybody here from Utah? I didn't think so," he said, to laughs. "I've been given a false narrative."
On polls showing him trailing Democratic nominee Hillary Clinton by a slim margin in Florida, Trump said, "We're even maybe 1 point up, 1 point down. … But I really haven't started yet. Remember I won the primary by a landslide."
Yet it was clear that Trump had come to address the group because he needs their voting bloc to turn out en masse if he is to prevail in November. 
"If you could send out the word to Ohio and Pennsylvania, I'm telling you we will do it, because we're close," Trump said. According to the RealClearPolitics polling averages, Trump trails Clinton by 2.6 percentage points in Ohio, and by 9.2 points in Pennsylvania. 
Some religious conservatives, especially those who backed Texas Senator Ted Cruz for president during the primary, have hesitated to embrace Trump, saying his style is too bombastic and his rhetoric occasionally reckless. But after private meetings, some have emerged impressed by his thoughtfulness and seriousness. 
"If he doubles down on talking with Christians about things in his heart, he's going to mobilize Christians in a way that's never been done before, I'm telling you," Bill Dallas, who organized a closed-door meeting with Trump and several hundred evangelicals in Manhattan in June, said.
Trump said Thursday, "I have a big heart. As big a heart as almost anyone in this room."
He seemed eager to prove he could stay on message even without a script, remarking twice that he wasn't using a teleprompter.
"I had a long beautiful speech written out and I read it and said: boy, this is boring," he said.
Before it's here, it's on the Bloomberg Terminal.
LEARN MORE