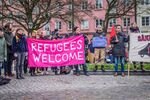 Sweden is doing well: gross domestic product is expanding twice as fast as the euro zone's and its budget deficit is shrinking more rapidly than expected. 
Compare that to last autumn, at the height of the European migration crisis, when investors were fretting about Scandinavia's biggest economy as 10,000 refugees were arriving at its doorstep each week. 
QuickTake Europe's Refugee Crisis
Now, lower-than-expected public spending and higher tax revenue mean Sweden may reach a budget surplus already this year, says Anna Breman, chief economist at Swedbank. That's remarkable, given that as recently as April the government wasn't expecting to balance its budget until 2019 at the earliest.

To be sure, the economy is reaping the benefits of a prolonged period of monetary easing - the benchmark repo rate has been below zero since February 2015, while the central bank has been pumping billions of kronor via a bond purchasing program to get inflation back to target.
Still, the Swedish experience suggests that advocates of fiscal stimulus may have a point.
In order to cope with last year's sudden influx of 163,000 asylum seekers -- the most per capita in the European Union -- Sweden's left-of-center coalition government added 31 billion kronor ($3.6 billion) to its migration budget and increased its yearly transfers to municipalities by a further 10 billion kronor. According to SEB, the extra spending would contribute 1.3 percentage point to this year's GDP growth.

With a lot fewer refugees expected this year -- latest estimates point to about 30,000 -- and efforts to contain sick leave spending finally showing results -- the Social Insurance Agency expects actual costs in 2016 to be 34.1 billion kronor, compared with a forecast of 37.1 billion -- things are looking good for Prime Minister Stefan Loefven's upcoming budget negotiations.
The ruling coalition of Social Democrats and Greens is currently discussing the details, with the budget due to be unveiled in September. Breman said that while the Finance Ministry has yet to present any major measures, she expects initiatives in the field of education for low-skilled refugees, which should help keep unemployment down in the future.

In the meantime, Sweden's strong economic performance may have helped mitigate some of the public's concerns about migration. According to a recent Ipsos Mori study, only one in four Swedes believe the influx of foreigners has made it more difficult for them to find a job, the lowest level among the 22 nations polled. 

The lesson for the critics of Europe's open-door policy is that immigration, if properly managed, can help everyone prosper. 


Before it's here, it's on the Bloomberg Terminal.
LEARN MORE