Australia Blocks Foreign Bids for Electricity Supplier Ausgrid
By , , and
State Grid Corp., CKI vying for state distributor Ausgrid

Bidders have one week to respond to preliminary decision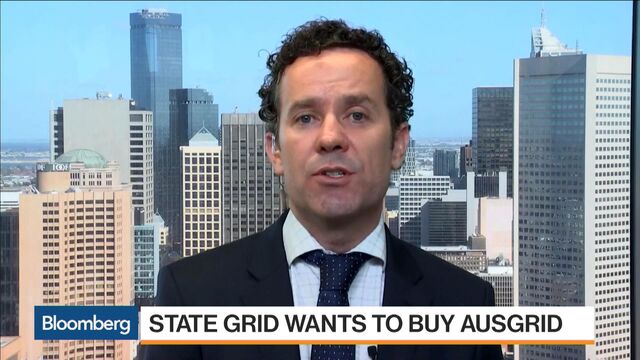 Australia rejected bids for electricity network Ausgrid from Hong Kong billionaire Li Ka-shing and State Grid Corp. of China, amid growing opposition to selling infrastructure assets to overseas investors.
Treasurer Scott Morrison said it would be contrary to national security to allow the offers to proceed in their current form and said the bidders, which he didn't name, have been given a week to respond.
"Ausgrid's footprint includes critical power and communication services provided to businesses and government," Morrison told reporters in Brisbane Thursday. He said he'll make a final decision after seeing any revised submissions.
To read more on Australia's attitude to Chinese investment, click here
The move is the latest sign that protectionism is on the rise in Australia, where Morrison earlier this year blocked the sale of the nation's largest cattle rancher to a Chinese-led group. If government-owned State Grid's bid is ultimately blocked, Australia risks straining ties with its most important trading partner.
Competing Bids
Li's Cheung Kong Infrastructure Holdings Ltd. and State Grid were the only two companies to make binding bids for 50.4 percent of Ausgrid last month, people familiar with the matter have said. The electricity distributor, which supplies 1.6 million homes in and around Sydney, is owned by the New South Wales state government and was expected to fetch more than A$10 billion ($7.7 billion).
State Grid didn't respond to a request for comment Thursday. CKI said in a statement that Australia "must have reasons beyond the obvious" that led to today's decision.
Their competing bids may stand more chance of being approved if New South Wales reverses the proposed ownership structure and retains a 50.4 percent stake, said Peter Jennings, executive director of the Australian Strategic Policy Institute.
"That may be more palatable from a national security point of view," Jennings said.
No Delay
The state government, which is seeking to raise funds for infrastructure including schools, hospitals and roads, said Morrison's decision wouldn't delay its planned pipeline of investment.
"We will continue the transaction process for Ausgrid," state Treasurer Gladys Berejiklian said. "This is a very valuable asset with a lot of interest obviously from the existing bidders but also others who are watching very closely as to what is happening."
Early suitors for Ausgrid included state-owned China Southern Power Grid Co. and Qatar Investment Authority, people familiar with the matter said in February. IFM Investors Ltd., Australia's largest manager of infrastructure assets, would consider a bid if the State Grid and CKI offers collapse, a person familiar with the matter said Thursday.
Rising Protectionism
The prospects for Chinese suitors haven't improved since the July 2 election saw a swag of protectionist independent or minor party lawmakers elected to the upper house Senate. The National Party, the junior partner in Prime Minister Malcolm Turnbull's coalition, which has been a vocal critic of investment by Chinese state-owned companies, also now has a bigger voice in the government.
"There's a lot of politics mixed up with this decision,'' said Paul Williams, a political analyst at Griffith University. "The government is struggling to engage with the electorate and it's looking to re-establish some political capital. A bit of economic nationalism never goes astray.''
Morrison's announcement comes as Australia balances the need for foreign investment to drive economic growth against mounting public opposition to sales of farmland, real estate and strategic infrastructure, particularly to Chinese investors.
Despite overseas capital being vital to Australia's future expansion, the government is arguably making it harder for foreigners to invest. Last year, it tightened scrutiny of sales of farmland to Chinese, Japanese and Korean buyers. The government board that vets investments now includes a former spy chief.
Obama's Concerns
When the Obama administration last year raised concerns that a Chinese company had bought a port in the northern city of Darwin, where U.S. Marines are based, Morrison beefed up oversight of the sale of state assets. He's also blocked the sale of the S. Kidman & Co. cattle station.
Morrison stressed Thursday that the national security concerns posed by the Ausgrid sale were "not country-specific and relate to the transaction structure and the nature of the assets."
State Grid, which distributes electricity to 1.1 billion people, is bidding for energy assets globally as President Xi Jinping seeks to overhaul the country's bloated state-owned businesses.
Global Assets
Earlier this year, it bought a stake in Brazilian power distributor CPFL Energia SA for $1.8 billion, and it already owns parts of electricity networks in South Australia and Victoria states. The company missed out last year when New South Wales electricity transmission network TransGrid was sold to a group of investors from Canada, the Middle East and Australia's Hastings Funds Management Ltd. for about A$10.3 billion.
CKI owns stakes in electricity grids that service cities including Melbourne, Wellington and London.
Australia isn't alone in pondering national security when it comes to foreign investment in critical infrastructure. U.K. Prime Minister Theresa May has postponed approval for a new nuclear reactor in which China General Nuclear Power Corp. would have a minority stake. May's long-time adviser warned in a blog last year that China's involvement in nuclear projects could allow them to "shut down Britain's energy production at will."
Shen Shishun, a senior researcher at the China Institute of International Studies, which is under China's foreign ministry, said a final rejection of State Grid's offer risked causing "displeasure in Beijing."
"If things like this happen too often in the future, bilateral relations would suffer," he said.
Before it's here, it's on the Bloomberg Terminal.
LEARN MORE