New Zealand Cuts Interest Rates to Record Low; Kiwi Soars
By
Governor Wheeler signals at least one more rate reduction

Easing disappoints investors, sending Kiwi to one-year high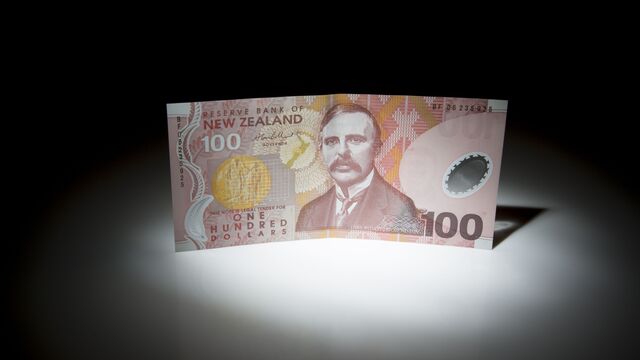 New Zealand's central bank cut interest rates to a fresh record low and flagged more easing to combat low inflation, disappointing some investors who were looking for a more aggressive signal. The local dollar surged.
"Our current projections and assumptions indicate that further policy easing will be required to ensure that future inflation settles near the middle of the target range," Reserve Bank Governor Graeme Wheeler said in a statement Thursday in Wellington, after lowering the official cash rate by a quarter point to 2 percent. The central bank's forecasts indicated at least one more rate reduction is likely.
While today's cut was expected by all 16 economists surveyed by Bloomberg, investors had priced a 20 percent chance of a half-point reduction, according to swaps data. Wheeler said that a 50 basis points move wasn't seriously considered or justified, in a media briefing following today's decision.
Wheeler has been prodded into further monetary loosening by the strong New Zealand dollar, which is suppressing import prices and keeping inflation below the RBNZ's 1-3 percent target band. The currency has climbed since Wheeler last cut rates in March as he grew wary of fanning a housing boom with even lower borrowing costs.
"The high exchange rate is adding further pressure to the export and import-competing sectors and, together with low global inflation, is causing negative inflation in the tradables sector," Wheeler said. "This makes it difficult for the bank to meet its inflation objective. A decline in the exchange rate is needed."

The kiwi dollar jumped more than one U.S. cent after the decision to a one-year high. It bought 72.89 cents at 11:56 a.m. in Wellington from 72.06 cents immediately before the statement.
"The New Zealand dollar is strong for reasons other than just yield, and inflation is low for more reasons than just the strong New Zealand dollar," said Cameron Bagrie, chief economist at ANZ Bank New Zealand Ltd. in Wellington. "We're not convinced more easing is going to alter that. But we also appreciate the RBNZ's predicament and the challenge presented by the actions of other central banks forcing global yields lower. The RBNZ cannot swim against this tide."
The RBNZ signaled at least one further rate reduction by lowering its forecast for the 90-day bank bill yield, which serves as a guide to the outlook for the cash rate. The yield will fall from 2.1 percent next quarter to 1.8 percent by the second quarter of 2017, the bank projected.
Fed's Fault
While today's cut is the sixth in 14 months, record stimulus abroad and the U.S. Federal Reserve's failure to press ahead with rate increases has kept New Zealand's benchmark high relative to those of its peers, buoying its currency and delaying an expected pickup in inflation.
"The risks remain skewed to a lower OCR than 1.75 percent," said Nick Tuffley, chief economist at ASB Bank Ltd. in Auckland, who expects another rate cut in November.  "Weaker-than-expected data or persistent New Zealand dollar strength could bring easing forward to September."
For more on some of the challenges Wheeler faces, click here
Currently at 0.4 percent, inflation has been below the RBNZ's target band for seven straight quarters and under the 2 percent midpoint it tries to achieve for almost five years. The central bank today forecast it will return to that level by the third quarter of 2018, nine months later than it predicted in June.
After weakening in the current quarter, "inflation is expected to rise from the December quarter," Wheeler said. "The sustained weakness in headline inflation risks further declines in inflation expectations."
Housing Boom
Wheeler last month announced new lending restrictions for property investors in an attempt to cool the nation's rampant housing market and give himself more room to lower rates. From Sept. 1, the Reserve Bank will require investors across New Zealand to have a deposit of at least 40 percent to obtain a mortgage.
Record-low borrowing costs have encouraged the housing boom to spread beyond largest city Auckland, where surging immigration and a supply shortage have seen prices almost double since 2007. In the North Island city of Hamilton, house prices jumped 32 percent in the year through July, while nationwide house-price inflation accelerated to 14 percent. 
Stronger Growth
"House price inflation remains excessive and has become more broad-based across the regions, adding to concerns about financial stability," Wheeler said. The bank was consulting on stronger macro-prudential measures that should help to mitigate financial system risks, he said.
While New Zealand is not alone in experiencing very weak general inflation, unlike many of its peers it has an economy expanding at a healthy clip, supported by record immigration, tourism and construction.
Growth will accelerate to 3.5 percent in the first quarter of 2017 from a year earlier, the RBNZ forecast. That's faster than the 3.4 percent it predicted in June. Annual growth will be 3.1 percent in the first quarter of 2018, it said.