Liberal Groups Push Clinton To Reject Appointments From Wall Street
The organizations are trying to stop "the revolving door between private industry and government."
By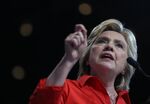 An alliance of 15 progressive groups is pressuring Democratic presidential nominee Hillary Clinton to keep people connected to Wall Street out of her transition team and the White House if she wins the November election.
The organizations, several of which backed Bernie Sanders in the primary race, urged Clinton to select "proven policymakers whose commitment to the public interest is unimpeachable to lead your transition efforts." They wrote to Clinton in a letter Wednesday they provided to Bloomberg Politics that "personnel is policy" and that "too many Wall Street executives and corporate insiders have traveled through the revolving door between private industry and government."
The groups—which include MoveOn.org, Democracy for America, and the Communications Workers of America—said rejecting people with Wall Street connections would demonstrate Clinton is serious about her promises, such as opposing the Trans-Pacific Partnership trade accord and further tightening regulations on the financial industry.
"Moreover," they wrote, "we urge you to publicly state that, should you win the presidency, you will appoint personnel from backgrounds in public interest advocacy, academia, and public service to influential positions within your administration, rather than merely drawing from the usual set of corporate insiders."
Tapping officials who have worked in the financial industry for Treasury posts and as advisers has been a common practice for presidential administrations—Republican and Democrat—in recent decades. Liberals were disenchanted by the Wall Street links of appointees in the administration of Clinton's husband, Bill Clinton. They also have been critical of President Barack Obama for selecting administration officials with backgrounds on Wall Street.
One of Clinton's top campaign advisers is Gary Gensler, who had been a Goldman Sachs banker but established a reputation as a tough regulator as head of the Commodity Futures Trading Commission under Obama.
In his challenge to Clinton for the Democratic nomination, Sanders, a self-described democratic socialist, made cracking down on Wall Street and limiting its influence on public policy the centerpiece of his campaign. Their long primary battle steered Clinton's policy platform—and that of the Democratic Party—leftward.
The other groups that signed the letter were Center for Popular Democracy Action, CREDO Action, New York Communities for Change, Other98, Presente.org, Progressive Change Campaign Committee, Public Citizen, RootsAction.org, The Rootstrikers Project at Demand Progress, Strong Economy For All Coalition, and Working Families Party.
"It is imperative that cabinet members and other agency and department heads be willing to assertively wield the tools at their disposal (and, when needed, forge new ones) in order," they wrote in the letter.
Before it's here, it's on the Bloomberg Terminal.
LEARN MORE