Clinton Up 6 on Trump in Two-Way Race in Bloomberg National Poll
The findings suggest damage has been done to one of Trump's main calling cards, his business expertise.
By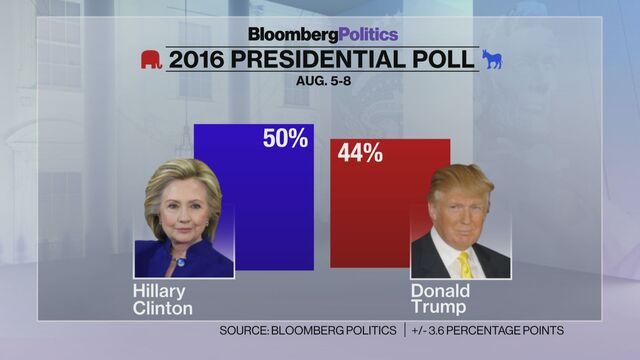 Hillary Clinton has retained most of the bounce she received after the Democratic National Convention and now enjoys a 6-point lead over Donald Trump in a two-way contest among likely voters.
The Democratic presidential nominee's advantage in a new Bloomberg Politics national poll is smaller than in some surveys conducted the week after her convention, including some that sampled registered voters, a broader group. When third-party candidates are included, her lead in this poll shrinks to close to the margin of error.
The findings suggest damage has been done to one of Trump's main calling cards, his business expertise, with 61 percent of likely voters saying they're less impressed with the Republican nominee's business acumen than when the campaign started.
Clinton's lead over Trump of 50 percent to 44 percent in a two-way contest is boosted by a greater consolidation of support among Democrats than Republicans have shown for their candidate. She wins 94 percent of the Democratic vote, including 93 percent of Democrats who backed Senator Bernie Sanders in the primary race, while Trump gets 87 percent of the Republican vote.
In a four-person race that includes Libertarian Party nominee Gary Johnson and Green Party nominee Jill Stein, Clinton leads Trump 44 percent to 40 percent.
Read the questions and methodology here.

Johnson, a former New Mexico governor, gets 9 percent, while Stein, a physician, receives 4 percent. Both scores are below the 15-percent average needed in national polls to be included in this fall's presidential debates.
The survey was conducted before Trump ignited new furor on Tuesday when he suggested "the Second Amendment people" could stop Clinton from enacting liberal policies that would be upheld by federal judges she would nominate if elected president. The Second Amendment protects Americans' right to bear arms, and some Democrats condemned Trump's remark as a death threat. Trump's campaign said he was referring to gun-rights advocates voting against Clinton.
The poll confirms Clinton emerged from the noisy campaign week that followed her convention in a stronger position than Trump. That edge could prove valuable, if she can maintain it, during a period when there are no major events on the political calendar until the first debate on Sept. 26.
"The question following a convention bounce is how much of it will stick, as memory of the event and excitement fades," said pollster J. Ann Selzer, whose Iowa-based firm Selzer & Co. oversaw the survey. "For Clinton, the contest is far from settled, but she is on solid ground."
Clinton's voters are more positive about her candidacy than those backing Trump are about his, with 56 percent saying their alignment with her is more an act of support than to stop Trump. His fans, meanwhile, are more motivated by their disdain for her, with 56 percent saying their backing of Trump is more a vote against her than support for him.
In the two-way contest with Trump, Clinton's strongest demographic groups are non-whites (66 percent), those in the Northeast (65 percent), those under 35 years old (61 percent), the unmarried (60 percent), the college-educated (59 percent), and women (55 percent).
Trump does best among white men with no college degree (76 percent), evangelicals (59 percent), the non-college educated (52 percent), married people (50 percent), those in the South (50 percent), and men (48 percent).
Among those 65 and older, Trump beats Clinton, 50 percent to 46 percent. Independent voters, always a critical group in presidential elections, back Clinton over Trump, 48 percent to 41 percent.
Differing methodologies in this and other polls might result in differences in how that independent vote is measured. This poll has traditionally asked party affiliation by offering three options: Republican, Democrat, and independent. Some polls press independents on whether they lean toward one of the two parties, resulting in higher numbers for both parties and a lower number for independents than in this poll. This poll measured Republicans at 25 percent of the general population, Democrats at 27 percent, and independents at 42 percent.
Conducted Friday through Monday, the poll has a margin of error of plus or minus 3.6 percentage points among likely voters and 3.1 percentage points on questions that included the full sample of 1,007 U.S. adults. On subgroups, such as just Clinton or just Trump voters, the margin of error is higher.
The electoral environment documented in the survey shows a strong desire for change, even as 50 percent of adults approve of the job President Barack Obama is doing.
Nearly seven in 10 adults, 68 percent, say the country is headed in the wrong direction, with almost half of that group blaming Democrats and 22 percent pointing the finger at Republicans. Thirty percent said they aren't sure who is to blame.
A solid majority of likely voters, 56 percent, say the U.S. is in a dark and dangerous place, a figure that includes 87 percent of Trump supporters. Four in 10 say the country is in a strong position for progress on the economy and national security, including two-thirds of Clinton supporters.
The poll shows a possible falloff in participation among younger voters, following the exit of Sanders from the race. Among those younger than 35, just 46 percent say they'll definitely vote in November. That's down from 60 percent in June, and 54 percent of Clinton's younger supporters say they are really voting against Trump rather than casting an affirmative vote for her.
The results indicate Trump should probably avoid statements such as the one he made during his nomination acceptance speech, when he said, "I alone can fix" the nation's problems. More than eight in 10 likely voters say instead a leader should consult with many to accomplish major goals, while just 12 percent say they prefer a leader to formulate ideas alone and give direction on what to do and how to do it.
With pre-Election Day voting starting in some states as soon as late September, most voters are firm on whom they will cast their ballots for.
More than three-quarters of likely voters say their minds are made up and they can't be persuaded to support a different presidential candidate. Trump and Clinton supporters are equally adamant about this, at 82 percent each.
Clinton's supporters are slightly more enthusiastic about her candidacy than Trump's are about his, with 62 percent saying they're very or fairly enthused, while 55 percent of Trump's say that. Fifty-one percent of likely voters say they could never support Trump, while 44 percent say that of Clinton.
With some Republican strategists suggesting that their party should accept a likely White House loss with Trump and instead focus on keeping control of Congress, the poll shows a closer contest there. On the so-called generic ballot that asked whom likely voters support for the U.S. House in their district without any candidate names being offered by the pollster, 47 percent of likely voters picked Democrat or leaned that way, while 44 percent selected Republican or leaned that way.
Both Clinton and Trump continue to record favorability ratings that are historically low for presidential nominees, with 40 percent of adults viewing her positively and just 33 percent viewing him that way.
By comparison, Obama is viewed favorably by 51 percent of adults and his wife, first lady Michelle Obama, is viewed positively by 62 percent, making her an especially powerful campaign surrogate.
Clinton's husband, former President Bill Clinton, is viewed favorably by 53 percent. By age group, his numbers are strongest among those under 35.
Trump's spouse, meanwhile, isn't as widely known—or liked. Melania Trump, a former fashion model who spoke at the Republican National Convention and got backlash for using some language from a Michelle Obama speech, is viewed positively by 31 percent and negatively by 37 percent, with 45 percent of women holding an unfavorable view and 24 percent a favorable one. Among men, it's reversed: she's seen favorably by 39 percent and unfavorably by 29 percent.
Khizr Khan, the father of a Muslim-American soldier killed in Iraq in 2004 who criticized Trump during a Democratic convention speech and in subsequent interviews, is viewed favorably by 44 percent and unfavorably by 21 percent.
More than half of likely voters, 56 percent, say they were bothered a lot by Trump's criticisms of the soldier's parents. Almost half say they were bothered that he tried to refute their claim that he's never sacrificed anything by saying he worked hard in business. 
More than six in 10 say they are bothered a lot that Trump mocked a reporter's physical disability, the highest level of displeasure among the issues challenging Trump that were tested. More than half say they were bothered a lot that he said he alone can fix the nation's problems, while 45 percent say that of his suggestion that Russian hackers try to find Clinton's deleted e-mails.
For Clinton, there were three controversies, all from her days as secretary of state, that triggered more than half of likely voters to say they were bothered a lot by them: her private e-mail server that was criticized by the FBI director as careless (58 percent), her handling of the Benghazi attacks where four Americans were killed (55 percent), and her family foundation's acceptance of money from foreign governments (53 percent).
In terms of lines of attack Clinton and Trump have used against one another, "she's a liar" was what 37 percent of likely voters said worried them most about the Democratic nominee. For Trump, the top selection was "he does not have a presidential temperament," scoring 31 percent.
On another question about which candidate has the right temperament for the presidency, Clinton beats Trump, 56 percent to 31 percent. She also scores higher on being ready to lead on day one in office, being a good role model for children, having the skills to conduct foreign policy, having the ability to get things done in Washington, and fighting for the middle class. Clinton does only slight better on trustworthiness, 41 percent to 39 percent.
Trump easily outscores her on changing the way Washington does business, 60 percent to 27 percent. He also beats her on reining in the power of Wall Street, knowing what it takes to create jobs, and combatting terrorist threats at home and abroad.
American adults don't seem to share Trump's view of Russian President Vladimir Putin. Asked to select the stronger leader between Obama and Putin, 51 percent picked the U.S. president and 31 percent said the Russian one.
Heading into the first presidential debate, Clinton for now is the favorite to come out ahead. Asked whom they expect to have a stronger performance, 56 percent of likely voters pick her and 36 select Trump.
Trump's complaints about the debates being conducted at the same time as National Football League games aren't an issue for the vast majority of likely voters, with 69 percent saying they'd watch the debate and 26 percent picking the game.
A majority of likely voters also don't agree with Trump's suggestion that the election is "rigged," with 60 percent rejecting that view and 34 percent agreeing. Among Trump's supporters, however, 56 percent say it's rigged.
A strong majority of 57 percent of likely voters say they're more focused on the presidential campaign than the Summer Olympics, while 36 percent select the quadrennial sporting extravaganza.
Before it's here, it's on the Bloomberg Terminal.
LEARN MORE