Impeachment in Focus as Brazil Senate Breaks From Olympics
By , , and
Chamber decides by Wednesday whether to put Rousseff on trial

The vote tally will help determine degree of Temer's support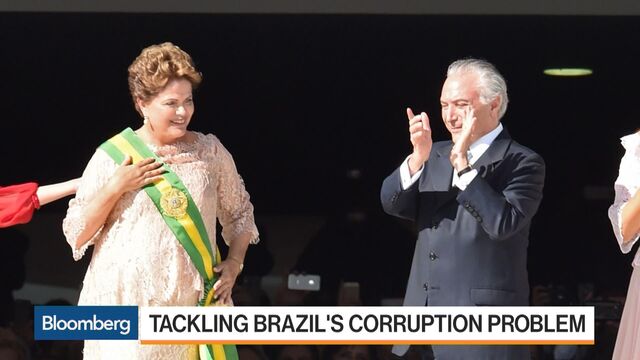 The Brazilian Senate vote whether to put suspended President Dilma Rousseff on trial is shaping up to be a bellwether of her successor's political clout.
The chamber is scheduled to start voting Tuesday night or early Wednesday whether to try Rousseff on charges of breaking the budget law. The session, which will help determine whether Acting President Michel Temer will hold onto the country's reins, takes place just days after local media linked him and two of his cabinet members to illicit campaign contributions. All three deny wrongdoing and say financing was legal.

While Rousseff is widely expected to lose the vote, which requires only a simple majority, pundits will focus on the tally for any signs of unease in Temer's coalition over the latest allegations. He would need two-thirds of the Senate to vote against Rousseff in the final trial that would take place late in August or early in September to prevent her from resuming office. His aides say Rousseff's permanent ouster would give him a freer hand to push controversial measures that include cutting pension payouts and deregulating labor laws.
"What the presidential palace wants is a show of strength and a signal that the impeachment vote is locked up," said Christopher Garman, head of country analysis at political consulting firm Eurasia Group. "There are some rifts in the ruling coalition, but the glue that keeps it together is a recognition that the opportunity cost of Temer failing is tremendous."
Fresh Allegations
News reports over the weekend delivered a blow to the Temer administration, most notably an article in Veja magazine that linked the acting president to a 10 million-real ($3.2 million) illegal campaign donation. Veja based its reporting on portions of a plea-bargain agreement between the former CEO of construction giant Odebrecht SA and prosecutors. The allegations are part of a two-year, sweeping corruption probe known as Car Wash.
Temer already lost three cabinet members who resigned after they were accused of either participating in graft or trying to obstruct Car Wash. They denied wrongdoing. Car Wash also destabilized Rousseff's government during her final months in office, creating rifts in her coalition while fueling massive street protests against her.
For a step-by-step guide on the impeachment process, click here.
The Senate temporarily removed Rousseff from office in May when it decided in a 55-22 decision to open impeachment proceedings. Temer now expects that at least 58 Senators will vote against her this week, according to a close aide of the acting president. That would be well above the simple majority needed to start the trial and even more than the 54 votes required to permanently end her mandate.
Tuesday's session, presided by Supreme Court Chief Justice Ricardo Lewandowski, started in the morning and appears poised to run into the early hours of Wednesday, temporarily competing with headlines from the Olympic Games in Rio de Janeiro. Brazil's real rose to more than a one-year high on Tuesday and stocks surged amid speculation the Senate will vote to proceed with the impeachment process. Without a simple majority backing the trial, Rousseff would be reinstated as president.
Rousseff likens efforts to remove her to a modern-day coup, and often points out that she isn't charged with graft, unlike many of her accusers. Dozens of legislators in both chambers of Congress are under investigation for corruption.
The scandals have renewed debate over the need to overhaul the political system by implementing tougher campaign finance laws, as Brazilians in a July Datafolha public-opinion poll cited corruption as Brazil's biggest problem.

"There will be demands by the Brazilian population," according to Senator Alvaro Dias of the Green Party. "Either politicians change or they will be overrun."