Clinton Campaign Looks to Skirt Texting Regulations to Reach Voters
Built along the lines of an app used by Bernie Sanders, Megaphone is a potent new political tool.
By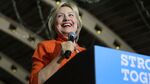 There are lots of ways campaigns have to annoy voters, but one is, on its face, illegal. Federal regulations prohibiting the use of an automated dialer to interact with cell phones have long ensured that campaigns that happily bombard voters with phone calls, direct mail, door knocks, and digital ads steer clear of unsolicited text messages, despite their obvious promise as a tool for political communication.