Clinton Plans Economic Speech Thursday to Counter Trump's
By
Trump to make his case first before Detroit Economic Club

Clinton has gained in polls on who can best handle economy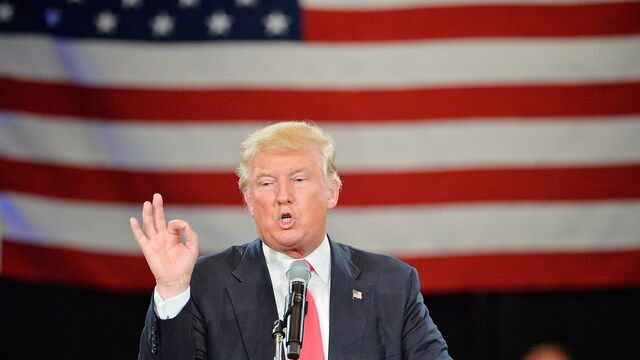 Democratic presidential nominee Hillary Clinton will push this week to gain further ground against Republican nominee Donald Trump on the economy, countering a speech he is set to deliver Monday with her own on Thursday, her campaign said.
Clinton plans to cap two weeks of campaigning focused on jobs and the economy -- including a post-Democratic National Convention bus tour with running mate Tim Kaine -- with a speech in Detroit that campaign officials say will highlight the stark contrast between her views and those of Trump. The Republican nominee plans to address the Detroit Economic Club on Monday in an attempt to re-focus his campaign after a few especially rocky weeks.

"Donald Trump ceded the national conversation on the economy because he was focused on creating the scandal-of-the-hour, so he's now been forced to schedule a Monday speech in Detroit to try and reclaim standing on what was supposed to be the one sure-fire issue for him in this campaign -- the economy," the Clinton campaign said in a statement Sunday announcing her speech.
As Trump's attention was drawn to feuds and controversies, Clinton's across-the-board gains in polls conducted since the end of the Democratic convention have brought with them improved ratings for her on the economy.
Ratings Bump
In an NBC News/Wall Street Journal survey conducted July 31-Aug. 3, 46 percent of registered voters said that Trump would be better on the economy than Clinton, while 42 percent said that Clinton would be better than Trump. That's an improvement for Clinton from June, when Trump led her by 10 percentage points on the same question. A Fox News poll conducted July 31-Aug. 2 gave Trump a five-point edge over Clinton on the economy, down from a 12-point lead in May.
"Starting Monday, we're going to be announcing our economic plan," Trump campaign chairman Paul Manafort said on "Sunday Morning Futures" on Fox News. "When we do that, we're comfortable that we can get the agenda and the narrative of the campaign back on where it belongs, which is comparing the tepid economy under Obama and Clinton versus the kind of growth economy that Mr. Trump wants to build."
While Trump is expected to use his speech to pull his previous proposals on tax cuts and spending into a single framework, one prominent Republican supporter said he wouldn't quarrel with an interviewer's suggestion that "his numbers don't add up."
"Of course not," former House Speaker Newt Gingrich said on "Fox News Sunday." "I think historically no candidate's numbers add up." But Gingrich said paring government regulations would spur economic growth, bringing in revenue to compensate for tax cuts.
Clinton's most recent major speech on the economy was in late June, when she sought to offer reassurance to Democratic primary voters that she would stick to the positions she'd established over the past year even as she aimed to widen her appeal.
'Reckless Ideas'
"Donald Trump offers no real solutions for the economic challenges we face," Clinton said then in Raleigh, North Carolina. "He just continues to spout reckless ideas that will run up our debt and cause another economic crash."
Clinton said her plans would ensure that the "economy works for everyone -- not just those at the top, not just for the rich or the well-connected, not just for people living in some parts of the country or people from certain backgrounds and not others."
Trump's campaign sought on Friday to begin its reset by announcing a team of 13 economic advisers, though it was widely noted that all were male and just one has a Ph.D. in economics.
In the past week, Clinton has gained the endorsements of billionaire investor Mark Cuban and Hewlett Packard Enterprise Co. Chief Executive Officer Meg Whitman, who in 2010 ran for California governor as a Republican.
— With assistance by Ben Brody, and Todd Shields
Before it's here, it's on the Bloomberg Terminal.
LEARN MORE