Trump to Deliver One of Biggest Tax Cuts Since Reagan, Aide Says
By
Big corporate tax cut will be centerpiece of plan, Moore says

Trump needs to 'change the subject' after 'off-message' week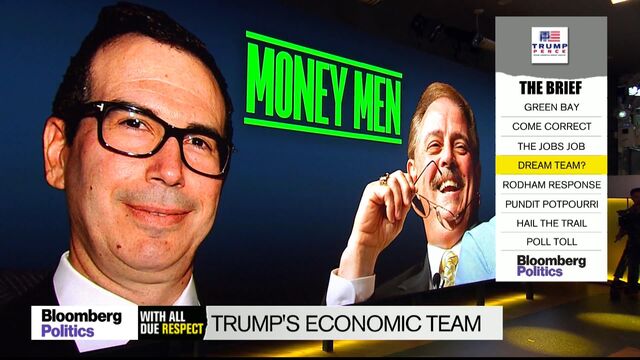 Donald Trump will propose one of the biggest tax cuts since the days of Ronald Reagan in a new economic blueprint to be unveiled next week, according to an adviser to the Republican presidential candidate.
Trump will reiterate his plan to cut the corporate tax rate to 15 percent, Heritage Foundation chief economist Stephen Moore said Friday in an interview with Bloomberg Television. At the same time, Trump has managed to whittle down the cost in terms of lost tax revenue by about two-thirds, to $3 trillion, he said, without specifying a timeline.
"If you're a working-class American, there's no question that an agenda that cuts taxes, that gets rids of regulations, redoes some of these trade deals in ways that are pro-America, is going to help," said Moore, who was named Friday to Trump's team of economic advisers. Other members include financiers John Paulson and Andy Beal and economists David Malpass and Peter Navarro.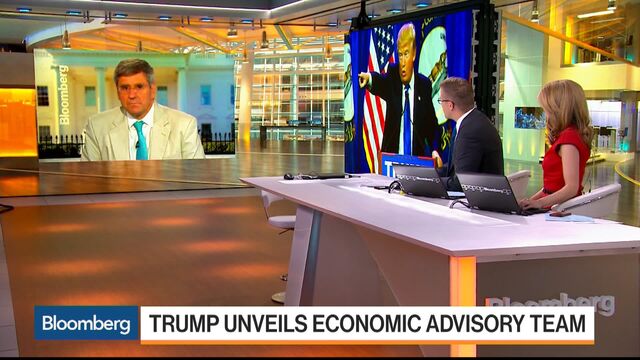 Trump has promised to unveil a new policy agenda for "revitalizing the American economy" in a speech Monday at the Detroit Economic Club.
The plan will include major changes to U.S. energy policy that will make the country the biggest producer in the world of oil and gas, as well as coal, Moore said.
'Lousy Economy'
"For Trump to win this race, it's not complicated," he said. "He has to keep focused on this lousy economy that has so underperformed."
Earlier, a Labor Department report showed the economy created a stronger-than-expected 255,000 jobs in July, helping send U.S. stocks toward a record high. Moore said too many people remain outside the workforce and Americans don't "feel good" about the job market, adding that monthly payroll gains should be 400,000 to 500,000.
"This is a critically important speech for Donald Trump. He's got to get back on the message of the economy, jobs," Moore said. "He's got to change the subject, because he's been off message for the last week, for sure."
Trump this week got tangled in a war of words with Muslim parents of a U.S. Army officer killed in Iraq, and provoked the ire of senior Republicans after refusing to endorse House Speaker Paul Ryan. Polling after the two parties' presidential nominating conventions suggest Democrat Hillary Clinton is widening her lead ahead of the November election.