How Do You Fly 300 Olympic Horses to Rio? Business Class, of Course
Before athletes perform stunning physical feats, logistics experts must execute a gold medal ballet to deliver everything they need.
By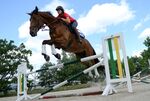 Some Olympic athletes seem to be super-human, while others aren't human at all. In Rio de Janeiro this week, more than 300 horses are arriving to compete in games that have provided a globe-spanning challenge for the world's logistics and freight industries.